Tough to Keep a Good Man Down
Ian Laperriere's future is still not clear, but that hasn't changed his attitude for hockey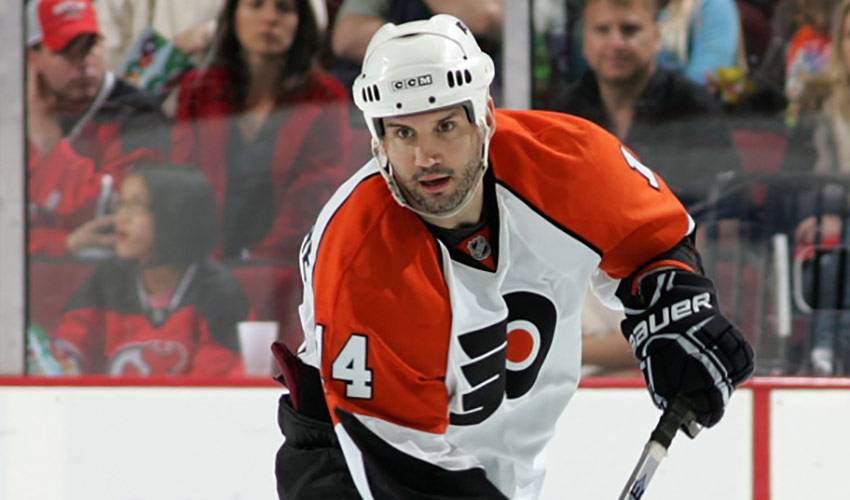 He's been bloodied and battered, literally, but in spite of all the pain endured and games missed, Ian Laperriere's love for the game of hockey hasn't changed at all.
For 1,083 National Hockey League regular season games, Laperriere, the 158th overall selection of the St. Louis Blues in the 1992 NHL Draft, has shown up every night and every shift, doing whatever it takes to make an impact on the game.
That was never more evident than the night of November 27, 2009, in a game against the Buffalo Sabres.
Laperriere, on the ice to kill a penalty, was hit with a slapshot in the mouth near the end of the first period. The end result was not pretty: he sat out the second period receiving between 50 and 100 stitches, while losing seven teeth, but amazingly returned for the third period.
He also played the following night against the Atlanta Thrashers.
Seeing the 37-year-old back on the ice in the very same game, however, wasn't a surprise.
Nor was his reaction in the days following.
"I actually felt bad for my kids," said the 6'1", 200-pounder, who made his NHL debut with the St. Louis Blues on March 3, 1994 "All they want to do every morning is run in to your room and jump on the bed to see you. I think they were a little scared the day after it happened."
Unfortunately, the nightmare wasn't over for the Montreal native.
During the 2010 Stanley Cup playoffs, on April 22, Laperriere was hit in the face near the end of a New Jersey Devils power play opportunity. He suffered an orbital injury, along with a mild concussion.
Although his status listed him as out indefinitely, his return to playoff action was considered highly improbable. Yet, despite missing the Flyers second round series against the Boston Bruins Laperriere returned for Game 4 of the Eastern Conference Finals against the Montreal Canadiens.
During training camp in September of 2010, Laperriere experienced post-concussion syndrome symptoms. After further tests, the decision was made that he would sit out the entire 2010-11 season.
The right winger regrets nothing.
"That's the way I play, that's the way I am and I'm proud of the way I play every single game," said Laperriere, who has played for the Blues, New York Rangers, Los Angeles Kings and Colorado Avalanche. "As I said before, it took me 16 years to get a puck in the face and it just so happened I took two that year. I don't regret anything and I wouldn't change anything."
It's been an approach Laperriere depended on from day one of his NHL career, a career that has seen him win the admiration of fans, teammates and the opposition.
Whether his team is up by four goals or down by four goals, Laperriere plays the game with the same intensity and passion, never backing down from a bigger opponent, always prepared to do his part to help the team get two points.
It's what made him a worthy selection to receive the 2011 Bill Masterton Trophy, awarded annually to the NHLPA member who best exemplifies the qualities of perseverance, sportsmanship, and dedication to hockey.
And while his return to the game is still not certain, Laperriere's unwavering love for hockey is not in question.
"I don't think it's ever going to leave, to tell you the truth," he said. Maybe it will, I don't know. I'm born and raised in Montreal and hockey is my life. If I do come back it's going to be great, but if I don't, I'm still going to be involved in the game because that's all I know, and that's what I'm passionate about.
"It's one thing to be passionate about and it's great if you can find that and I found something, 32 years of it and I won't lose it that easy. I still have a year on my deal. If my eye can clear up, it will be great. If not, I'll move on and see what the opportunities are out there and I'll explore them. I promise you one thing, it's going to involve the game."
When it comes to Ian, he proves that it is tough to keep a good man down.
And in his case, that's not always for very long. Sometimes, it's happens to be just one period.