NHLPA Announces Negotiating Committee
The NHLPA announces its Negotiating Committee, following three days of Executive Board Meetings in Chicago.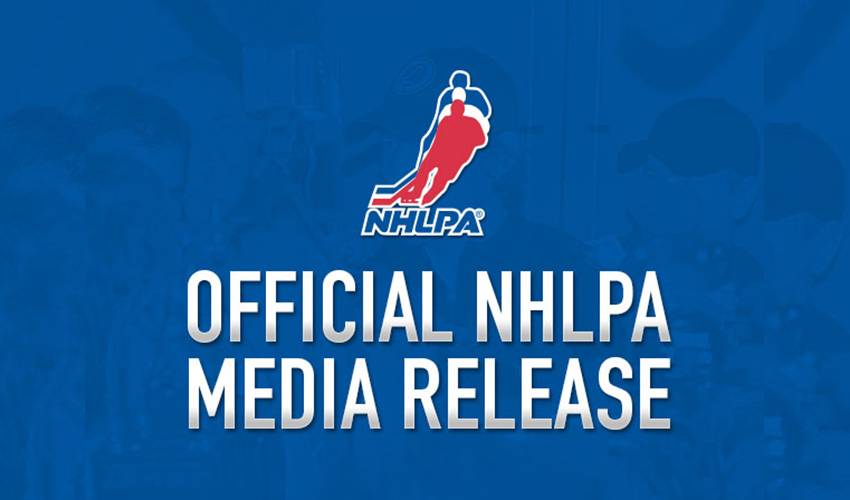 NHLPA ANNOUNCES NEGOTIATING COMMITTEE
CHICAGO (June 27, 2012) – The National Hockey League Players' Association (NHLPA) today announced its Negotiating Committee, following three days of Executive Board Meetings in Chicago. The NHLPA's Negotiating Committee consists of 31 Players (see list below), representing a cross-section of the overall Membership of the NHLPA.
The Players named to the Negotiating Committee will be closely involved in the collective bargaining process between the NHLPA and the NHL. Various members of the Committee will attend bargaining sessions and regular correspondence will be conducted throughout the bargaining process as a means of keeping the entire Committee updated. While the members of the Negotiating Committee are taking a very active role on behalf of their fellow Players, bargaining sessions will be open for all Players to attend.
"It's great to see that so many Players have chosen to participate in bargaining and get involved in the important work ahead for their Association," said Don Fehr, NHLPA Executive Director. "I'm certain this group of Players and all Players who will be attending bargaining sessions will do a great job."
Over the past three days, the NHLPA's Executive Board Meetings took place at The Peninsula Chicago, with 56 NHLPA Members in attendance, including many members of the Negotiating Committee. The meetings, which are held by the Association on an annual basis, covered a wide array of Association business matters, as well as various matters pertaining to the upcoming collective bargaining negotiations.
"I'm proud to be a part of the Negotiating Committee and look forward to working with my fellow Players to help our Association reach a fair deal," said David Backes, NHLPA Negotiating Committee Member and St. Louis Blues forward.
"These were informative meetings this week that gave us the chance to have extensive conversations about collective bargaining with Don and the other Players here. I think we have a really solid group of guys on our Negotiating Committee and I'm glad that I can be involved," said Martin Biron, NHLPA Negotiating Committee Member and New York Rangers goalie.
Further to this week's meetings in Chicago, the NHLPA will also be conducting regional Player meetings over the course of the summer to keep the Players informed on all key issues that may arise during bargaining.
NHLPA Negotiating Committee:

Craig Adams
(Pittsburgh Penguins)


Adrian Aucoin
(Phoenix Coyotes)


Alex Auld
(Ottawa Senators)


David Backes
(St. Louis Blues)


Marty Biron
(New York Rangers)


Brad Boyes
(Buffalo Sabres)


Chris Campoli
(Montreal Canadiens)


B.J. Crombeen
(St. Louis Blues)


Mathieu Darche
(Montreal Canadiens)


Rick DiPietro
(New York Islanders)


Brandon Dubinsky
(New York Rangers)


Ruslan Fedotenko
(New York Rangers)


Alex Goligoski
(Dallas Stars)


Ron Hainsey
(Winnipeg Jets)


Scott Hartnell
(Philadelphia Flyers)


Jamie Langenbrunner
(St. Louis Blues)


Manny Malhotra
(Vancouver Canucks)


Steve Montador
(Chicago Blackhawks)


Dominic Moore
(San Jose Sharks)


Brendan Morrison
(Chicago Blackhawks)


Douglas Murray
(San Jose Sharks)


George Parros
(Anaheim Ducks)


Chris Phillips
(Ottawa Senators)


Cory Schneider
(Vancouver Canucks)


John Tavares
(New York Islanders)


Shea Weber
(Nashville Predators)


Kevin Westgarth
(Los Angeles Kings)


Dan Winnik
(San Jose Sharks)


James Wisniewski
(Columbus Blue Jackets)


Henrik Zetterberg
(Detroit Red Wings)

Shane Doan
(Phoenix Coyotes)
*More Players may be added at a later date