More Marathon Talks in NYC on Wednesday
Players and Owners met till the early morning hours as CBA talks continue; sides tentatively scheduled to meet again on Thursday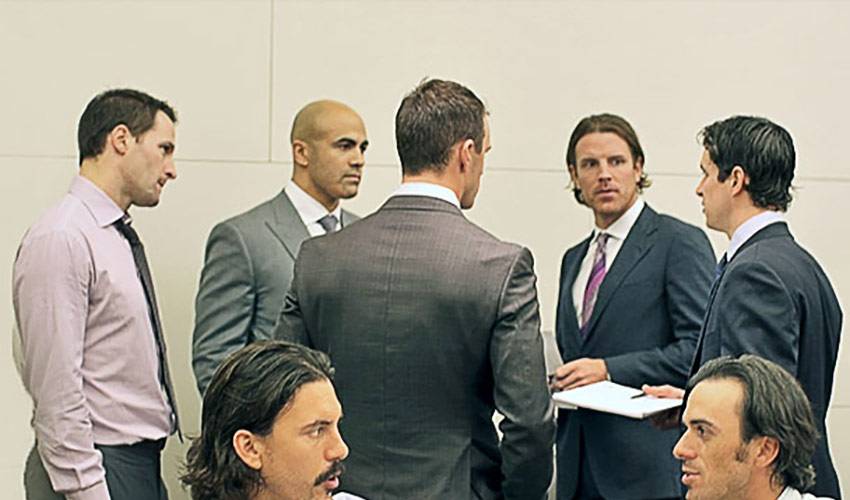 Wednesday saw the NHLPA and the NHL meet throughout the afternoon and evening, into the early morning hours once again as the two sides continued with their second consecutive day of marathon collective bargaining sessions.
The sides have tentatively planned to meet again on Thursday in New York City. The NHLPA has held internal meetings since this morning, which have included Players & staff in attendance in New York, as well as Players via telephone. Discussions between NHLPA staff and Players are on-going as next steps in this process are explored.
Wednesday was a continuation of the Players/Owners format that began on Tuesday. There were a total of 20 Players in attendance on Wednesday. The group consisted of Craig Adams, David Backes, Michael Cammalleri, Chris Campoli, Sidney Crosby, B.J. Crombeen, Mathieu Darche, Shane Doan, Ron Hainsey, Shawn Horcoff, Jamal Mayers, Manny Malhotra, Andy McDonald, Ryan Miller, George Parros, Brad Richards, Martin St. Louis, Jonathan Toews, Kevin Westgarth and Dan Winnik.
A total of 6 Owners were in attendance: Ron Burkle (Pittsburgh Penguins), Mark Chipman (Winnipeg Jets), Murray Edwards (Calgary Flames), Jeremy Jacobs (Boston Bruins) Larry Tanenbaum (Toronto Maple Leafs) and Jeff Vinik (Tampa Bay Lightning).
Following the meetings, which wrapped around 1:00 AM ET, NHLPA Negotiating Committee member Ron Hainsey (Winnipeg Jets) and NHL Deputy Commissioner Bill Daly each met with the media to give brief statements in an effort to update the gathered media on the status of the talks.
"We had a series of meetings today, very candid discussion, and we plan on meeting again [Thursday]," Hainsey said.
"We obviously had a number of meetings today over many hours," Daly said. "Had good, candid dialogue on a lot of issues. There continue to be some critical open issues between the two parties."