Between The Bluelines With Viktor Stalberg
The Blackhawks forward chats about living & playing in Chicago, the unreal start the team has had and some memories of growing up in Sweden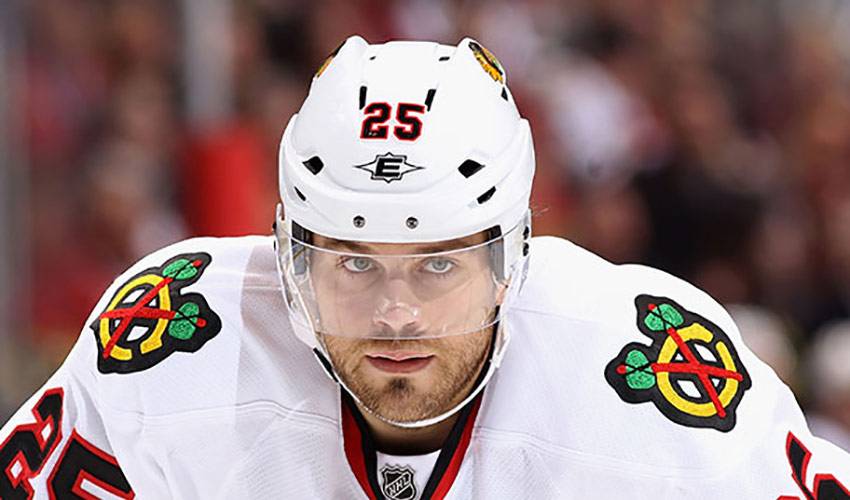 Viktor Stalberg is part of a Chicago team that has stretched their NHL-record opening points streak to 19 games, a squad that has picked up 35 of 38 possible points.
The versatile forward, who has been equally adept when it comes to scoring and preventing goals in 2012-13, is in his third campaign with the Blackhawks, coming off a season where he netted 22 goals, including his first NHL hat trick last January against Columbus.
This week, we go 'Between the Bluelines' with Viktor Stalberg.
WALKING (AND TALKING) IN A WINTER WONDERLAND: "I'm just walking around Chicago today (February 26) and the snow is really coming down. It's really been a great experience to play here and to be in this city. We weren't sure after the lockout how the fans would react, but everyone, no matter where you might be, in a store or a restaurant, they are all supportive. Chicago kind of reminds me of Sweden in that way. People are very friendly. The one big difference is that Chicago is bigger than all of Sweden."
WINDY CITY STREAKING: "I don't think I can recall anything ever quite like this win streak. I played on some pretty good teams when I was growing up, but we never were able to accomplish anything close to what we have. It's been amazing. I guess one of the things that has really stood out during the streak is that we haven't always played our best hockey, but we've found a way to win. We've played well, we've got some lucky bounces and on the nights when we weren't playing our best hockey, we've been able to find a way to get it done."
READ BETWEEN THE LINES: "I'm lucky to have some great linemates in Brian Bickell and Andrew Shaw. We are playing on the third line and most nights, we have been able to be effective. We don't always score goals, but we don't give a lot of them up either. It's really good to see everyone contributing something. From the forwards, to the defence, to our goalies, someone steps up. And to have this streak, it's something we can all be proud of. There are no easy teams in this league and there have been some really tough games for us."
TO THE VIKTOR GOES THE SPOILS: "I have to admit, I've been very lucky to have played for two great teams over my NHL career. There is so much history in both the Toronto and Chicago organizations. The fans in both cities know the game and they support you. And there is so much to see and do in both places. People definitely notice you when you are out and about."
LET IT SNOW: "Growing up in Sweden, we had a huge backyard. So, whenever it would snow, we would be back out there, building little hills that we could jump off with our snow racers. It was always a lot of fun to go outside after it snowed and spend hours and hours just having fun. I don't think I'll be doing that these days, though. But I have to admit, it's nice, especially when you play so many games in a week, to be outside and see the city. I've been out here for a couple of hours and even though the snow can create a few problems, it's still fun to walk around."
To say that Chicago has been an ideal fit for Stalberg would be an understatement. Playing on a team that has an abundance of talent at every position, the 27-year-old Gothenburg native has made his presence known at both ends of the ice.
"You always strive to find a good balance between adding offence while being dependable as a defensive forward," said Stalberg. "Even if you don't get a goal or an assist, you can always find a way to help the team get two points. You learn pretty quickly in this league that stopping goals is just as key as scoring them."