Playing A Large Part
After being an early healthy scratch in 2013, John Erskine is in a confident groove, trying to help the Caps reverse their fortunes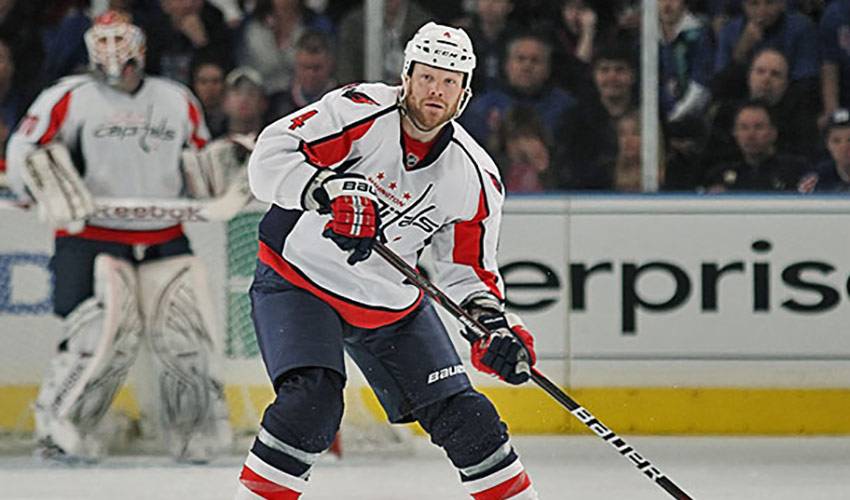 Whether it's zombie watching, hanging out with NASCAR drivers or seeing an increase in his role on the Washington Capitals' blueline, life is pretty sweet these days for John Erskine.
It wasn't so long ago when Erskine, in his 11th NHL season, found himself sitting in the press box on certain nights or playing barely more than double digits in minutes when he was in the lineup.
But, after being a healthy scratch for the first three games of the 2012-2013 campaign, the man who can't get enough of the hit zombie television series Walking Dead, the same guy who has met NASCAR stars Jimmie Johnson and Jeff Gordon, is in a groove.
"I don't know what exactly changed things, but after not playing the first three games of the year, which we lost, the coaches put me in the lineup and well, here we are," said the 6'4", 220-pound defenceman, who came to the Capitals in 2006-07.
Here we are, indeed.
Erskine has seen his minutes increase significantly. He's being counted on to neutralize the opposition in key situations. In a recent 3-0 home win over division rival Carolina, the 32-year-old had 20 minutes of ice time and chipped in with a goal.
"There's nothing I can boil it down to other than confidence," offered the native of Kingston, Ontario. "It's been the confidence the coaches have shown in me and the confidence I have in myself because of that. It's no fun when you aren't playing or sitting on the bench for five or six minutes and then going out there cold. Nothing changed in my training or preparation for the season. I'm just glad to be playing my part."
And while that part is usually defined by a hard-hitting physical style, sometimes leading him to drop the gloves, Erskine's teammates were thrilled to see him light the lamp against the Hurricanes, blasting home a shot off a pass from Niklas Backstrom.
"I don't know what to say about that," said Backstrom, in reference to the first time he had set up his teammate for a goal. "That's unfortunate. Or maybe fortunate, I don't know. We know he can punch a guy. He can shoot it, too."
These days, it seems like Erskine can do a little bit of everything.
He's hopeful any of his contributions, whether or not they show up on the score sheet, translate into a playoff berth for a Capitals squad that has struggled leading up to the mid-way part of the season.
"We're disappointed that it hasn't gone the way we expected, but we're not hanging our heads," noted Erskine. "We know what we have to do to get back in it."
When he's not playing his part in helping Washington reach their post-season goal, Erskine can be found indulging in a newfound off-the-ice pursuit. "I've never been into any of the zombie stuff, but a friend of mine told me to start watching the show Walking Dead," he said, of the horror/drama TV series. "Well, I started watching it and the next thing you know, I'm completely hooked. I must have watched three seasons in two weeks. It's really cool."
So, too, is having the opportunity to have spent some time with some of the biggest names on the NASCAR circuit, including this year's Daytona 500 champion, Jimmie Johnson.
"Great guys," said Erskine, of his experiences with Johnson, Jeff Gordon and others. "A lot of the drivers like hockey, so it's fun to meet them and swap some stories."
Erskine has plenty of happy ones to share these days, including signing a two-year contract extension with the Capitals, who just happen to be 9-0-0 in games that he scores a goal.
While plenty has changed for him in recent times, Erskine's no nonsense approach has not.
"I really haven't altered anything," he said. "I don't let anything get to me. I just play my game. If I have a bad shift, I can get it out my head and concentrate on the next one. I feel really good out there."
It certainly shows.