A Playoff State of Mind
Times are tense for Justin Abdelkader & the Red Wings as the chase for a post-season berth comes down to the final days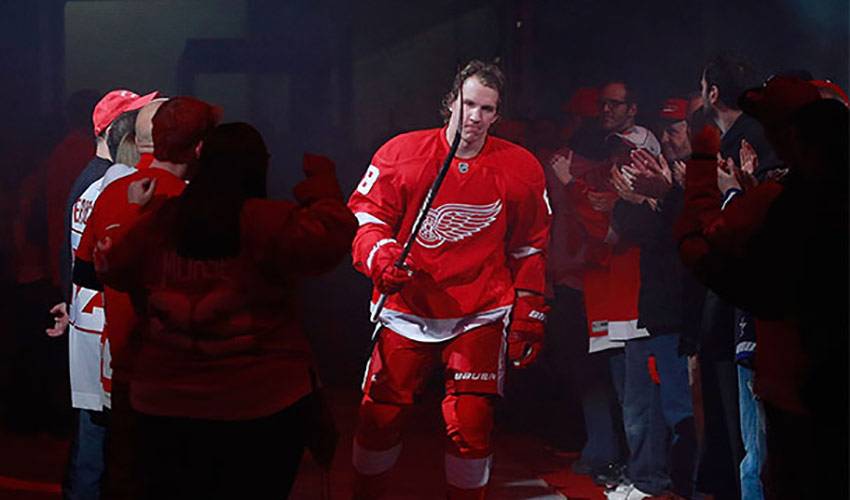 The playoffs haven't yet begun, but Justin Abdelkader has been in a post-season state of mind for a while.
With the conclusion to the lockout shortened 48-game regular season schedule fast approaching, there are no shortage of compelling storylines, complete with plenty of plotlines and possible endings.
For the players and teams battling to earn a berth, including perennial playoff presence, Detroit, times are indeed tense.
"I can't recall when exactly it was, but it's felt like we've been in a playoff game every night for a long time," said the 26-year-old Abdelkader, who appeared in two games with the Red Wings in 2007-08. "It's all the clichés, but every one of them is true when you get to this point of the year. Yes, every game is important, but each shift, each opportunity to have to score or stop a goal, is crucial."
Abdelkader, a native of Muskegon, Michigan, a lifelong Red Wings fan now patrolling left wing and centre for the Original Six team, put those words in motion in a 4-0 home win over Phoenix on Monday night.
His strong defensive play, physical presence and near miss earned recognition from the commentators on the NBC broadcast.
The former 42nd overall draft pick from 2005 will gladly take the two points over his shot that rang off the post.
"You had to remind me of that, didn't you?" laughed Abdelkader, who was part of Detroit's 2008 Stanley Cup-winning squad. "Of course I would have liked that to have gone in, but it really doesn't matter when you get those valuable points. You just have to find a way to do the things that will get you the win. It's so intense."
But there is also a calm found inside the walls of the Detroit dressing room, a group that has a strong veteran presence, in the form of players like captain Henrik Zetterberg, Pavel Datsyuk, Niklas Kronwall and Daniel Cleary.
Their actions and words have kept the Red Wings focused on their primary goal.
"We have guys that have been there, guys who know what it takes to be successful at this time of the year," said Abdelkader. "The young guys, that's huge for them. When you see someone like Pavel going out and throwing big hits, it shows everyone what we need to do."
Getting into the playoffs, Abdelkader acknowledged, can be just as tough a task as hoisting hockey's most coveted team trophy.
"When you get in, anything can happen," he said. "Getting there is a huge task. It takes you being hot at the right time and carrying that momentum into the playoffs. We saw that with Los Angeles last year. They finished eighth in the West and made their magical run. That's why you can't look any further ahead than your next game."
There are at least a few moments within a week, though, when Abdelkader can step away from the pressures of the present hockey environment.
"I think you have to find ways to relax," he offered. "For me, it's maybe going to the mall or going for a walk. But at the same time, you enjoy being at the rink, being around the guys, and working together towards that goal of making it into the playoffs. No matter what, you'll always have hockey on your mind."
With so much on the line for Abdelkader and his teammates, how could it not be?