Condra Going Above & Beyond
Erik Condra has elevated his game in the playoffs helping the Senators make some noise in the Eastern Conference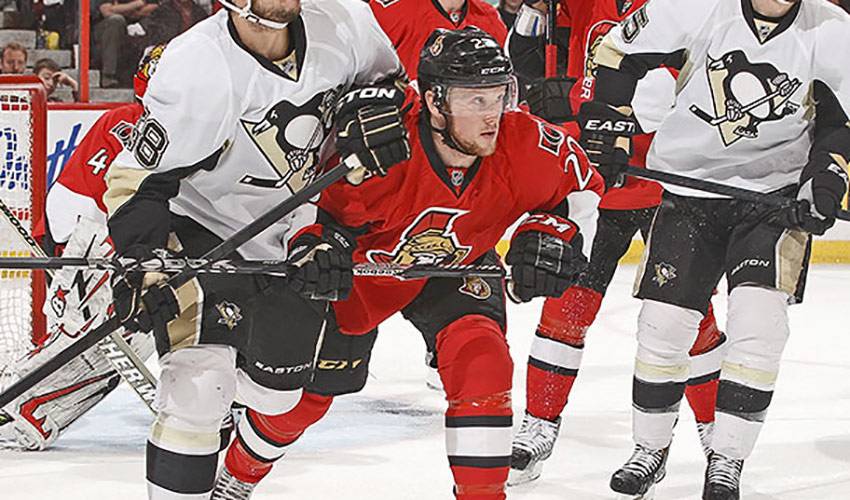 Erik Condra's personal pre-playoff game plan focused on preventing the opposition's top players from putting the puck net. Two rounds into the post-season, he's managed to accomplish far more than just that.
When it was established that the Ottawa Senators, the Eastern Conference's seventh seed, were going to face-off against the Montreal Canadiens in the first round of the 2013 Stanley Cup Playoffs, Condra constantly reminded himself of what he needed to do to make an impact.
"I think I'm at my best when I'm able to those little things throughout a game, forechecking hard, getting pucks in deep and making sure the other team doesn't generate any big scoring chances," said the 26-year-old native of Trenton, Michigan. "The games are going to be tight and you don't have any room for error."
Condra, known primarily for his defensive efforts, has been a success at both ends of the ice. After eight contests, he has seven points, including a three-point game in the series-clinching game five versus the Canadiens.
"When you are able to win a playoff game on the road against a good team, that just gives you more confidence," said Condra. "It's also nice when you can chip in and get some points."
Not surprisingly, Condra's cellphone has had to work overtime lately, with a flood of texts and phone calls coming through on a steady basis.
When Ottawa and Montreal combined for 236 penalty minutes in game three, Condra lost track of how many messages he received.
For his part, he managed to avoid the spirited events.
"I was one of a handful of guys who were left on the bench after the dust settled," he recalled. "I had a front row seat for all the action. It was pretty crazy. I remember looking at the bench and I thought, 'There's so much space on here, I could probably lie down if I wanted to.'"
After dispatching of the Canadiens in five games, the Senators were tasked with facing the No. 1 seed Pittsburgh Penguins in the semifinals.
Down two games to none, Ottawa won a double overtime thriller on Sunday night. Condra was a force throughout the five periods and assisted on the game-winning tally in the Sens 2-1 win.
"We've had to deal with a lot of injuries throughout the season," noted Condra, of the Northeast Division team that were buoyed by the return of Jason Spezza in Game Three after the star forward was shelved for 50 games. "But the big-name guys, the veterans, including Jason, they kept us positive. It's tough when you have to deal with players being out of the lineup, but we never got fazed by it."
Rather, the Senators continue to find a way to go forward with contributions throughout the lineup.
"You find a way, whatever it needs to be," said Condra, who won the American Hockey League's Calder Cup with Binghamton in 2011. "Everyone is doing their part to make it work. Guys are stepping up."
Including Erik Condra, who has gone above and beyond what his original plan called for.