MacLean A Man With A Message
No longer able to compete on the ice, NHLPA Beard-a-thon ambassador Brett MacLean is helping the Heart and Stroke Foundation raise funds and awareness for life-saving research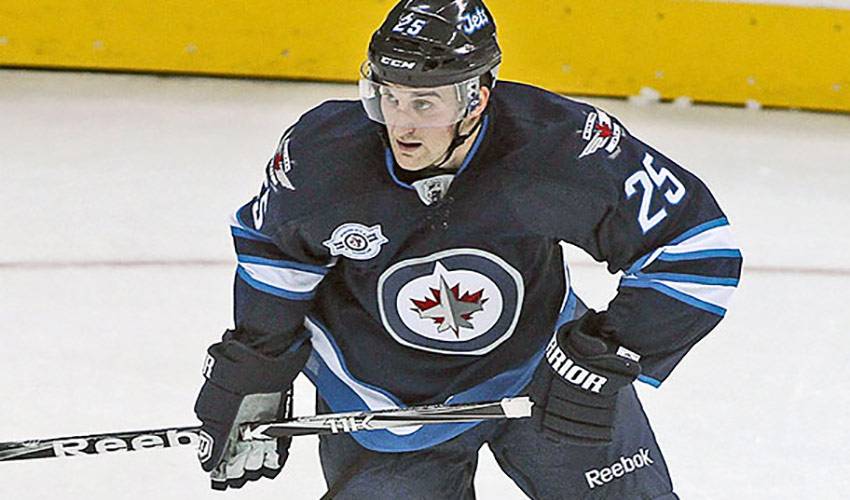 Brett MacLean is a man with a message, something he recently shared as official spokesperson for the 2013 NHLPA Beard-a-thon, a joint venture between the NHLPA and the Heart and Stroke Foundation.
MacLean, who played in 18 NHL games with Phoenix and Winnipeg, doesn't mince words when he recalls the events of July 2, 2012 in Owen Sound, Ontario.
"I could have died," said MacLean, whose heart stopped during a summer pick-up hockey game. "I'm lucky to be here. A lot has changed for me since then."
His time in the NHL has come to an end, but his crusade to educate people about CPR awareness has just begun.
"I've always loved the game of hockey and I still have the same passion for it," he said."And though my NHL days are over, I consider myself fortunate in so many ways. One thing that was important to me was to get the message out about heart disease. I wanted to do anything I could to help. I'm glad to lend a hand."
Which, not surprisingly, is exactly how he terms his role with the annual campaign known as the NHLPA Beard-a-thon. For three years running now, come playoff time, fans are encouraged to put their razors down and help raise funds that go towards the Heart and Stroke Foundation's life-saving research and programs.
The 2013 initiative raised more than $70,000 , bringing the three-year fundraising total to nearly $400,000 . Once again this year fans were encouraged to grow playoff beards and raise money through pledges online. Those fans who were not keen on growing a big, burly beard could also pledge their friends or favourite NHL players.
"We are extremely appreciative of Brett and all the other fans who grew a beard for a great cause and supported the NHLPA Beard-a-thon. This hockey tradition both helps bring awareness to heart disease and stroke and raises money for life-saving research," says David Sculthorpe, CEO of the Heart and Stroke Foundation of Canada.
All counted, there were more than 200 beard growers participating in the initiative this year, along with 29 NHLPA members. Saad Rafi won the grand prize – a trip to see some of his favourite NHL players in the city of his choice – after his name was selected from a draw that included all NHLPA Beard-a-thon participants who each raised over $1,000 this year.
Seeing the players and hockey fans step up for a worthwhile cause hardly came as a surprise to MacLean.
"It's been said time and again, but hockey players are always willing to lend a hand and lend their support," said the 32nd overall selection of the Coyotes in 2007. "That's just who they are."
MacLean would certainly know.
"Right after my incident, there was a flood of calls, text messages and Twitter postings, guys reaching out to me," he recalled. "Obviously, your closest friends in the game, you know they will be there for you. But there were so many other players, guys I had never played with or even had a conversation with, who did the very same thing. I can't say I was surprised at all. That's what hockey players do."
Including MacLean himself, who decided to get into the spirit of this year's NHLPA Beard-a-thon by keeping his shaving kit stashed away for the playoffs.
"I can't say it's a great beard, but I gave it a shot," he admitted. "It doesn't really matter. It's all about getting as many people involved, players and fans, for something really important. You want as many people as possible to know about the Heart and Stroke Foundation and its great work."
When he does sit down with the young people he often meets through his work with the Heart and Stroke Foundation, the man who is now an assistant coach for the University of Waterloo hockey team leaves them with one simple message: "You are not alone."
Brett MacLean knows that, too.