The 2013 NHLPA Rookie Showcase - Day 2
Day 2 of the 2013 NHLPA Rookie Showcase took place at the MasterCard Centre in Toronto. A long day of photo shoots with Upper Deck and Panini America ended in an exciting pick up game.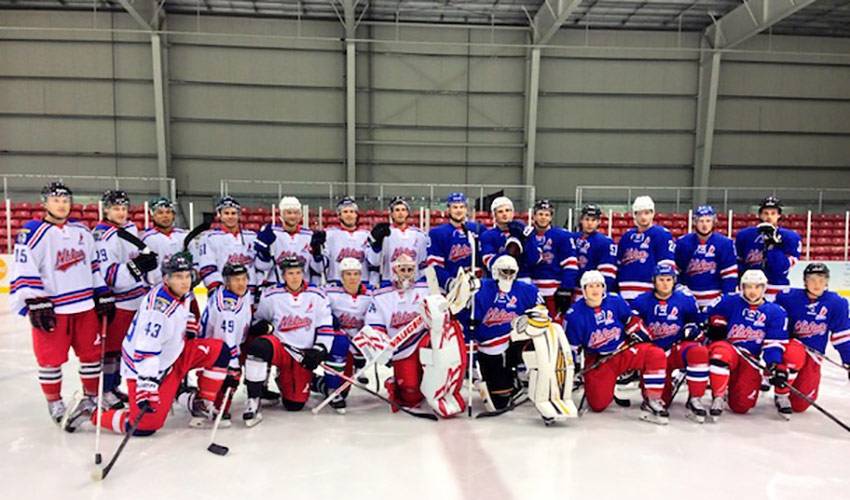 The rookies awoke bright and early on Tuesday, August 27th for Day 2 of the 2013 NHLPA Rookie Showcase. The players arrived at the MasterCard Centre in Mississauga for a full day of memorabilia photo shoots.
The NHLPA's official trading card partners, Panini America and Upper Deck, each had several on-ice stations set up for the rookies to filter through over the course of the day. The players suited up in their NHL team uniforms and were photographed doing a variety of poses and movements for both still and action shots. The action shots taken will be used for the players' very first trading cards. Those cards will go to print as soon as the rookies play in their first NHL games.
Getty Images was also set up at the event to photograph the players off the ice. They were shot in and out of their NHL team uniforms to collect headshots and other images that will eventually be made available for media use.
To end the day, the rookies were split into two teams for a scrimmage. Before the game started, we mic'd up Tom Wilson, Brendan Gallagher, Nathan MacKinnon, Adam Clendening, and Cory Conacher to catch all the ice-level action for a two-day recap video we'll be releasing on NHLPA.com very soon.
Group shot before the shinny game #rookieshowcase pic.twitter.com/r4VFUf3aoH

— NHLPA (@NHLPA) August 27, 2013
The team rosters for the game were:
| | |
| --- | --- |
| Team White | Team Blue |
| Nathan MacKinnon | Malcolm Subban |
| Petr Mrazek | Jon Merrill |
| Sean Monahan | Dylan McIlrath |
| Boone Jenner | Tomas Hertl |
| Ty Rattie | Mikhail Grigorenko |
| Tom Wilson | Brendan Gallagher |
| Tanner Pearson | Christian Thomas |
| Adam Clendening | Cory Conacher |
| Mark Mcneill | Matt Puempel |
| Matthew Dumba | Derrick Poulliot |
| Bo Horvat | Tyler Biggs |
Team Blue won the friendly game thanks to an incredible shot by Mikhail Grigorenko.
After the game, the group of rookies headed to the Rogers Centre to take in a Toronto Blue Jays game against the New York Yankees.
Day 2 marked the end of the 2013 NHLPA Rookie Showcase. Keep your eyes on these up and comers in the regular season. For more photos, videos, and coverage follow @NHLPA on Twitter. The videos we shot at the Showcase will start to roll out shortly, and we'll be launching our 'NHLPA Meet The Rookies' video series in October.