Top Player Tweets of the Week (November 1st – 8th)
From Chicago Blawkhawks players visiting Capitol Hill to Kyle Palmieri contemplating seasonal decorations, these are your Top Player Tweets of the Week.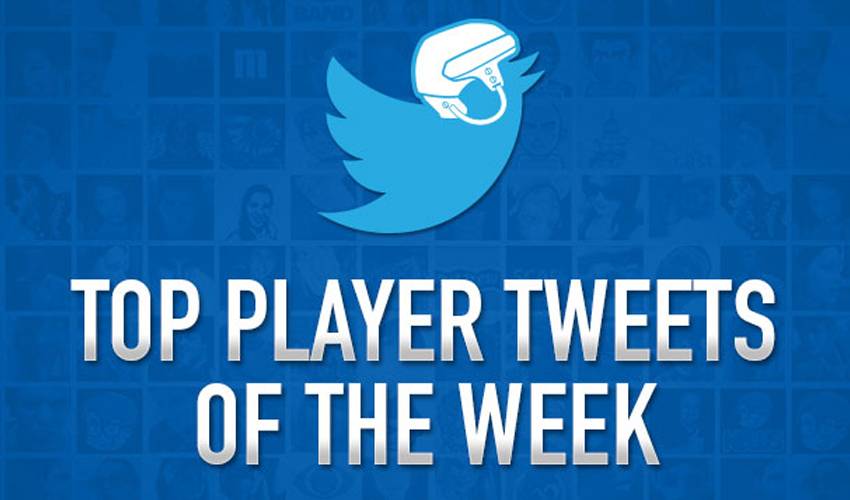 Early in the week, the Chicago Blackhawks were invited to visit President Barack Obama at the White House in Washington, D.C. Prior to meeting the President, the players stopped by the Walter Reed National Military Medical Centre to spend time with wounded U.S. soldiers.
It was an absolute honor meeting the soldiers at Walter Reed today. True heroes. http://t.co/XXB26MOaV9

— Brandon Bollig (@Bollig87) November 4, 2013
It's not every day you see a statue of your own teammate in the White House. Looking good @bbicks29 pic.twitter.com/rNjpXKYaSz

— Brandon Bollig (@Bollig87) November 4, 2013
Great visit at the White House today with a bunch of beauties #hawks #Obama

— Andrew Shaw (@shawz15er) November 4, 2013
Being huge fans of the game themselves, when they're not playing hockey, the players are watching it! This week they tweeted supportive and congratulatory messages to fellow players and shared their excitement over each other's skills.
"@NHL: MUST SEE: @Datsyuk13 does it again. Just watch: http://t.co/XlMNlk5Ck2 #RedWings" That's just sick! Fun to watch

— David Perron (@DP_57) November 8, 2013
Congrats to my boy @HampeLindholm on his first NHL goal yesterday! #snipe pic.twitter.com/VxFabIkGnL

— Rickard Rakell (@RickyRakell93) November 7, 2013
Congratulations to @tfedun88 on his first NHL goal, very well deserved! #stairsinsummerpaidoff #B3

— Mark Fistric (@Fistric45) November 6, 2013
Congrats Pavel Bure. You were amazing to watch! #russianrocket

— Tyler Bozak (@Bozie42) November 2, 2013
Off-the-ice the players are big on spending time with their families of the human and canine variety.
Great win at home and always nice to come home to this pup! #guarddog pic.twitter.com/ffrC2xnLZc

— Nick Bonino (@NickBonino) November 7, 2013
My brother @brento_ and his lovely girl Shannon had a beautiful baby girl named Avery today! Those 2 goals r 4 u pic.twitter.com/xJzcNxrOEL

— Scottie Upshall (@ScottieUpshall) November 6, 2013
Now it's time to head home and see this guy pic.twitter.com/bNmJvyCegA

— Kyle Turris (@kyleturris) November 6, 2013
Newest addition to the fam @babygotnat. Say hello to Easton everyone http://t.co/lJgzvLa82H

— Cam Atkinson (@CamAtkinson13) November 3, 2013
And now that Halloween is over, Kyle Palmieri poses a great question:
How early is too early for christmas decorations?

— Kyle Palmieri (@kylepalmieri) November 7, 2013