An Anaheim Introduction
After recently throwing out the first pitch at an Angels game, Ryan Kesler is looking forward to showing fans in Anaheim his skills on the ice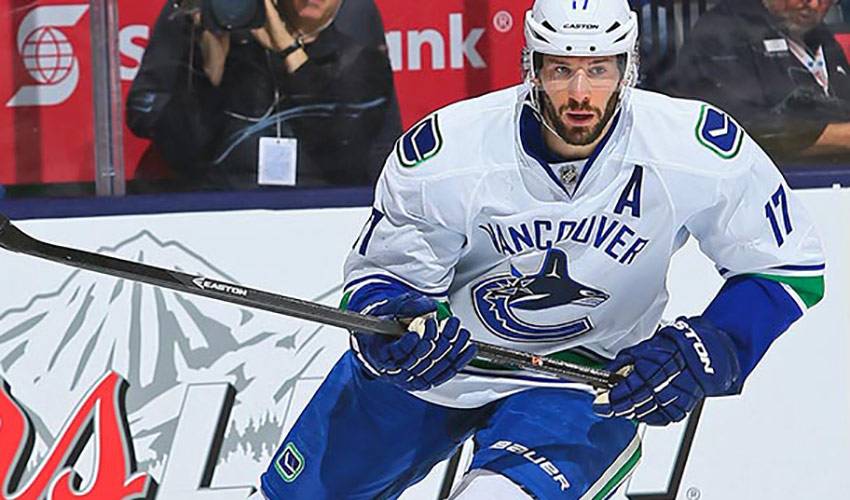 If Ryan Kesler displays the same type of calm, cool and collected demeanor he did while donning a Los Angeles Angels of Anaheim jersey, his upcoming season with the Anaheim Ducks should be a big hit.
Traded from Vancouver to Anaheim on June 27 after 10 seasons with the Canucks, Kesler's first sporting experience in the city he'll soon call home came in the form of throwing out the ceremonial first pitch at the Angel Stadium of Anaheim on July 9.
The Michigan native managed to get through his brief moment on the mound without incident.
"No, I wasn't, surprisingly," answered Kesler, when asked if he was nervous in the seconds leading up to his pitch. "I played baseball until I was nine, so maybe I convinced myself that I still had it in me. But, when I got out there, I remember thinking, 'This is a lot farther away than it looks.'"
The end result was just what the 29-year-old had hoped for.
"My one thought was just don't bounce it," said Kesler. "That's what Matt Shoemaker, the player I threw it to told me. That was the best advice I could get. It ended up being a little outside, but maybe they gave me the corner."
Even more impressive when you factor in all the 'support' Kesler received from his friends.
"I got chirped pretty good," said Kesler, who spoke with several players during his visit, including 2014 All-Star Game MVP Mike Trout. "There were a lot of people from Vancouver that texted or left messages, especially because the (Toronto) Blue Jays were the opposition. But, I survived it. The players were great to meet, very relaxed, easy to talk to."
That's also been the case with his new Anaheim teammates.
"One of the best things about being a hockey player is the respect we have for one another," offered Kesler, who had 392 points in 654 career games with Vancouver. "When you're traded to a team you play against regularly, guys you go up against a lot, it's nice to know that you can push whatever happened on the ice under the rug. That's just the way hockey players are."
He added, with a laugh, "Thank God for that."
Kesler brings plenty to his new club, highlighted by a strong two-way game. He's eager to help Anaheim build on a 2013-14 campaign that saw them finish second overall in the standings.
It's what the centreman-right winger won't be doing, however, that could be the most impactful.
While there's a want to impress his new coaches and teammates, Kesler knows the pitfalls of trying to turn heads.
"I'm not playing my best when I'm trying too hard," he said. "I need to let things come to me."