Ready For Year Two in Toronto
Jonathan Bernier looks to bring his calm & confident approach to the Leafs net again in 2014-15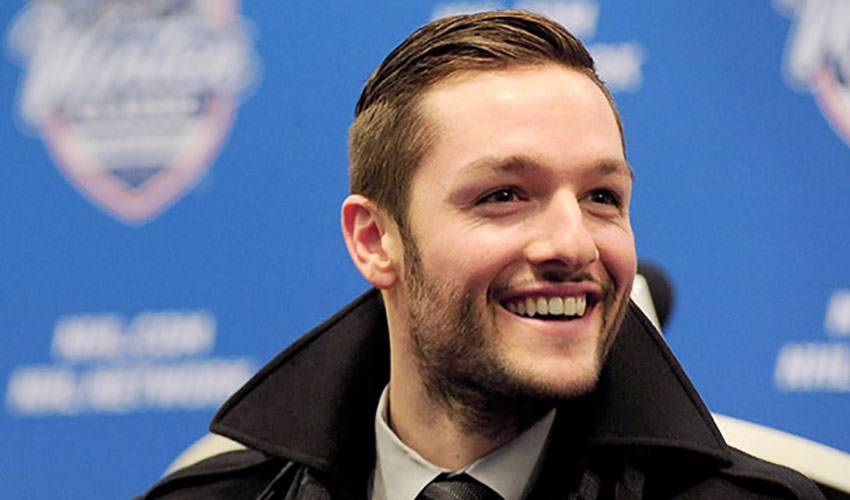 Facing-off against the defending Stanley Cup champs in your first NHL game would be a daunting task for any young player. But not Jonathan Bernier.
The kid from Laval, Quebec, who had recently celebrated his 19th birthday, figured the moment he'd experience his first big-league action between the pipes was coming sooner rather than later.
It became a reality when Bernier was given the call to start for Los Angeles in their season-opening clash, against state rival Anaheim, on September 28, 2007.
"I still remember a lot when it comes to that one," said Bernier, who allowed just one goal, stopping 26 shots, while earning second star honours in the game played in London, England, a 4-1 Kings victory. "I know I wanted to soak it all up, everything about it. I was really excited when I found out I was going to start."
Excited, yes. Nervous, no.
"It was kind of weird," recalled the 11th overall pick of the Kings in 2006. "I was so focused and so ready. But, I wasn't nervous. After the game, I remembered thinking to myself that it flew by so quickly. It was just a great feeling to play in your first NHL game, especially against the team that won the Stanley Cup the year before."
Bernier was able to grab a few mementos from his milestone.
"I kept the stick I used and I have the game-sheet from it," he noted of the items that are displayed in his home office. "I didn't grab the puck for some reason."
Now, 117 games into his NHL life, and primed for his second campaign with the Toronto Maple Leafs, Bernier is still the same confident and calming presence in the net.
Yet, his soft-spoken manner belies the competitive nature he carries with him once the puck drops.
"I expect a lot from myself," said Bernier, who was traded to the Maple Leafs on June 23, 2013, winning 26 games in 55 appearances last season. "It's about working harder to get better. I try to use the summer as a chance to unwind and not focus my mind on hockey. But, around this time of year, I start getting geared up again. I've been working out a lot. As soon as training camp begins, hockey is 24/7 for me."
There's no need to ask Bernier if he'll be battling butterflies when Toronto launches their 2014-15 season with a home tilt against Original Six rival Montreal on October 8.
"I'm always very focused before each game," said the soon-to-be 26-year-old. "Before the first game I played, I was ready to go out and do what I could to help the team win. That's the way I've always approached things. Don't be nervous, just be confident in yourself."