ANNUAL HOCKEY FIGHTS CANCER AWARENESS CAMPAIGN BEGINS OCT. 20
The joint initiative between the NHL and the NHLPA returns for its 16th season.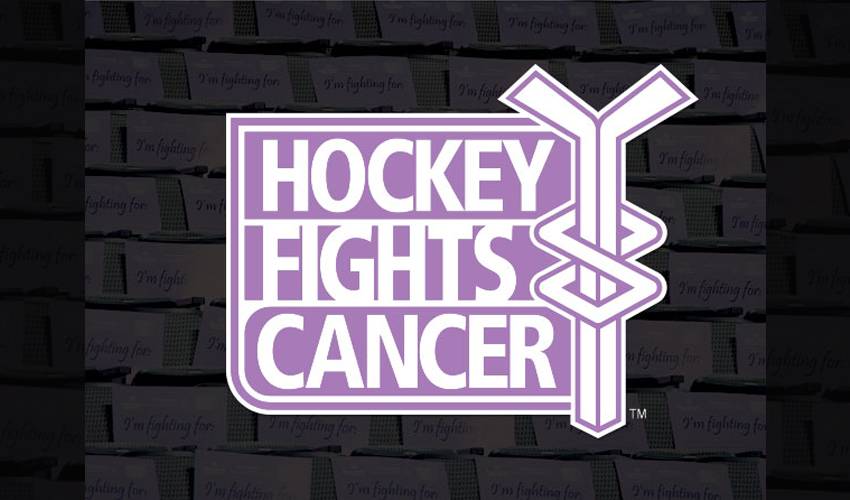 Joint Initiative Between NHL and NHLPA Returns for 16th Season
Hockey Fights Cancer National Broadcast Night, Nov. 5 on NBCSN in U.S, Sportsnet ONE and TVA Sports in Canada, Will Feature Detroit Red Wings at New York Rangers
NEW YORK / TORONTO (October 20, 2014) – Fans are asked to help the hockey family fight cancer as part of the National Hockey League Players' Association (NHLPA), and the National Hockey League's (NHL®) annual Hockey Fights Cancer™ initiative, taking place from Oct. 20 – Nov. 17, 2014. Since its inception in 1998, the joint charitable initiative has been dedicated to raising awareness for national and local organizations involved in cancer care and research. Together, the NHLPA and NHL will distribute more than $200,000 in grants to national and local cancer organizations in all 30 NHL markets.
"Over the years, our hockey family – fans, players, Club personnel, broadcast partners – has continuously shown their relentless spirit in helping one another in the fight against cancer," said Ken Martin Jr., NHL Vice President of Cause Marketing. "The NHL is proud to join forces with its hockey community to help give back and support those who need it most."
"The NHLPA is proud to join with hockey fans to help raise money not only to support the research being done to find a cure for this terrible disease, but to also support those courageous people that are battling cancer," said Devin Smith, Chairman of Goals & Dreams Fund."
Campaign Highlights:
• Lavender: official Hockey Fights Cancer™ color which represents awareness for all forms of cancer
• NHL Social™: Fans can stay connected on Hockey Fights Cancer initiatives happening around the League by following the NHL on Twitter (@NHL), Instagram (Instagram.com/NHL), Facebook (Facebook.com/NHL), and Snapchat ("NHL"). All platforms will embrace the lavender campaign color and use the official hashtag #HockeyFightsCancer
• Commemorative Merchandise: Exclusive Hockey Fights Cancer items are available for purchase online at Shop.NHL.com, select NHL Club stores and the NHL Powered by Reebok Store in New York City by Old Time Hockey, Sportin' Styles, New Era, Reebok, Levelwear, and Fan Fever, LLC
• In-Store Donations: During the campaign, fans can stop by the NHL Powered by Reebok Store to make a donation, no purchase necessary. The National Hockey League Foundation and Reebok will each match every $1.00 donated by fans (up to $5,000 in total donations)
• In-Arena Awareness Night: All 30 NHL Clubs will designate one home game as its Hockey Fights Cancer Awareness Night and will include fan engaging events and activities (full schedule below). Visit each NHL Club website for more information
• National Broadcast Night: Wednesday, Nov. 5 is the national Hockey Fights Cancer Awareness Night featuring Detroit Red Wings at New York Rangers at 8:00 p.m. EST. This game will air nationally in the U.S. on NBCSN, and across Canada on Sportsnet ONE in English and TVA Sports in French
• EA SPORTS: Throughout the campaign, this initiative will be featured in NHL® 15, integrated into the game's Hockey Ultimate Team game mode. EA SPORTS will also donate $10,000 to Hockey Fights Cancer
Hockey Fights Cancer has partnered with five cancer organizations to help fund and raise awareness about new and existing cancer-fighting programs. Hockey Fights Cancer will donate to Movember which has earmarked its grant to fund its men's health initiatives, specifically in the areas of prostate and testicular cancer and mental health. The Leukemia & Lymphoma Society will use its donation to help fund an LLS portfolio of pediatric and young adult blood cancer research grants. A grant to Prostate Cancer Canada will be used to help fund its PCC Rising Star in Prostate Cancer Research program, which provides salary and research support for outstanding research scientists initiating careers as independent investigators in prostate cancer research. ZERO – The End of Prostate Cancer will use its donation to provide free mobile testing in select markets. Pancreatic Cancer Action Network will allocate its donation to its Community for Progress mentorship and professional development program, which fosters collaborations among scientists and future scientific leaders to strengthen the pancreatic cancer research community. In addition, Hockey Fights Cancer will distribute $5,000 to each NHL Club to support local cancer organizations in their respective markets.
2014 Hockey Fights Cancer Awareness Nights:
Anaheim Ducks Wednesday, Oct. 22 vs. BUF
Arizona Coyotes Saturday, Nov. 8 vs. NYI
Boston Bruins Tuesday, Oct. 28 vs. MIN
Buffalo Sabres Friday, Nov. 7 vs. EDM
Calgary Flames Tuesday, Oct. 21 vs. TBL
Carolina Hurricanes Friday, Nov. 7 vs. CBJ
Chicago Blackhawks Sunday, Oct. 26 vs. OTT
Colorado Avalanche Thursday, Nov. 6 vs. TOR
Columbus Blue Jackets Friday, Oct. 17 vs. CGY
Dallas Stars Tuesday, Oct. 28 vs. STL
Detroit Red Wings Thursday, Oct. 23 vs. PIT
Edmonton Oilers Friday, Oct. 24 vs. CAR
Florida Panthers Friday, Nov. 14 vs. NYI
Los Angeles Kings Thursday, Oct. 23 vs. BUF
Minnesota Wild Thursday, Oct. 23 vs. ARI
Montreal Canadiens Saturday, Oct. 25 vs. NYR
Nashville Predators Saturday, Nov. 15 vs. WPG
New Jersey Devils Tuesday, Nov. 4 vs. STL
New York Islanders Saturday, Oct. 25 vs. DAL
New York Rangers Wednesday, Nov. 5 vs. DET
Ottawa Senators Wednesday, Oct. 22 vs. TOR
Philadelphia Flyers Tuesday, Oct. 14 vs. ANA
Pittsburgh Penguins Thursday, Oct. 30 vs. LAK
San Jose Sharks Saturday, Oct. 25 vs. BUF
St. Louis Blues Saturday, Nov. 1 vs. COL
Tampa Bay Lightning Tuesday, Oct. 28 vs. ARI
Toronto Maple Leafs Saturday, Nov. 1 vs. CHI
Vancouver Canucks Sunday, Oct. 26 vs. WSH
Washington Capitals Wednesday, Oct. 29 vs. DET
Winnipeg Jets Tuesday, Nov. 4 vs. NSH
###