A Leader To Lean On
Brad Boyes has taken the lessons he learned early in his career and applied them within his role with the Florida Panthers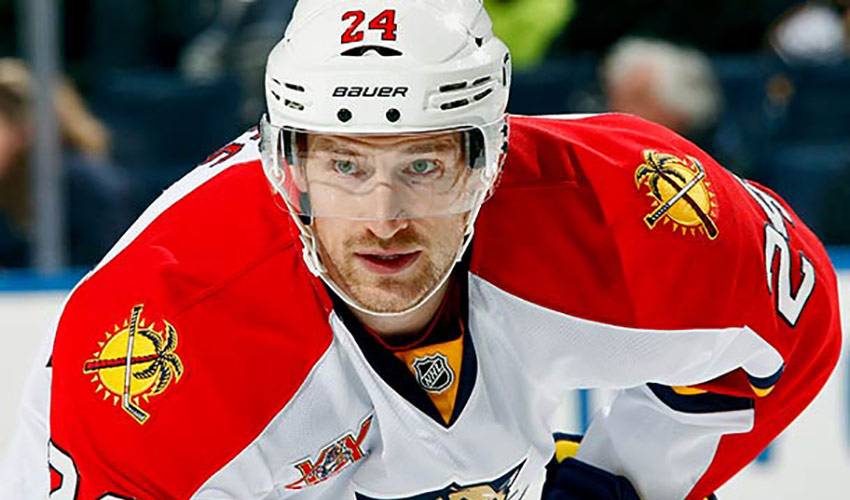 Brad Boyes never forgot the guidance and guiding words he received as a young player. Now, in his 10th season, the NHL veteran is paying it forward.
The start of Boyes' big-league career was somewhat of a whirlwind. Drafted 24th overall by Toronto in 2000, he didn't appear in any games with the Maple Leafs, and was dealt to San Jose. He skated in just one game in 2003-04, his first NHL contest, before being traded from the Sharks to Boston.
After 144 career games with the Bruins, Boyes was on the move again, landing in St. Louis after 62 games with Boston in 2006-07.
It was with the Blues where the right-winger would meet one of the most influential figures in his hockey life.
"I was fortunate to have met a lot of great people when I started out in the NHL, but when I got to St. Louis, I remember getting to play with Jamal Mayers," recalled Boyes. "I learned a lot about the game and what it takes to be a contributor on the ice."
Mayers, who played 915 career games, and won a Stanley Cup with Chicago in 2013, retired in December of that same year, and currently works as an analyst for the NHL Network.
"I appreciated a lot of the advice he shared with me," noted Boyes. "I had known him a little bit before I played in St. Louis. He really went out of his way to help me out and I've never forgotten that."
Now, almost 700 games into his NHL tenure, Boyes is leaning on many of the things he learned from Mayers, fully embracing his leadership role with the Florida Panthers.
"I think it's a little bit of both, offering some advice and some of the younger guys reaching out if they have a question," said the Mississauga, Ontario native. "We have a really good youth corps here, players that want to make a difference on the ice, but who also are willing to listen and learn. I was the same guy in that position when I was starting out.
"All you want is for everyone to go out and play as a team, play for one another, and for each person to do their part to achieve success."
Boyes hopes the approach pays off with a playoff berth.
"When you first start out in this league, your mindset is to want to win, to play for the Stanley Cup," he offered. "When it comes to personal goals, it's hard to predict what will happen or what to expect. The one constant is that you want to be in the playoffs. That continues to be my goal. I haven't had a lot of playoff opportunities (17 games in total), so it would be nice to see that change."
One thing that won't change is the key message Boyes frequently shares with Florida's younger players.
"I go back to what Jamal reminded me of, and something that I haven't forgotten," he offered. "The young players need to learn the ropes, but it's important that once the puck drops, they are being counted on to contribute and to help the team get those two points."