Wilson Makes An Impact In Washington
Tom Wilson works to bring energy & create space every time he takes the ice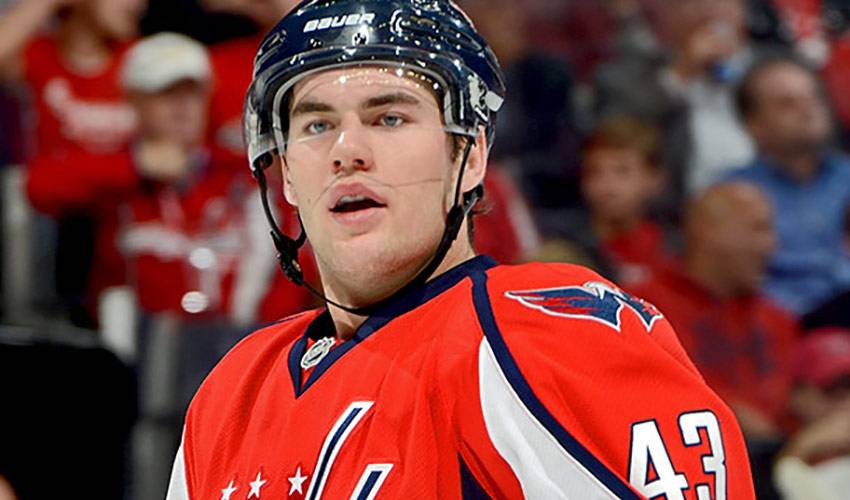 It isn't only Tom Wilson's teammates who give the up and coming forward a pat on the back and an encouraging word.
His enthusiastic and energetic game has made him a welcome addition to a Washington Capitals club with its' collective eyes set on the Stanley Cup prize.
But, Wilson doesn't need to be wearing his red, white and blue No. 43 jersey to feel appreciated. It's something he discovered when he recently took in his first Washington Wizards NBA game.
"Well, there were a few people that came up and recognized me, said hello, and said some nice things," said the 20-year-old forward. "It was an awesome time all-round. You really do appreciate that connection with fans."
First @WashWizards game tonight! Taking on the Spurs #DC @Latta17

— Tom Wilson (@tom_wilso) January 14, 2015
Everyone's favorite #CapsRoomies @tom_wilso and @Latta17 supporting the @WashWizards at #WizSpurs pic.twitter.com/fqwyXj2Kc2

— Monumental Network (@MonumentalNtwrk) January 14, 2015
Wilson, the 16th overall pick of the Caps in 2012, has skated in less than 120 regular season NHL games, appearing in all 82 contests in 2013-14.
Age and relative inexperience hasn't detracted from the Toronto native's impact, which happens to be a good way to describe Wilson's style.
"For me, getting out there, taking hits, giving hits, trying to keep the opposition's defencemen on their toes, bringing energy, creating space – it's what I try to do every time I take a shift."
In three Ontario Hockey League (OHL) seasons with the Plymouth Whalers, Wilson proved to be an asset at both ends of the rink. He was voted the 'Best Body Checker' in the OHL's 2012 Western Conference Coaches Poll and runner up for the 'Hardest Worker' category that same year.
He made his NHL debut in Game 5 of the 2012-13 Eastern Conference quarterfinals against the New York Rangers. Wilson became the first Washington teenager (19) to make his big-league debut in the playoffs, and recorded four hits in 6:24 of ice time in Game 5.
"It's really been an ideal situation here in Washington," noted Wilson, who scored his first NHL goal on November 5, 2013, against the New York Islanders. "The guys have been tremendous to me, taking me under their wing and making me feel right at home. It was that way from day one."
Expectations, individually and team-wise, have continued to grow since then.
"We don't necessarily need guys to score three times a game, although we have a lot of players that can do that," said Wilson. "I think we're very fortunate to have a group where everyone has so many sides to their individual games. For me, I just want to continue to work with my linemates to bring energy every night, to do our part to get the two points."
The very type of approach that can go a long way in getting you noticed, no matter where you happen to be.