Wingels Has Fond Memories of Wilmette
Tommy Wingels developed his hockey skills in the hometown he shares with Bill Murray & Charlton Heston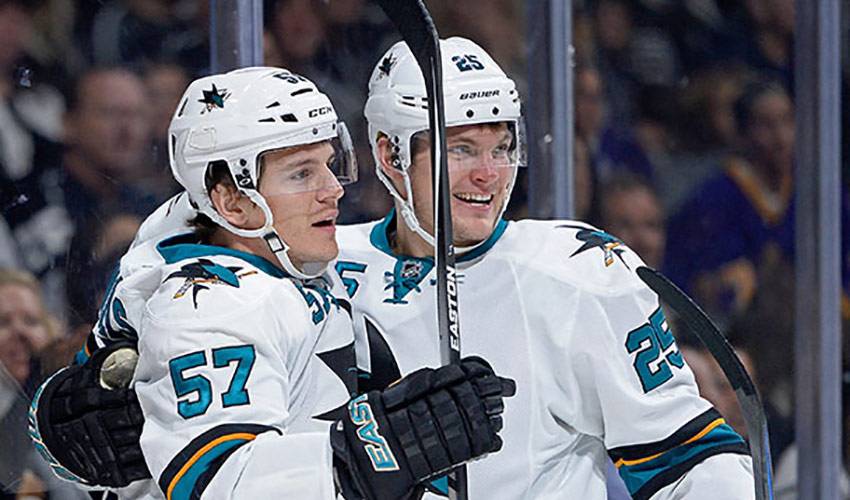 He shares a hometown with some of Hollywood's most famous stars, an A-list group that includes big-screen acting legends Bill Murray and Charlton Heston. And while it's on a completely different stage, Tommy Wingels has earned rave reviews for his work with the San Jose Sharks.
The village of Wilmette, Illinois, situated just less than 15 miles north of Chicago's bustling downtown district, is home to less than 30,000 people. In a 2007 BusinessWeek story, it ranked seventh as the best place to raise children in the U.S.
"Wilmette was a great place to grow up in because it provided opportunities in all areas as a kid, especially in sport," said Wingels, who has skated in nearly 210 regular season games with the Sharks since 2010-11. "There are soccer fields, baseball diamonds, and in my case, an ice rink available whenever needed. The community did a great job of offering teams sports for kids to learn to play, as well as being part of a team," recalled Wingels.
Not surprisingly, Wingels fondest memories of growing up in Wilmette happen to be about hockey.
"I remember waking up early in the mornings and doing private hockey lessons at the local rink, prior to going to school," he recalled. "It was just an ideal place to grow up."
It's also the place where an Emmy and Golden Globe-winning actor, who happens to be a huge sports fan, also grew up.
"That's pretty cool having Bill Murray grow up in the same area I did," said Wingels, of the 2003 Golden Globe Best Actor recipient for the film 'Lost In Translation'. "It's awesome seeing him supporting the Chicago Cubs and his presence around Chicago."
Wingels, who had 16 goals and 22 assists in 77 games last season (he also led the Sharks with 218 hits), has certainly made Wilmette proud, too, both at the rink and in the community.
The 26-year-old forward is currently on pace to best his NHL career marks in goals, assists and points. His first career NHL goal was made even more memorable when he scored in front of his hometown crowd in Chicago on January 15, 2012.
On May 2, 2013, his efforts with You Can Play (a campaign dedicated to fighting homophobia in sports) led him to be nominated for the King Clancy Memorial Trophy, an award given to player who best exemplifies leadership qualities on and off the ice and who has made a significant humanitarian contribution to his community.
These days, though, it's all about delivering the city of San Jose its' first Stanley Cup.
"I want to be a player that can be counted on by his teammates, someone who is committed to make a difference when he's called on," said Wingels.