Brewer Builds A Milestone Career
Eric Brewer credits the foundation forged by his family for helping him reach the 1,000 games played mark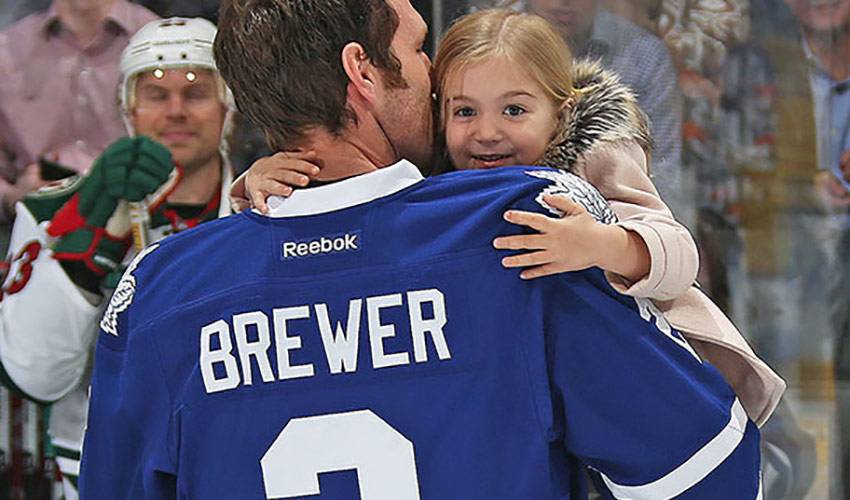 It's his name that went into the history books for skating in 1,000 NHL games, but Eric Brewer will tell you reaching the milestone was very much a team effort.
He pauses for a brief moment, not in reflection, but more so in wanting to afford his biggest supporters the recognition he feels they rightly deserve.
"When I think of the the people – family, friends, and others – that supported me before I even played in my first NHL game, the ones who helped me reach my goals, that same group is identical to this day, with a few more additions along the way," said Brewer. "Having that foundation, that support, it's why people succeed."
On March 23, in a ceremony at the Air Canada Centre, the Toronto Maple Leafs and the League honoured Brewer with gifts and a video tribute for succeeding in hitting the 1,000-games mark.
Joined by his wife, Rebecca, the couple's two daughters, and his parents, the veteran defenceman also had plenty of familiar faces in the stands that evening, as well as on March 21 in Ottawa, the night he became the 300th player to reach 1,000 games.
"It was extremely special, both nights," offered Brewer, who was selected fifth overall by the New York Islanders in the 1997 NHL Draft, and played 69 games for the Isles, 315 games for Edmonton, 332 for St. Louis, 246 for Tampa Bay and eight for Anaheim before his trade to Toronto at this year's trade deadline. "It was nice to share it with the people you are closest to."
His personal cheering section included members of the Aubichon clan, the billet family Brewer lived with during his Western Hockey League years with the Prince George Cougars.
"They have been a big part of my life and they still are," noted Brewer, of Vic and Suzanne Aubichon, who along with their son, Vince (they also have two other children, Natalie and Nick), were on-hand for the milestone festivities. "I wouldn't be at this point if it weren't for them and so many others."
Brewer reserved some of his most heartfelt words for his wife.
"She is absolutely wonderful to me and to our kids," he said. "A lot of hockey players, when they get home from the rink, they can park it. I can't. I bring the game home with me. But, throughout it all, she has been unbelievably understanding. I can't really express how lucky I am."
Lucky is also a term he applies to his numerous successes playing for Team Canada.
Brewer has gold medals from the Olympics (2002), World Championships (2003, '04 and '07) and World Cup of Hockey (2004).
"Hockey Canada has been very good to the Brewers and my family," he noted. "I've been pretty fortunate to have some great opportunities to play for my country. Certainly, there's been luck involved in winning in those types of tournaments. There's always a lot on the line when you are in single elimination games, going up against the best teams in the world."
Win or lose, Brewer found it early on that he could always count on his loyal and long-term support base.
"I can honestly say I never looked at getting to 1,000 games," he said. "When you start out, you want to fit in and get some games in. Very quickly, you understand you are up against the top players in the sport. So, to reach this mark is very satisfying."