Ducks Looking to Etem Up
Emerson Etem marvels at times watching his teammates perform as they chase their Stanley Cup dreams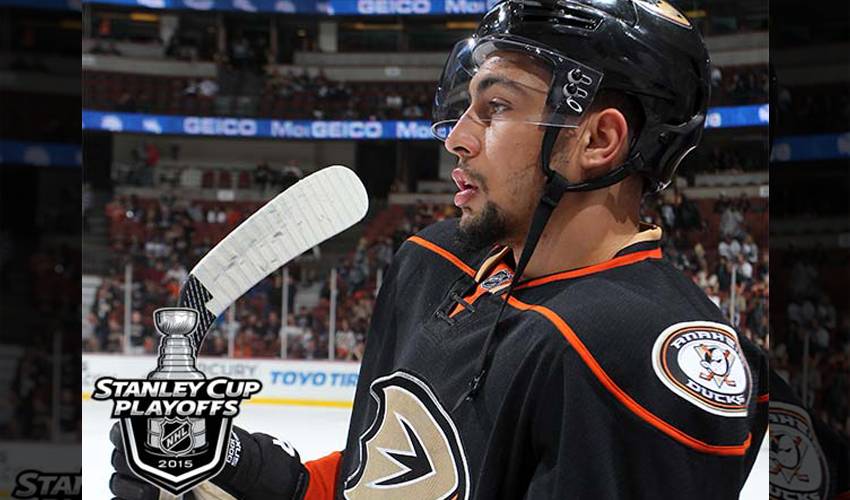 Emerson Etem admitted he could have chosen a number of things to rave about when he spoke of Anaheim's star forwards. But, it wasn't a big goal or perfect pass that first came to mind.
He can't quite recall what game it was in the first round of this year's Stanley Cup Playoffs, but at some point in the Ducks' series against the Winnipeg Jets, Etem, 22, caught himself shaking his head on the bench after watching his captain put his body in front of a blistering slap shot.
"You admire and respect when you see veteran players and team leaders do things like that," said Etem, in speaking of Ryan Getzlaf. "Guys like Ryan and (fellow forward) Corey Perry, you learn so much about what it takes to make a difference. It's not only about the creativity and great offence they bring, it's how they do whatever it takes, big or small, to win the game."
For one of the youngest members of the Ducks, it's been both educational and inspirational to watch some of hockey's most impact performers ply their trade, day in and day out.
It's also quite meaningful when players like Getzlaf and Perry acknowledge your contributions, just like they did when Etem scored in Anaheim's 6-1 win in Game 1 of their Western Conference semifinal against the Calgary Flames.
"It really does mean a lot," said Etem, attempting to stifle his enthusiasm. "When you get a pat on the back or you get a tap of the stick for a good play or a good game, you certainly feel pretty good about it."
Etem hopes he and his teammates will have plenty more to celebrate this year.
"It only gets more difficult as you go on," admitted the left-winger, who had a goal in the series-clinching Game 4 win against the Jets. "But, with the leadership we have here, you always feel prepared to deal with the ups and downs within a game and over a series. You go out there with a sense of confidence about your own game and in your teammates."
For Etem, who got his start playing roller hockey at the age of three before switching to ice hockey three years later, confidence in what he brings to the Anaheim lineup continues to grow.
"I try to use my speed to make an impact at both ends of the ice," said the California-born forward, who played his minor hockey for the Los Angeles Hockey Club and had a paper route he could rollerblade to earn money for his hockey equipment. "But, it's always about doing anything you can to get that win. That's the bottom line."