Rising To The Occasion
After a bit of a scoring slump, Steven Stamkos has found his offensive touch as the games get more intense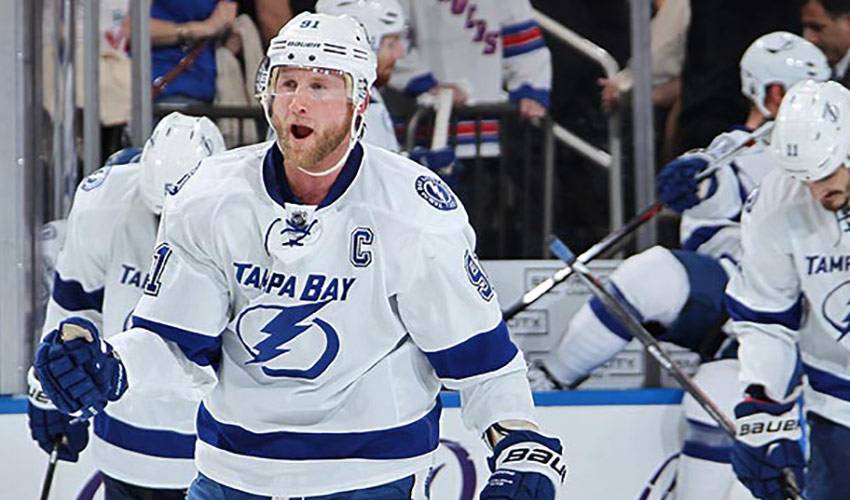 There was a point in time, not so long ago, during the Stanley Cup Playoffs, when Steven Stamkos found himself under the microscope. But, that's certainly not the case anymore for Tampa's undisputed leader.
He's never been the type to make it about him, be it in good times or through rough patches, opting instead to channel his focus on team success.
That said, Stamkos, the man who has the 'C' sewn on his sweater, feels a great responsibility to tangibly contribute to Tampa Bay's fortunes.
"I'm definitely more confident now than I was the first eight games, no question," said Stamkos, of his perceived slow start to this year's post-season. "But, I think for me it was a great adversity test. Our team was winning, which was great. The depth has prevailed all season for our team. But I knew I was playing the right way. When you play the right way, things are going to start going your way."
And they have.
In a pivotal Game 5 against a heavyweight New York Rangers side on Sunday night at Madison Square Garden, Stamkos scored and added an assist in a 2-0 Lightning win.
The victory puts them one game away from playing for all the Cup spoils.
"I haven't done the math, but how many goals does he have now in the playoffs?" queried Tampa head coach Jon Cooper after the win. "Seven in the last 10? He's got seven in his last 10. The one thing with Stammer, you look at his seven goals, he's not getting the sixth goal in a 6-2 game. He's getting the go-ahead goal or the one that you build off. It was only a matter of time. You can't keep him down forever."
It's something the opposition has found out the hard way.
"I think it's funny how it works, because the spotlight is on you so often that everybody just expects greatness all the time," noted Cooper. "To become great you do fail sometimes. And he's great. But you don't get there by just success. It's the guys that fight through failure that rise to the top. And Stammer, not that he's failed, but he gets criticized when he doesn't score a goal.
"As this playoff has gone on, Stammer just continues to rise to the occasion," he continued. "Stammer unselfishly moved to the wing, he's taken off, and you've got to really respect the captain for putting team first. I think his play has elevated because of it."
While his game has undeniably ascended, Stamkos hasn't forgotten, not even for a moment, the task that remains for he and his teammates.
"I talked about it, about realizing how close you are," said the 25-year-old. "You do have to recognize before it was two, and now it's one win away from the finals. I think we realize that. At the same time, I think in these playoffs we've had a big emotional win, and we've kind of had a letdown game. I think we've learned our lesson pretty quick. Toughest one to win is the fourth one, especially at this time of the year, when it's to go to the final."
Having one of the game's very best firing on all cylinders, armed with confidence in his own game and in his teammates, is just what the Lightning happen to have these days.
"So, everything has kind of accumulated to this point right now," offered Stamkos. "But, when you have confidence, you try to keep it as long as you can, because it is tough to get at this time of the year."
Seven in 10 will definitely do that.