MINNESOTA WILD TO HOST CHICAGO BLACKHAWKS FOR 2016 COORS LIGHT NHL STADIUM SERIES
The 2016 Coors Light NHL Stadium Series will feature the Minnesota Wild and the Chicago Blackhawks at TCF Bank Stadium on February 21st.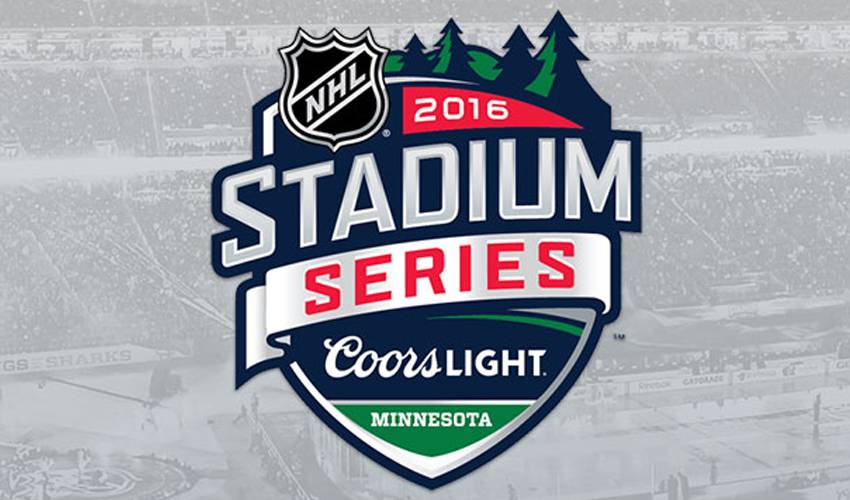 NEW YORK (Aug. 5, 2015) – Representatives from the National Hockey League, Minnesota Wild, Chicago Blackhawks, National Hockey League Players' Association and University of Minnesota gathered at TCF Bank Stadium today to unveil plans for the 2016 Coors Light NHL Stadium Series™.
In January, the NHL® announced the 2016 Coors Light NHL Stadium Series™ will be comprised of two games: the Wild vs. Blackhawks at TCF Bank Stadium Sunday, Feb. 21, at 3:30 p.m. ET and the Colorado Avalanche vs. Detroit Red Wings at Coors Field on Saturday, Feb. 27, at 8 p.m. ET.
The Wild-Blackhawks game will be broadcast live in the U.S. on NBC as part of a Hockey Day in America tripleheader on NBC and NBCSN. In Canada, the event will be televised live on Sportsnet and TVA Sports.
A special game featuring alumni from the Wild®, Blackhawks® and Minnesota North Stars™ will take place at TCF Bank Stadium on Saturday, Feb. 20, a day prior to the 2016 Coors Light NHL Stadium Series™.
"We are pleased to bring the Coors Light NHL Stadium Series™ to 'the State of Hockey' as a highlight of the Hockey Day in America triple-header on NBC and NBCSN and as part of USA Hockey's national celebration of our sport, Hockey Weekend Across America," NHL Commissioner Gary Bettman said. "With so much great hockey having been played on the University of Minnesota campus, TCF Bank Stadium will serve as an ideal setting for this outdoor renewal of the Wild-Blackhawks rivalry."
The 2016 Coors Light NHL Stadium Series™ marks the first time the Wild will participate in a regular-season outdoor NHL game.
"The Minnesota Wild is thrilled to have the opportunity to celebrate our favorite game with our fans in the great outdoors on a national stage," said Minnesota Wild Owner Craig Leipold. "TCF Bank Stadium will be a wonderful site for both games and the NHL has provided our fans with a great opponent in the Chicago Blackhawks. We look forward to an incredible weekend of hockey against our division rival."
"We are looking forward to facing the Wild in the State of Hockey™, in front of an extremely passionate fan base," Blackhawks President & CEO John McDonough added. "This game will add another chapter to the well-established rivalry between the Blackhawks and Wild."
Rivals in the Central Division, the Wild and Blackhawks, who have faced each other in the Stanley Cup® Playoffs three consecutive years, boast talented rosters. The Wild features Zach Parise, Mikko Koivu and Thomas Vanek at forward, with All-Star Ryan Suter on defense and Devan Dubnyk, the 2014-15 recipient of the Bill Masterton Memorial Trophy, in goal. The defending Stanley Cup® champion Blackhawks are led by Patrick Kane, Jonathan Toews, Duncan Keith, Marian Hossa, Brent Seabrook and Corey Crawford. This group has made a combined 17 appearances in regular-season outdoor NHL games.
"The players are excited about the opportunity to take this great rivalry outdoors in what will undoubtedly be an incredible atmosphere at TCF Stadium," said NHLPA Divisional Player Rep Joe Reekie. "This game will be something the players on the ice and fans in attendance will remember for a long time."
Former players from the Wild and North Stars will combine forces on behalf of the State of Hockey™ to face off against former Blackhawks greats. Team Minnesota is scheduled to include Brad Bombardir, Neal Broten, Andrew Brunette, Dino Ciccarelli, Darby Hendrickson, Antti Laaksonen, Mike Modano, Bobby Smith, Wes Walz and more. Team Minnesota will be coached by Lou Nanne and Tom Reid.
The Blackhawks roster also spans a number of different eras from the NHL, and is scheduled to include Ed Belfour, Denis Savard, Jeremy Roenick, Eddie Olczyk and more. Tony Esposito and broadcaster Pat Foley will coach the team.
Information on priority access for Wild season-ticket holders to purchase tickets will be sent by the club in the coming days. Blackhawks season-ticket holders and University of Minnesota football season-ticket holders will receive similar information. The opportunity is for a limited number of tickets and will be available on a first-come first-served basis, while supplies last. The special pre-sale package offering is a ticket to the 2016 Coors Light NHL Stadium Series™ and a ticket to the Feb. 20 alumni game. Information regarding any ticket availability for the general public will be released at a later date.
League partner MillerCoors returns as the title sponsor of the NHL Stadium Series™ for its flagship Coors Light brand. As the title partner for the event, Coors Light will be provided with a number of assets in addition to incorporating its logo into the official game and event mark.
"Coors Light is proud to bring these world-class NHL teams to one of the best stadiums in the country," says David Kroll, chief marketing officer, MillerCoors. "Minneapolis will be a great host city and we look forward to being there to refresh NHL fans in the way that only Coors Light can."
Launched in 2014 by the NHL, the Coors Light NHL Stadium Series™ has featured five games to date, all played in sold out stadiums. The series started at Dodger Stadium in Los Angeles with the NHL's first outdoor game played in California, showcased the first two hockey games ever played at Yankee Stadium, continued with the first-ever NHL game at Soldier Field and returned to California for another successful event at Levi's® Stadium.
The NHL today also released the official event logo for the 2016 Coors Light Stadium Series™ in Minnesota. Other aspects of the event, including team uniforms, will be unveiled later this season.
NHL Network™ and NHL.com will provide extensive coverage live from the event leading up to and after the game. NHL Social™ will have exclusive coverage on all social platforms, including the use of the hashtag #StadiumSeries.
Additionally, the 2016 Coors Light NHL Stadium Series™ will be available to stream live via NBC Sports Live Extra in the U.S., Rogers NHL GameCentre LIVE in Canada and NHL GameCenter Live in most countries outside North America.
### (8/5/15)