Gazdic Is Happy to Help
Whether it's a summer hockey camp, or supporting children with cancer, Luke Gazdic is always on-hand to help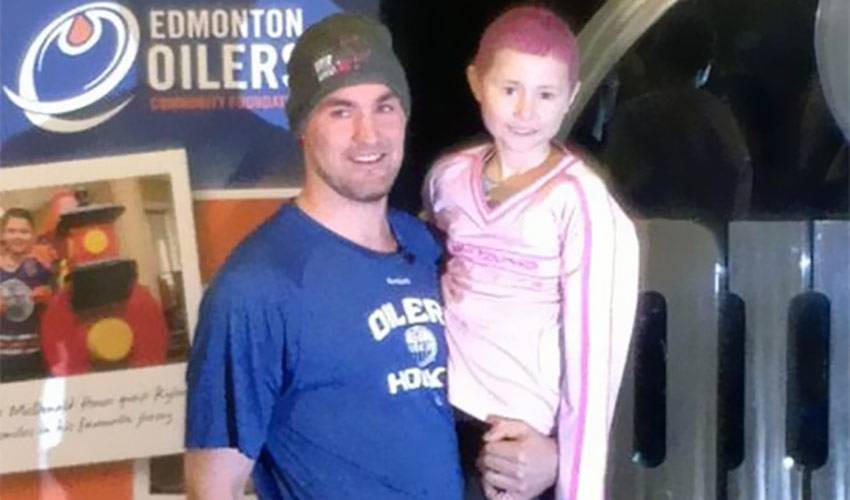 He's greeted by wide-eyed smiles, gets asked all kinds of off-the-wall questions, and gives countless pats on the back. For Luke Gazdic, taking part in a summer hockey camp is everywhere he wants to be.
When he got the call asking to be a special guest at the Edmonton Oilers Hockey School about a month ago, Gazdic didn't waste any time in accepting the offer.
"I really love going to something like this because it really takes me back," said the 26-year-old left-winger. "It's really fun for me to do. It reminds me of when I was a kid, how much fun it was to go to hockey camp, and to meet the NHL players."
Growing up in Toronto, Gazdic had plenty of opportunities to skate with several big leaguers throughout his time at summer hockey camps.
"When you're a young kid and you see an NHL player come out onto the ice, let alone a guy who played on the Maple Leafs, it was really exciting for me," he said. "So, you put yourself in these kids' shoes and it puts a big smile on your face. Not just because they're happy, but because of what it meant to you all those years ago."
Gazdic still breaks into a big grin when he recites the names of some of the players he met years before he reached the Ontario Hockey League ranks with the Erie Otters.
"I got to meet Tie (Domi, father of Arizona Coyotes forward, Max,), Shayne Corson and Darcy Tucker when I was a kid," he recalled. "I also had the chance to meet some of the former Leafs players, like Darryl Sittler and others. I think the one thing that stood out is how they made you feel. That's something that stays with you and guides you when you are lucky enough to be in that position to give back to kids. To be honest, if I saw any of those guys right now, I'd still have that same smile on my face that I did back then."
It's a big reason why the former 172nd overall pick of the Dallas Stars in 2007 doesn't mind going the extra mile to help out a kid in need.
Not too long ago, Gazdic had his locks and beard shaved off with some help from his friend Avena, for her Hair Massacure fundraiser, which supports children in Alberta with life-threatening diseases.
The young Alberta girl – and huge hockey fan – was diagnosed with Leukemia just before Christmas in 2013.
"Being part of an NHL team, you are asked to do certain things within the community, and for all of us, it's something you want to be part of," said Gazdic. "I was fortunate enough to meet Avena, and like anyone, you want to do anything you can to help."
Now, all Gazdic needs to do is meet the one the player he's always wanted to.
"I've never met Wendel Clark, but I would really like that," he said, of the former Maple Leafs captain. "That's definitely on my bucket list. I've always had an appreciation for the guys who play the game tough, and that are also stand-up people."
Guys that happen to be just like Luke Gazdic.