NHLPA Charity Fashion Show Raises $200,000
Andrew Ladd, Jacob Trouba, Chris Thorburn, Mark Scheifele and many more Jets players hit the catwalk on Tuesday night to help raise $200K for local charities in Winnipeg.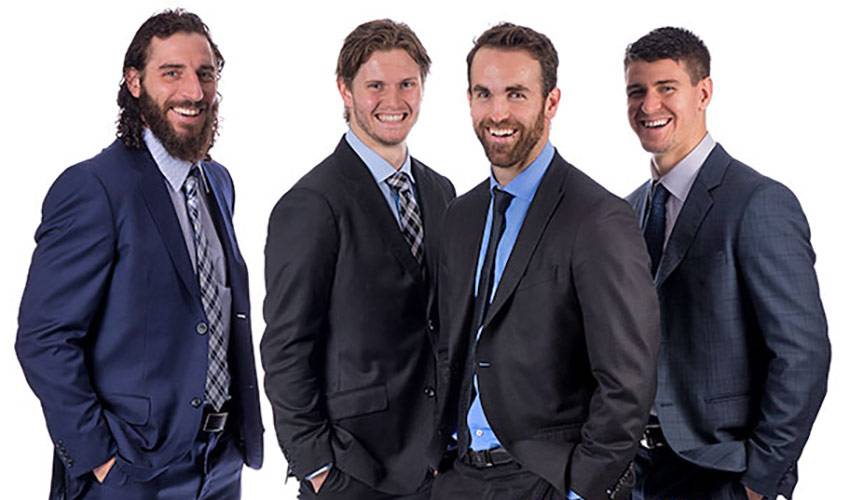 The inaugural NHLPA Charity Fashion Show was an immense success Tuesday night in Winnipeg. Nineteen Winnipeg Jets players - including Andrew Ladd, Chris Thorburn, and Jacob Trouba as well as their spouses - owned the catwalk to help raise $200,000 that will directly benefit several local charities through the Jets' True North Foundation.
The Boys and Girls of Club of Winnipeg, KidSport Winnipeg, Children's Hospital Foundation of Manitoba Marymound, and Can DO People Inc., are all initiatives that were hand-selected by participating players and will each receive approximately $33,000 from tonight's proceeds. The total amount raised was assisted by the NHLPA Goals & Dreams fund - the players' charitable program.
The event took place at the RBC Convention Centre in downtown Winnipeg to a sold-out crowd of 1,000 fans, who were thrilled to see the players and their better halves strut down the runway modelling top fashion and accessory brands. Thank you to BESTSELLER HOMME/FEMME, Nobis, NYGARD Slims, U.N. Luggage, New Balance, Harry Rosen, Silver Jeans, Therapy Boutique, and Birks for providing all the clothing and jewelry that was featured throughout the show. Also, thank you to Estée Lauder and Aevi Spa Slon Boutique for providing hair and makeup services to the players' wives and girlfriends for the show.
In case you missed our live coverage of the event, here are all the highlights from our first-ever NHLPA Fashion Show:
.@JacobTrouba walking the runway #NHLPAFashionShow pic.twitter.com/3M5XO67OYL

— NHLPA (@NHLPA) December 9, 2015
The players' wives take to the stage #NHLPAFashionShow pic.twitter.com/HWC8oP3TjD

— NHLPA (@NHLPA) December 9, 2015
.@aladd16 and Brandy Ladd in @NewBalanceCan #NHLPAFashionShow pic.twitter.com/RmijFYXpEU

— NHLPA (@NHLPA) December 9, 2015
Chris and Sara Thorburn tossing scarves into the crowd #NHLPAFashionShow pic.twitter.com/KRAFfSSfDM

— NHLPA (@NHLPA) December 9, 2015
The @NHLJets players are reading all your tweets and Instagram comments backstage! #NHLPAFashionShow pic.twitter.com/xSm64hdlYQ

— NHLPA (@NHLPA) December 9, 2015
Special moment as Alyx & Keaton (of the famous @NHLJets stick exchange) take to the stage! #NHLPAFashionShow pic.twitter.com/CkmyEMFUfY

— NHLPA (@NHLPA) December 9, 2015
Chris Thorburn - hockey player, model, and expert high-fiver. #NHLPAFashionShow @NobisInc pic.twitter.com/p5UKMOufyQ

— NHLPA (@NHLPA) December 9, 2015
Thorburn and @AnthonyPeluso23 backstage #NHLPAFashionShow pic.twitter.com/ApwOIYf5ZL

— NHLPA (@NHLPA) December 9, 2015
The big finale! #NHLPAFashionShow pic.twitter.com/iAqfPrteFU

— NHLPA (@NHLPA) December 9, 2015
The @NHLPA is proud to announce that $200,000 has been donated to local Winnipeg charities tonight #NHLPAFashionShow

— NHLPA (@NHLPA) December 9, 2015