Ristolainen Ready For The Big Stage
The Sabres defenceman will be a big part of the Finnish blueline at the World Cup of Hockey 2016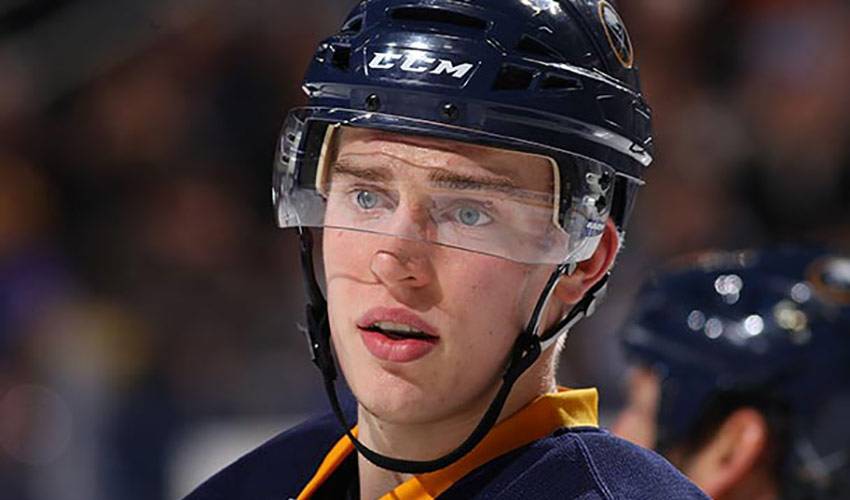 It was hardly a surprise to see Rasmus Ristolainen selected to skate for Team Finland's entry at the World Cup of Hockey 2016 tournament. After all, he's been golden – literally - for his country.
When the Finnish Ice Hockey Federation announced the first 16 players that will wear the Suomi jersey at this fall's much-anticipated eight-team, best-on-best tournament, the 21-year-old Ristolainen was one of those who made the cut.
And for good reason.
Aside from his strong play as part of the Buffalo Sabres defensive corps, the eighth overall pick in 2013 has also had a starring role on the international stage.
In 2014, it was Ristolainen who delivered Finland a gold medal at the World Junior Championships (WJC) with an overtime tally against rival Sweden.
"I saw that they played man-on-man defence in their own end," Ristolainen said to the media. "It was empty in front of the net. I just skated there. I tried to put the puck somewhere hard and it went in."
It was Finland's first World Junior title since 1998.
Come this September in Toronto, Ristolainen will get another crack at international gold. Finland's first test at the World Cup of Hockey comes against Team North America, a squad that includes his Buffalo teammate, Jack Eichel.
So, just what exactly does Ristolainen bring to the table?
"I think I use my size very well," said the 6'4", 207-pounder, who scored his first big-league goal two days before he turned 19. "I win the battles to use my physical size."
He also has some offensive pop.
"I'm a two-way defenceman - best part is the offensive side," offered Ristolainen, who netted his first NHL hat trick against Calgary on December 10, 2015. "I have a good shot. I play very physically. I can help the team on power play and penalty kill, also."
Although Buffalo didn't make the playoff cut this season, Ristolainen is one of many reasons why the Sabres appear primed for post-season play in the near future.
The young blueliner, who has already reached the 40-point mark in 2015-16, is up for the challenge.
It also helps when your role model happens to be one of the best defencemen on the planet.
"I try to play like Shea Weber," noted Ristolainen, of Nashville's captain. "He's like my idol. He's a big leader on the ice, plays physical and has a good shot."
Small wonder that Buffalo and Finland both think the world of their rising star d-man.