Spezza Shines For Stars
Jason Spezza was stellar in his post-season debut with the Stars leading them to a Game 1 victory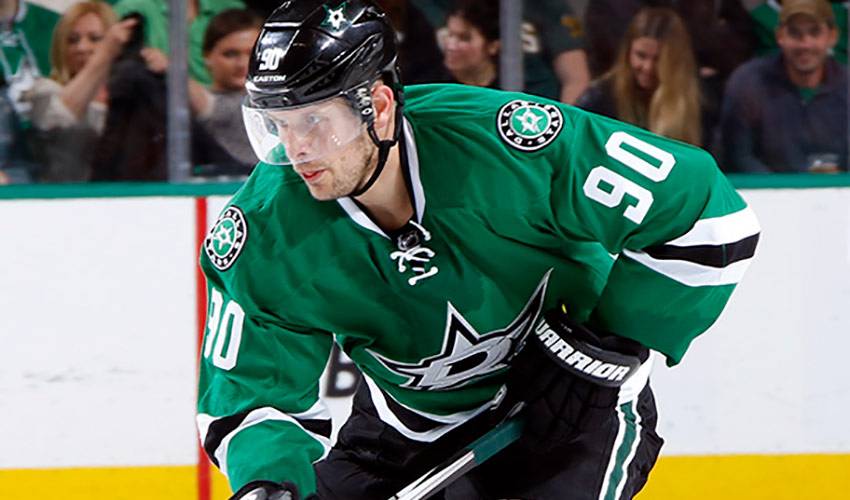 Jason Spezza gets top billing for this edition of Playoff Performer of the Night, after helping lead Dallas to a 4-0 blanking of Minnesota in Game 1 of their Western Conference series.
The veteran forward was stellar in his Stars post-season debut, scoring a beautiful goal in the second period and then assisting on Patrick Eaves' power-play marker in the third.
STAT PACK: Spezza had six shots, blocked one, spent 7:51 minutes on the power-play and went 13 for 21 in the faceoff circle.
THE REVIEWS ARE IN: "The Spezza play was a special one," praised Dallas coach Lindy Ruff, in reference to the sweet top-shelf snipe.
NET GAINS: Spezza gave some love to the Stars goaltenders after the shutout win. "It's great confidence for us to have our goaltender play the way he (Lehtonen) played. We've said all year we've got two great goaltenders," said Spezza, who skated in his 57th playoff game. "Kari played phenomenal tonight. I think the shutout shows he was calm and collected back there."
SMASHING SUCCESS: Spezza was on hand – along with several other Players and celebrities – at the most recent edition of Dominic Moore's NHLPA Smashfest charity event in Toronto. Fellow Dallas forward Antoine Roussel was on his team for the popular ping-pong fundraiser. "I can't take out my teammate Jason Spezza tonight, so that's a huge weight on my shoulders," said Roussel.
SEEING STARS: Back in 2008, Spezza spoke with NHLPA.com and was asked which three celebrities he'd like to play alongside in a hockey game. "That's a tough one," said the second overall selection in the 2001 Entry Draft. "I suppose I would choose Will Smith, Robert de Niro and Heidi Klum."
ROGER THAT: A huge tennis fan, Spezza participated in a charity ball hockey tournament at the Rogers Cup (Canadian Open) and played alongside tennis legend Roger Federer. "I love watching tennis," said Spezza, who started playing the game himself about seven years ago. "I've been lucky enough to meet some of the best players in the world. So, when you are able to hang out and play some hockey with a tennis great like Roger Federer, it's pretty cool. He was very easy to talk to, a nice guy that really enjoyed the charity game and meeting with the players."
MORE TENNIS, ANYONE?: "I've also met Novak Djokovic and Rafael Nadal," offered Spezza. "What you see is what you get with Djokovic. He's a very energetic, enthusiastic and an upbeat guy. He's really funny. Nadal was very laid-back. He's a great guy, too. You don't have a long time to chat when you meet them, but they are very gracious and down-to-earth."
NEED TO KNOW: The Ontario native was as good as gold at the 2015 World Championships, winning a gold medal with Canada, being named to the tournament all-star team and leading all scorers with points 14 in 10 games.
HONOURABLE MENTIONS: Kari Lehtonen turned aside all 22 shots he faced. Washington backstopper Braden Holtby stopped 19 of 19 shots in the Capitals 2-0 triumph over Philadelphia, and Joe Pavelski had two tallies in San Jose's 4-3 curtain-opening win against Los Angeles.