Sharks Clear Another Hertl
Tomas Hertl potted two goals to help the Sharks win Game 3 and take a 2-1 series lead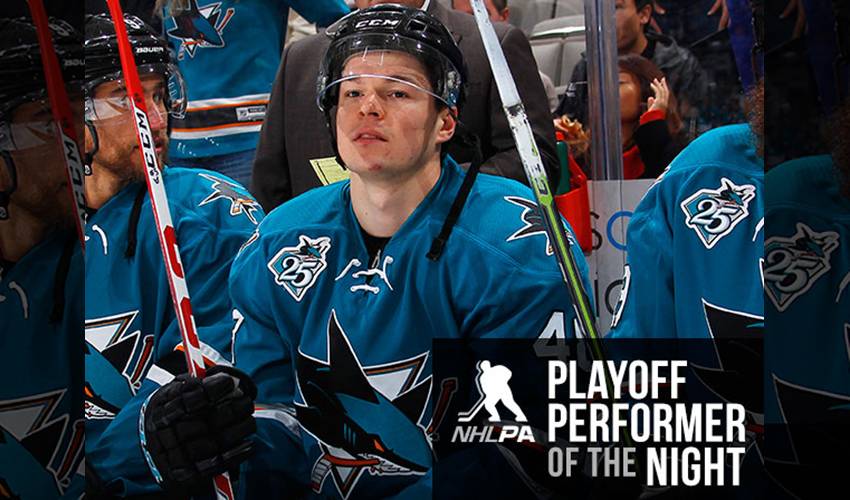 Tomas Hertl takes the PPOTN prize for his two-goal performance against St. Louis in Game 3 of the Western Conference Final.
The centreman started the scoring in the first period and finished it in the third, helping the Sharks to a 3-0 home ice win over the Blues.
STAT PACK: Hertl took four shots, blocked one, recorded four hits and had 25 shifts in 17:46 of ice time.
CZECH THIS OUT: "It's probably 3 a.m. (in Czech Republic)," said Hertl. "All my family, just we can handle little playoff. Everybody go to work, some are sleeping. I mean, if you don't bring Cup home, so mad because we watching every other game, it's too hard for us. Please, let's bring Cup home."
PASSING FANCY: "I'm just always looking for him (Hertl) or looking for Pav (Joe Pavelski)," said Joe Thornton. "Usually they do a great job of getting open. Just one of those instances where I just used blade. You try to aim for it, sometimes it hits, sometimes it doesn't. It's my job to get these guys the puck. What a play by him to put it in."
THANKS, JUMBO JOE: "It all goes after he (Thornton) pass, he amazing passer," said Hertl. "We just talking every time, spread out. I just waiting. I saw him looking at me. I was waiting for the pass. I just try go to net and shoot. Was a little bit lucky it was in."
FRONT AND CENTRE: "They (Hertl, Thornton and Pavelski) played together before," noted head coach Peter DeBoer. "They've had some success before in previous regimes with previous coaching staffs. I knew there was a little bit of history there. You know, at the time Tomas Hertl had played centre for us 25, 30 games filling in for Couture. I thought he was playing very well, but wasn't getting rewarded offensively. The initial thought was to try to get his confidence going offensively. It kind of snowballed to what we have today."
HOCKEY NIGHT IN PRAGUE: Hertl attended the 2010 NHL Premiere in Prague (Boston Bruins vs. Phoenix Coyotes) – his first live NHL game.
MOVES LIKE JAGR: Hertl's hockey idol growing up was fellow Czech Jaromir Jagr.
FOUR SCORE: Hertl lit the lamp four times in a 9-2 Sharks win over the New York Rangers, on October 8, 2013.
CATCH A DRAFT: Hertl was drafted 17th overall in 2002 by the Sharks. Other notable No. 17 picks include Kevin Hatcher, Bobby Clarke, Brent Sutter, Barret Jackman and Zach Parise.
SHARING A DAY: Hertl shares a birthday (November 12) with actor Ryan Gosling, actresses Anne Hathaway and Grace Kelly, NBA superstar Russell Westbrook, singer Neil Young and PGA golfer Jason Day.
HONOURABLE MENTIONS: Joe Thornton had two assists. Joonas Donskoi scored his fourth of the playoffs. Martin Jones made 22 saves for his second straight shutout.