The Fire Burns In Bryz
After a restful and healing season away, Ilya Bryzgalov is focused & driven to get back into an NHL crease.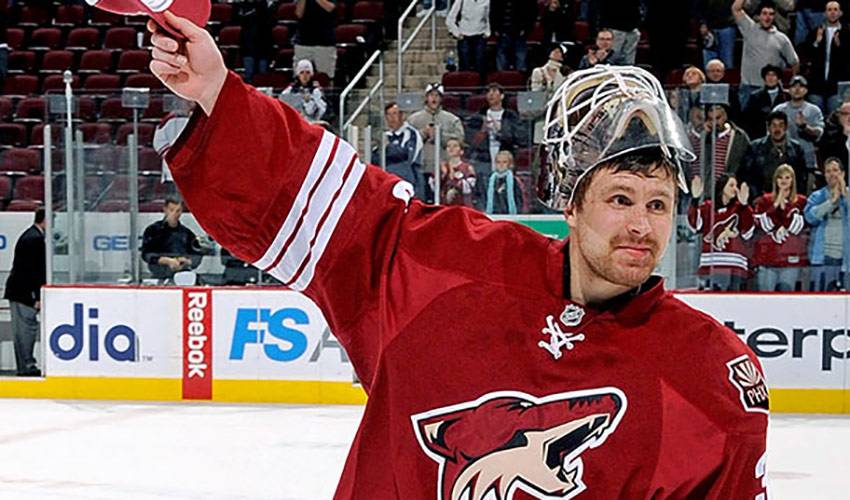 "I feel the passion inside and the fire in my eyes. I want to face new challenges and I want the chance to play in the best league." A renewed love for the game and a desire to compete against the top players in the world has veteran goaltender Ilya Bryzgalov pumped at the prospect of returning to the NHL stage.
He's just returned from a local Philadelphia rink on a Tuesday afternoon where he spent a few hours on the ice stopping pucks with his 10-year-old son, Vladislav, also a goaltender.
As he steps outside to chat – the cell reception inside of his house 'isn't great' – it's immediately clear Bryzgalov is seeking another shot at playing in the NHL.
"When I told my son I was looking to play in the NHL again, his eyes lit up," said the 35-year-old, who is currently an unrestricted free agent. "He was so excited. Now he's older and he understands the game more. It would be great if he could watch me play again, maybe to learn some things that can help him."
Bryzgalov's most recent big-league experience came in 2014-15 when he appeared in eight games with the Anaheim Ducks in 2014-15.
A season away from the crease allowed him to put his career – past, present and future – into perspective.
"I watched a lot of hockey, but when it came to the playoffs, that's when it really hit me," offered Bryzgalov. "I realized I really needed to feel that excitement again, the rush of playing, the challenge of trying to stop the most talented players in the world. I was really missing all of that. The more I watched, the more passion I had inside of me.
"I was able to rest, both spiritually and mentally, and I also had the opportunity to spend time helping my wife and spend time with our kids," he continued. "So, it was nice to have that year to recharge the batteries. Right now, I feel amazing. I feel great. I kept myself in shape and worked out a lot."
Bryzgalov also cherished the chance to watch his son practice and play.
"We didn't name him Vladislav after the great Vladislav Tretiak," he said with a laugh, in referencing the legendary Russian netminder. "But, I tell you, he's pretty good. He's keen to work and enjoys putting in the effort to get better."
Bryzgalov and his agent, Ritch Winter, hope NHL teams see the same in him.
"Having worked with (Hall of Fame netminder) Dominik Hasek on his return after a year off and knowing the training Ilya has in place for the summer, there is no doubt in my mind he will perform at the level he did leading the Wild to the playoffs two years ago," says Winter. "With Ilya prepared to play for a modest salary and take most of his compensation in bonuses, this will be a unique opportunity for a team looking for an experienced goaltender to challenge for a starting job."
Bryzgalov has racked up 221 NHL wins, including a career-best 42 with the Phoenix Coyotes in 2009-10, along with 34 shutouts.
Drafted 44th overall by Anaheim in 2000, the native of Togliatti, Russia native has also played with the Phoenix Coyotes, Philadelphia Flyers, Edmonton Oilers and Minnesota Wild, winning the Stanley Cup with the Ducks in 2007. He was runner-up for the Vezina Trophy (top goaltender) and a top-five finalist for the Hart Trophy (League MVP) in 2009–10.
On the international scene, he's won a bronze medal with Russia at the 2002 Winter Olympics and silver at the 2000 World Junior Championships. Bryzgalov was also a major factor in Team Russia's gold medal performance at the 2009 World Hockey Championships.
While he's proud of those past accomplishments, his focus is on the future.
Now that there's no NHL hockey for him to watch –the Pittsburgh Penguins won their fourth Stanley Cup on June 12 – Bryzgalov is dialed-in on a return to the NHL.
"I see it as a fresh start," he offered. "I feel like I'm 21 again and just coming into the NHL. I have a hunger to play and to face the challenges that come with playing in this league. I've been missing that."