Hockey Hall of Fame Announces 2016 Inductees
The Hockey Hall of Fame has announced its class of 2016 inductees including Eric Lindros, Sergei Makarov, Rogie Vachon, and Pat Quinn.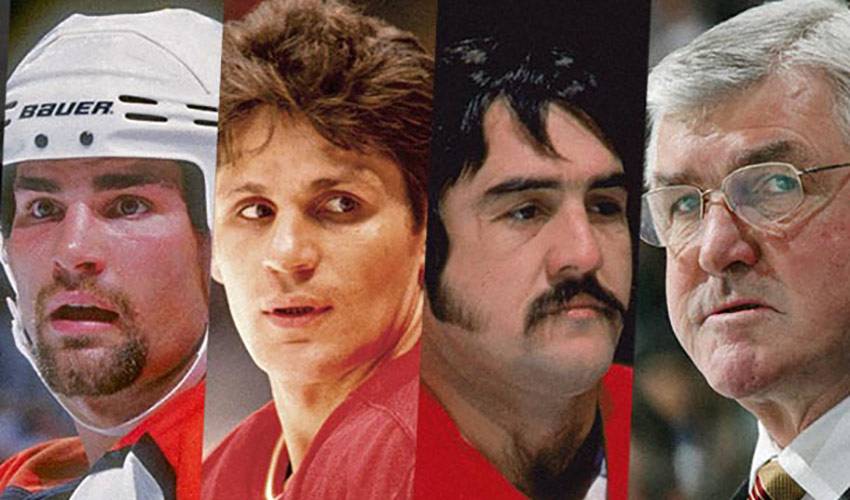 Lanny McDonald, Chairman of the Hockey Hall of Fame and John Davidson, Chairman of the Selection Committee, announced today that four individuals have been elected to Hockey Hall of Fame Honoured Membership, three in the Player Category and one in the Builder Category. The vote took place today at the annual meeting of the Selection Committee in Toronto.
"The Hockey Hall of Fame is proud to welcome these four hockey legends as Honoured Members," said John Davidson. "Their contributions to the game of hockey are well documented and their election to the Hockey Hall of Fame is richly deserved."
In the Builder Category, Pat Quinn was elected. After nine seasons in the NHL, Pat joined the Philadelphia Flyers as an assistant coach in 1977. Over the next almost 40 years, he held coaching, managing and President positions, both in the NHL and with Team Canada. At the time of his death in November, 2014, he was Chair of the Hockey Hall of Fame.
"Being recognized by Pat's hockey peers is truly a great honour," said his wife, Sandra Quinn. "I'm proud of Pat and what he accomplished."
Eric Lindros exemplified the power forward position throughout his 14 year NHL career. He won gold for Canada both at the Olympic Games and the Canada Cup and also averaged over a point a game in the NHL.
"I was very fortunate to have coaches, teammates, billets and parents who supported me throughout my career." said Lindros. "It also takes a lot of luck to get to the NHL."
Sergei Makarov led the Soviet League in scoring for nine seasons, while also winning eight World Championship gold medals and two Olympic gold medals. He later joined the NHL as a member of the Calgary Flames in 1989 and went on to play in over 400 NHL games.
"For everyone who plays the game, this is the top place,"said Markarov. "It will be so nice to join all of those great players."
Rogie Vachon joined the Montreal Canadiens in 1966 and won three Stanley Cups in his first six NHL seasons. After being traded to the LA Kings in 1971, he continued his stellar career for 11 more seasons before retiring to become an NHL coach and executive.
"I was very lucky to play for the Montreal Canadiens at the start of my career," said Vachon. "My first shot on net was a breakaway by Gordie Howe. I stopped it and it kept me in the league for 16 more years."
The 2016 Induction Celebration will be held on Monday, November 14th at the Hockey Hall of Fame in Toronto. For more information regarding the 2016 Induction Weekend/Celebration, visit http://www.hhof.com.
Established in 1943, the Hockey Hall of Fame's ("HHOF") mandate is to recognize and honour the achievements of players, builders and officials who bring special distinction to the game of hockey, and to collect, preserve, research and exhibit objects, images and resource materials connected with the game as it is played in Canada and throughout the world. As a non-profit corporation and a registered charity under the Income Tax Act, HHOF owns and operates a museum and place of entertainment offering state-of-the-art exhibits, multimedia presentations and educational programming from its premises at Brookfield Place, Toronto, Canada.