GRAMMY-NOMINATED ROCK BAND THE KILLERS TO HEADLINE PEPSI WORLD CUP OF HOCKEY PREMIERE PARTY
Grammy-nominated rock band, The Killers, will headline the Sept. 16 "Pepsi World Cup of Hockey Premiere Party". Festivities will include a parade featuring all eight World Cup teams.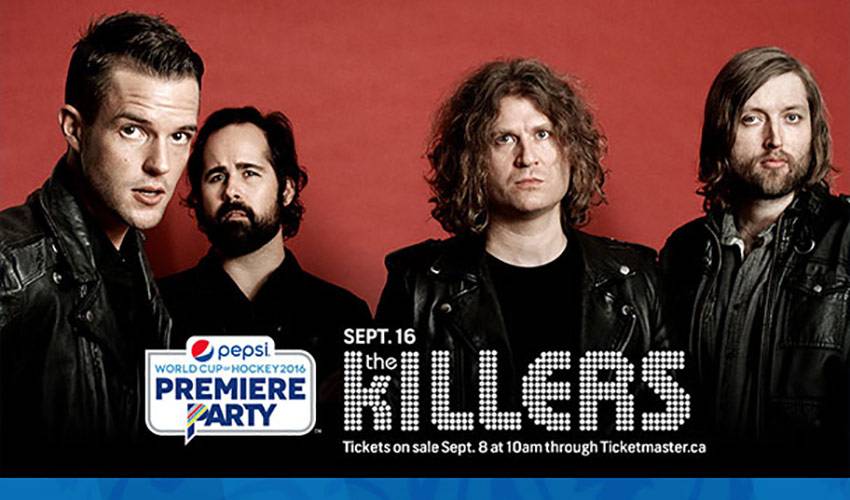 TORONTO (Sept. 2, 2016) – Grammy-nominated rock band The Killers will headline the Pepsi World Cup of Hockey Premiere Party at the Scotiabank World Cup of Hockey Fan Village in downtown Toronto's historic Distillery District on Sept. 16 at 4:30 p.m. ET. The festivities also will include a parade of players from each of the participating teams. Tickets to the Pepsi World Cup of Hockey Premiere Party will be available for purchase via www.Ticketmaster.ca, the official ticket marketplace of the NHL®, beginning at 10 a.m. ET on Thursday, Sept. 8.
Concert tickets will be $25 CAD for general admission standing room access to The Killers concert. Pricing includes HST. Additional fees may apply. East Fan Village will open at 3 p.m. on Sept. 16. A paid ticket will be required for entry into the event and valid only for the day. All attractions inside East Fan Village will be included with the price of admission. Additional special guests will be announced at a later date.
The Sept. 16 event will serve as the official opening of the Scotiabank World Cup of Hockey Fan Village, a 10-day fan festival in the historic Distillery District. From Sept.16 to Sept. 25, the family-friendly festival will occupy the Distillery District – renamed 'Distillery Fan Village' for the 10 days - plus more than 200,000 square feet of an untouched lot east of Cherry Street, which will be known as the 'East Fan Village.' Fan Village will celebrate not only the sport of hockey but the food, music and culture of all participating hockey nations and will feature a diverse mix of programming, designed for fans of all ages, including live musical performances, big-ticket prizes and giveaways, and viewing parties for every World Cup of Hockey game broadcast live on Pepsi Live Main Stage video screens. Distillery Fan Village will be free and open to the public Sept. 17-25. East Fan Village will be free and open to the public Sept. 17-22 and Sept. 24-25. On Sept. 23, a paid ticket will be required for entry into East Fan Village for the World Cup of Hockey Celebration of Champions featuring Green Day.
For more information on Scotiabank World Cup of Hockey Fan Village, visit wch2016.com/fanvillage. Fans can join the conversation by using the official hashtag #WCH2016.
The Killers are a Las Vegas-based four-piece who formed in 2003, featuring the talents of singer/keyboardist Brandon Flowers, drummer Ronnie Vanucci, guitarist Dave Keuning and bassist Mark Stoermer. The band has received countless accolades for their artistic achievement, including multiple Grammy nominations, American Music Award nominations, MTV Video Music Awards, NME Awards and more. Their first album, Hot Fuss, was released in 2004 to worldwide acclaim. The album contained the singles "Mr. Brightside" and "Somebody Told Me," in addition to the anthemic song "All These Things That I've Done," which has since been referenced by the likes of U2 and Coldplay. The band toured for two years straight behind Hot Fuss, playing more than four-hundred shows, and eventually returned to Vegas to begin to work on the follow-up album with legendary producers Alan Moulder and Flood. The result, a love letter of sorts to their hometown entitled Sam's Town, was released in 2006 and spent forty-two weeks on the Billboard Top 200. The Killers have appeared three times on Saturday Night Live, in addition to performances on The Tonight Show, The Late Show with David Letterman and more. A b-sides collection entitled Sawdust was released in 2007. The Killers have sold over twenty-five million albums worldwide; their third studio album, Day & Age, was released to widespread critical praise in 2008. The following tour saw the band headlining two of America's most prestigious festivals, Lollapalooza and Coachella, as well as selling out Madison Square Garden for the third time. The Killers released their most recent album, Battle Born, in September 2012, expanded their world tour into countries they've never visited previously in Asia, and finally were honored to perform at the world-renowned Wembley Arena, one of the most monumental and significant shows of their career. After a decade of making music, in November 2013, The Killers released a "Best Of" collection, Direct Hits, which featured two incredible new songs alongside classics from the band's revered catalogue.