Thornton adds heart and soul to Team Canada
He isn't sporting the "C" or "A" on his sweater for this tournament, but Joe Thornton's veteran presence and outstanding career are assets Team Canada couldn't pass up on.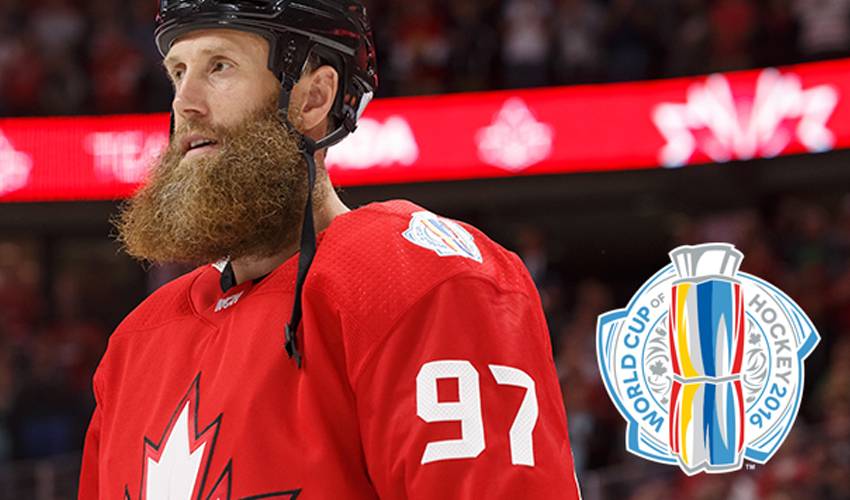 Legendary stats, a legendary track record and a legendary beard. Joe Thornton is indeed what many would call a legend. Thornton, who cracked Team Canada's roster for the World Cup of Hockey played his 11th season with the San Jose Sharks last year.
Although he is not sporting the "C" or "A" on his sweater for this tournament, his veteran presence and outstanding career thus far are assets that Team Canada could not pass up on. Someone who has played against Joe Thornton in the NHL but now gets to play alongside him for the first time is Steven Stamkos.
"He's been around for a long time and played great hockey since he came in the league really," Stamkos stated. "He's a great guy and he competes hard".
If you look at Thornton's campaign last season, which led him and the Sharks to the Stanley Cup Finals, it was a remarkable year statistics-wise for someone who has played in the league for over 15 years. Hockey fans can almost all agree that a very successful year offensively for a player would be earning almost a point per game. Thornton in fact achieved that, and more precisely, produced one point per game. In simple math, the-37 year-old put up 82 points in 82 games.
Current Team Canada players who ordinarily play against him in the NHL are relieved, if not elated, to have Jumbo Joe on their side for this tournament.
"It's much nicer being on his side (laughs)," Captain of the St. Louis Blues Alex Pietrangelo admitted. "It felt nice getting pucks from him rather than him putting pucks through me".
Pietrangelo got to know Thornton's game very well last year during the Stanley Cup playoffs where St. Louis and San Jose endured a hard fought series. "I'm telling you, he makes the game look really easy and he's been such a good player for such a long time".
During a dominant opening win for Team Canada against Team Czech Republic on Saturday, Thornton was able to continue his ability to contribute on the scoring sheet. Thornton had a goal in the second period of the game which saw Canada blank the Czech Republic 6-0.
On the ice, Thornton has proven himself as a force to be reckoned with. He plays hard with determination and gives it his all. Off the ice, his easy going demeanor makes him a natural mentor for not only his younger Team Canada teammates, but also for the more established ones. Brad Marchand of the Boston Bruins is one of Thornton's teammates who has really embraced his off-ice personality and leadership.
"I like him more as a guy off-the-ice," Marchand explains. "When you see him in the room he's always smiling, joking around and just so much fun to be around."
Joe Thornton might be an NHL veteran of 18 years, but his ability to continue to produce impressive numbers and hard working plays, combined with his great personality and easy going locker room character, might make many consider him a timeless player.