MARCHAND MAGIC MAKES ITS MARK AT WORLD CUP
The winger delivered a crowd-pleasing performance in Team Canada's semi-final triumph.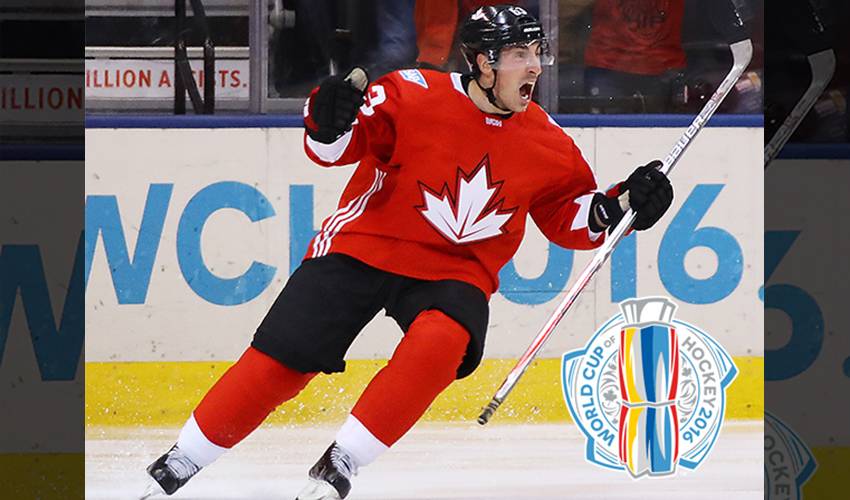 Brad Marchand receiving a rousing ovation on multiple occasions at Air Canada Centre? Yes, indeed.
If he had been wearing his Boston Bruins jersey, it wouldn't have happened. Donning the red and white colours of Team Canada, scoring two goals and being named First Star in a 5-3 win, however, ensured it did.
The cheers – more than a handful throughout Canada's World Cup of Hockey semi-final triumph over Team Russia – were directed at one of hockey's most abrasive, agitating and adept players.
And while he won't get anywhere near the same reception when his Bruins visit Toronto to play the Maple Leafs during the 2016-17 NHL season, it was impossible for any of the pro-Canadian supporters in attendance at the ACC on Saturday night to hate on Marchand.
The left-winger had six shots in all, along with three takeaways, highlighted by his two key tallies in 15:37 of ice time. He also found himself in the middle of a few scrums, chirping the opposition, gleefully endeavouring to goad them into a penalty.
In other words, Brad Marchand was just being Brad Marchand.
"Any time you play in a game of that magnitude and win it's an incredible feeling," said the 28-year-old.
When Russia took a one-goal lead in the second period, despite being badly outshot, it was Marchand who evened the contest, banging home a pass from fellow Nova Scotian and linemate Sidney Crosby.
"It was big just because we felt like we were controlling the play and doing a lot of good things and we were down 2-1," Crosby said of Marchand's goal.
The duo, skating on a line with Patrice Bergeron, was at it again just 1:16 into the final period. Crosby fed Marchand who promptly put the puck past Sergei Bobrovsky, giving Canada a 3-2 lead.
Marchand has five points, including three goals, in four World Cup games so far.
"It's been a whirlwind here," offered Marchand, who has two junior gold medals (2007 and 2008) playing for his country. "Being part of a group like this is special."
Crosby is certainly glad to have him along for the ride.
"He's got a great shot," said Team Canada's captain. "He's got speed, a lot of different things. But I think just the way he competes every shift you know that he's able to generate a lot sometimes from nothing."
Like being on the receiving end of standing ovations at a place few would have ever expected.