Barret Jackman's legacy is equal parts grit and guidance
Toughness and tenacity are just two of the words associated with an NHL life that spanned 14 big-league campaigns in Barret Jackman's career, which came to an end on October 4.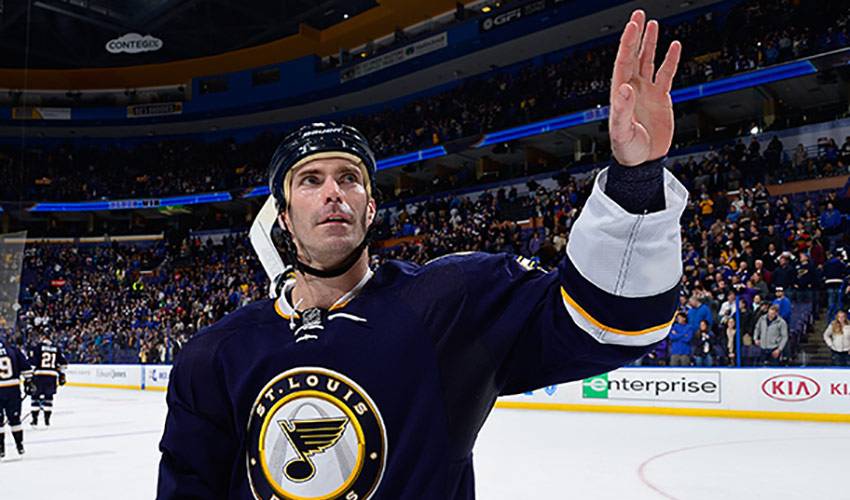 Out of all the numbers that defined his NHL career, it's not the 876 regular season games or rookie of the year honour that gives the most accurate account of Barret Jackman's selfless contributions.
Toughness and tenacity are just two of the words associated with an NHL life that spanned 14 big-league campaigns, 13 with St. Louis and one with Nashville, a career that came to an end on October 4.
Jackman, who retired on Tuesday, scored 29 goals, recorded 186 points, averaged 19:50 of ice time per game and registered a plus 54-rating.
It's the four digits found in the blocked shots category, specifically, 1,073, that are perhaps the most accurate barometer of a defenceman that was never shy about taking one for the team.
But it wasn't only about stepping in front of shots. Jackman was also willing to step up for his teammates even if he gave away height and weight advantage.
"I wasn't the most gifted player when it came to skill, but I made up for that, I think, in heart and leadership," said the 35-year-old. "Blocking shots was something I was able to do well. I didn't shy away from that or from standing up for my teammates."
It didn't go unnoticed.
"One thing I learned from Jacks was how to be a pro," St. Louis captain Alex Pietrangelo told NHLPA.com. "Night in night out, he brought it. Played as hard as he could every game. It's why he was so respected – he played as hard as he could every game.
"The other reason was how willing he was to take care of us young guys," he continued. "He took me, (TJ) Oshie, Bergy (Patrick Berglund), Shatty (Kevin Shattenkirk) and all of us under his wing and showed us what it takes. And he took care of us. His doors were always open for us and he made sure when we were coming up that we felt at home."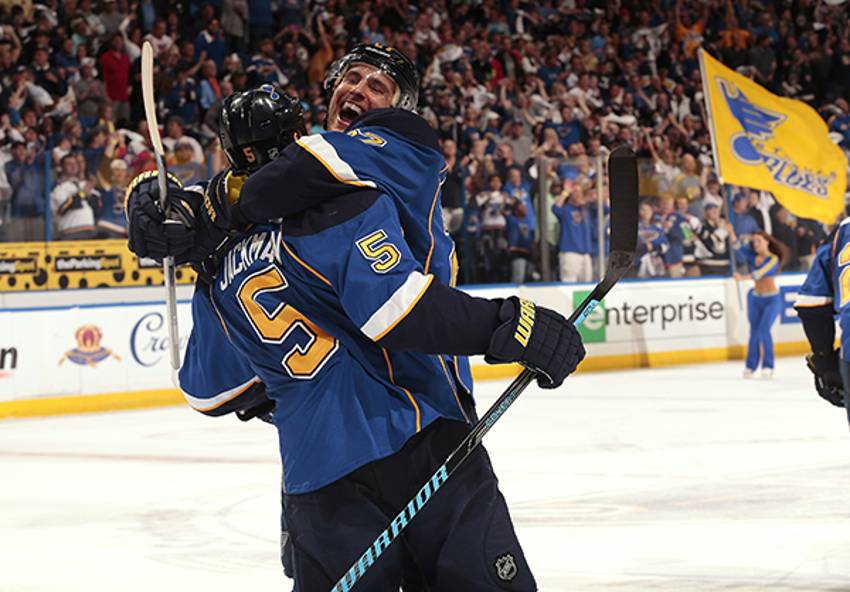 Kevin Shattenkirk is equally grateful for his time playing alongside Jackman.
"Barret was one of those guys who when he spoke everyone listened," said Shattenkirk. "He always had the right things to say at the right times and his effort and sacrifice for the team is what made him so respected in our locker room. The most important thing I learned from him was how to truly carry myself as a professional. His commitment not only to staying in shape and getting better on the ice every day, but also how much he gave back to the St. Louis community, is something that I still admire tremendously to this day."
Veteran forward and Nashville captain Mike Fisher enjoyed his one season suiting up with Jackman after years of facing off against him.
"Jacks played a very hard and honest game," said Fisher. "He was a great player and teammate and one of those guys you always wanted on your team. I'm fortunate to have played with him and call him a friend."
Jamal Mayers, who played 595 of his 915 career NHL games with the Blues, continues to have the utmost regard for Jackman.
"There are two words that come to mind when you think of Barret," said Mayers, Community Liaison for the Chicago Blackhawks and TV analyst for Comcast SportsNet in Chicago. "The first would be authentic. As a teammate, there was no pretense, no grey areas. You always knew what would you get and that's why he was so respected. The other word would be honest. He played it hard and when you played against him, you knew it wouldn't be an easy night. He'd make you pay for every inch of ice."
Jackman, who played four seasons with the Western Hockey League's Regina Pats, began his NHL life in 2001-02, appearing in one game with the Blues, the team that drafted the British Columbia native 17th overall in 1999.
That same season, he skated in 75 games with Worcester, the club's American Hockey League affiliate, contributing 14 points while amassing 266 penalty minutes.
Jackman appeared in all 82 games with the Blues in 2002-03. The highlight came at season's end when he won the Calder Memorial Trophy as the league's top rookie.
Another high point came in 2007 when Jackman helped Team Canada win gold at the IIHF World Championship, besting Finland 4-2 in the championship game. Jackman had two assists in nine games.
"When I first came up, I was lucky to have guys like Al MacInnis, Keith Tkachuk, Chris Pronger, Doug Weight and Kelly Chase help me and pass their leadership qualities along," he noted. "That was invaluable to me."
"I guess the one thing I'm most proud of when it comes to my career is that I was able to stay in one place for so long and not being shopped around," continued Jackman.
Hard-nosed. Honest. Hard-working. Those are just a few of the superlatives his former teammates note when they speak of No. 5.
Those very players also speak glowingly of a first-class person, who will take some time to spend with his family before exploring a possible career in a hockey scouting or recruiting role.
"Him and Jenny (Jackman's wife) are both fantastic people," said Pietrangelo. "We're lucky we had him here as long as we did."