Henrik Sedin Loses Shoes During Pregame Soccer
When both your shoes get stuck on top of a light fixture, it's nice to have your teammates nearby to help save the day.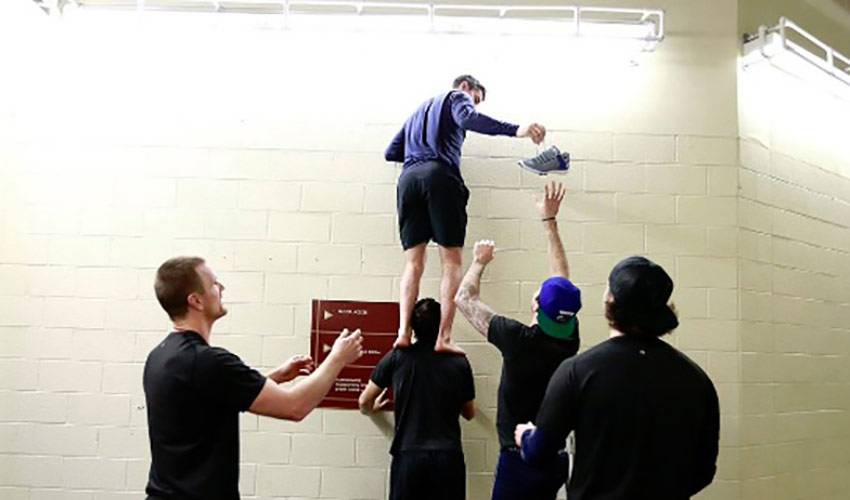 Ahead of the Vancouver Canucks' match-up against the Dallas Stars last Friday night, Henrik Sedin and Erik Gudbranson decided to take part in a little pregame soccer action. Soccer outside an NHL dressing room is common, but what followed was definitely not.
As they were kicking the ball around, it got wedged above a light fixture high up on the wall. Thinking he could knock the ball back down with his shoe, Henrik quickly tossed one up there. The ball came right down. His shoe? It didn't.
The ball was stuck on the light. So Henrik Sedin threw his shoe at it.

Ball down. Shoe up. pic.twitter.com/Newuzg7urP

— Vancouver Canucks (@Canucks) 25 November 2016
Since the shoe maneuver worked on the ball, Henrik threw his other shoe up trying to retrieve it. Now both shoes were stuck.
Barefoot, Henrik decided the next best option was to try and fish his sneakers down with a hockey stick, but was only able to reach one half of the pair.
So Henrik got a stick and got one shoe down.

One shoe to go. pic.twitter.com/OhVld1Hilk

— Vancouver Canucks (@Canucks) 25 November 2016
That's when his teammates came to the rescue. Alex Burrows climbed on top of Luca Sbisa's shoulders to help reach the remaining shoe and saved the day, proving the importance of teamwork both on and off the NHL ice.
But in the end, nothing works like teamwork.

Burrows on Sbisa's shoulders saves the day. And the shoe. pic.twitter.com/B9UFOHOWvo

— Vancouver Canucks (@Canucks) 25 November 2016
Full story at NHL.com