Patrik Laine Gives Young Fan A Belated Birthday Visit
After receiving a party invitation from young Lucas Bydak by way of Twitter, Laine made sure he made a belated birthday visit as soon as he could.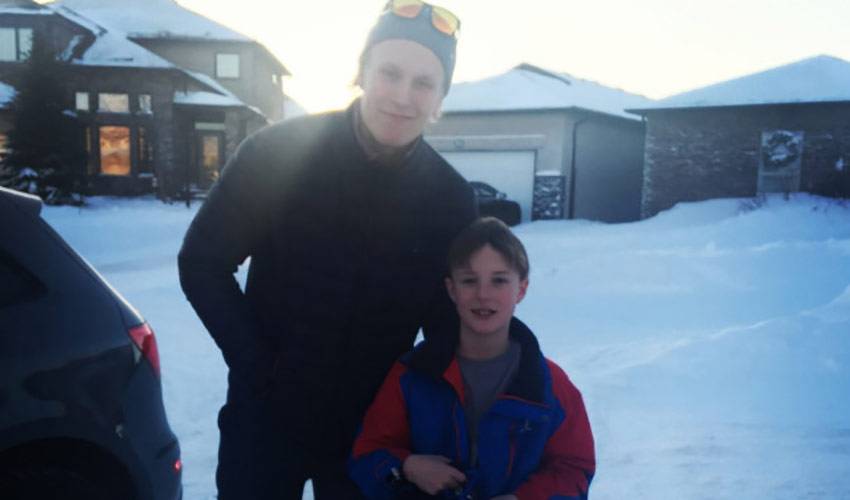 Over the holiday break, 8-year-old Lucas Bydak – with a little help from his uncle – shared a handwritten birthday party invitation with Winnipeg Jets forward, Patrik Laine. In the tweet caption, uncle Marco typed, "Worth a shot," likely thinking nothing would ever come of it.
My nephews note to Patrik Laine...Worth a shot #nhljets @NHLJets #GoJetsGo @PatrikLaine29 pic.twitter.com/04e57v1rZT

— Marco (@marcopolo_1979) December 25, 2016
Well yes it was worth that shot in the dark, because Laine's mother Tuija saw the request and immediately contacted the Bydak family in order to apologize that her son would be playing an away game in Buffalo the day of his party, but that they'd like their address – maybe to send a gift to young Lucas.
Though he missed the party, Laine made sure he delivered on a visit. Last Thursday, he showed up to surprise the birthday boy with Finnish candy, a personalized photo, and a Sharpie marker in tow to autograph Lucas' memorabilia.
Special delivery by a special hockey player for a special nephew! @PatrikLaine29 wasn't able to make his party but this will do 😉 #GoJetsGo pic.twitter.com/4wLAHPm1IZ

— Marco (@marcopolo_1979) January 13, 2017
Meet and greet,signed jersey,chocolates from Finland and a signed picture from @PatrikLaine29 @nhljets #BestDayEver and a #VeryJealousUncle pic.twitter.com/sqqkH23ASB

— Marco (@marcopolo_1979) January 13, 2017
"Big surprise," Lucas explained to CBC News, "I was really excited. I never really thought he would ever come. It ended up really well."
Though this may be his first NHL season, there's nothing "rookie" about this off-ice good deed. Nice one, Patrik.
Full story at CBC News.