Ryan Hartman owes his dad a basement
We learn why the Hartman household couldn't finish their basement as Ryan Hartman gets nostalgic discussing a Chicago Blackhawks feature he recently took part in, by meeting kids throughout the Windy City and playing pick-up hockey.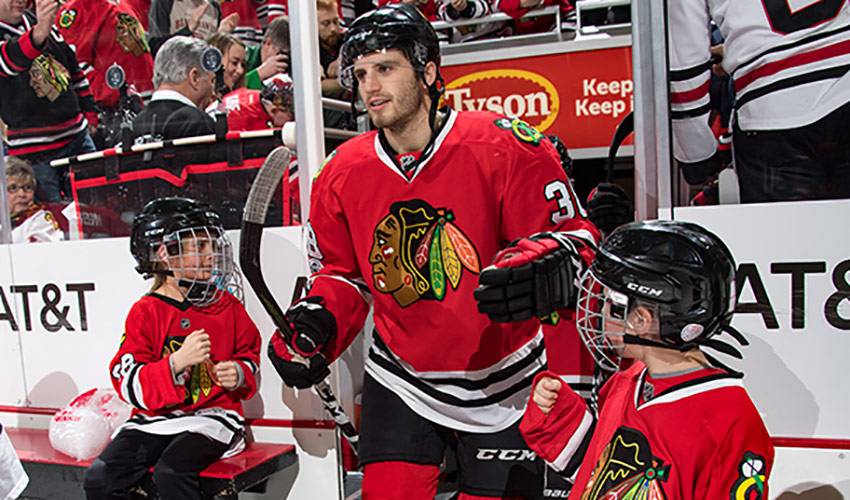 In his first full NHL season, Ryan Hartman has established himself as a gritty, versatile competitor, a player whose love for the game is readily apparent from the moment he starts talking hockey.
Mention the video feature the 22-year-old Hartman – along with Chicago Blackhawks teammate Scott Darling – recently took part in, the one that sees the duo meeting kids throughout the Windy City and playing hockey in a variety of settings, and it's obvious there was no arm-twisting to get him on board.
Chicago boys Scott Darling and Ryan Hartman help prove you don't need ice to play hockey. Your rink is what you make it. #OurRinks #OneGoal pic.twitter.com/HhnaxgAmF6

— Chicago Blackhawks (@NHLBlackhawks) March 17, 2017
"If we had a guy like (Patrick) Kane or (Jonathan) Toews show up when we were younger and play hockey with us in the basement, that would be pretty cool and something you'd definitely remember," said Hartman. "It was really great to be able to do that. It brought back a lot of memories."
Born in Hilton Head Island, South Carolina, and raised in West Dundee, Illinois, Hartman and his younger brother spent countless hours playing hockey wherever and whenever they could.
The siblings also managed to leave their mark on occasion.
"I remember my dad was working on finishing the basement, putting up drywall, and I put my brother through it two days after my dad had finished doing it," recalled Hartman. "We got a slap on the wrist. 'Come on, guys. Try to slow it down a bit. We're trying to finish the basement.'"
The message didn't quite get through.
"So, he puts up some new drywall and the next day, there's a hole in it," said Hartman with a chuckle. "We didn't finish the basement. It was kind of left as a hockey basement. He decided it wasn't going to work."
Quipped Hartman, "I probably deserved a minor penalty for the hits."
When the boys weren't busy honing their skills and disrupting home repair, they would often make the short trek to a local spot for more hockey time.
"There is an outdoor rink about two minutes down the road from the house," recalled the left-winger. "During the winter they'd freeze the rink, so my brother and I would take our four-wheelers, head down there and play hockey. That was my childhood: hockey and more hockey."
It's also Hartman's adulthood.
The former 30th overall pick in the 2013 Entry Draft has been a significant contributor to a Chicago team – the team he cheered for as a kid – currently sitting atop the Western Conference standings.
Hartman, two tallies shy of 20 goals on the campaign, has stamped himself as the type who will go to the wall for his teammates and put others through it.
"He just works hard," said veteran Blackhawks defenceman Brian Campbell. "He wants to get better every day. He's a good kid. He competes and he can play anywhere in the lineup. He does pretty well in all areas. I think he's been a pretty vital part of our team this year."
Hartman is at ease wherever he happens to be.
"It's kind of how I've always played, bouncing around different lines, being put in different situations – penalty kill, power play – so when you have that support coming from your teammates, it's a good feeling," he said. "To be part of the team for the whole year, being around it the whole season and being able to contribute, really helps you feel comfortable.
"The level of comfort and game speed in my first 15 or 20 games compared to now – the game feels like it's slowing down in your eyes. Sometimes, it takes a while to adjust to the speed level. At this point of the year, it's been like this for a while now. The game, it just feels like hockey. Each game feels like you've been there before."
And it's just as much fun as the days of banging a ball around in the basement with his brother.
"That's where the creativity comes for hockey players, just messing around and playing every day," offered Hartman.