My Top 5 | Bret Hedican
The two-time Olympian, who had his No. 24 retired by St. Cloud State in 2010, offers up his Top 5 bits of advice for players after a first-round playoff win.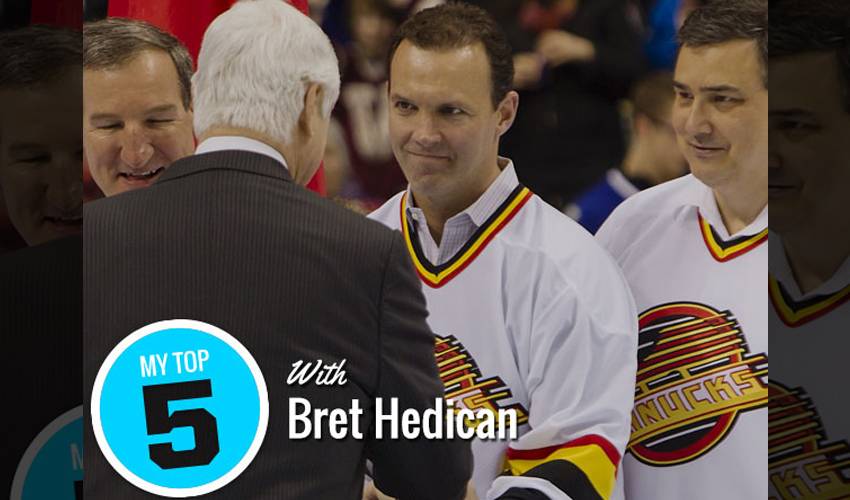 A respected Stanley Cup champion who played 1,039 regular season NHL games, defenceman Bret Hedican also skated in 108 post-season contests, played in three Stanley Cup Final appearances, winning hockey's ultimate team prize with Carolina in 2006.
The two-time Olympian, who had his No. 24 retired by St. Cloud State in 2010, offers up his Top 5 bits of advice for players after a first-round playoff win:
1. Avoid superstition
"It's a time of year where players can be really superstitious – eating the same thing, driving the same way, exact pregame skate, etc. Although certain superstitions or habits are unavoidable, try not to think those are the things that are affecting you winning, losing, playing good or bad. When we won the Cup in 2006, I forced myself not to rely on superstitions, and tried to put my energy more on staying in and enjoying the moment. Realize that the superstitions are not what make you great, but rather, YOU are what make YOU great. Don't get tied up in superstitions, because they're not affecting your success."
2. Write it down
"We all have our strengths and weaknesses, and if you were to ask yourself to write down what your strengths are, I'm pretty sure you could clearly define two or three things that make you who you are. Write those two or three things you do well down on a piece of paper, and keep it with you. Read it before games, read it between games, or pull it out and read it any time something negative comes into your thoughts. A clear mind of who you are is extremely powerful in helping you play consistent and great playoff hockey."
3. Change the channel
"Whenever you have any self-doubt or negative thoughts, look at it as picking up your remote control and changing the channel. If you're watching TV and you don't like what you're watching, you simply turn to something else more enjoyable. That's what a player needs to do. You need to erase any negativity with positive thoughts, and this is a great time to pull your piece of paper out of your pocket from the list you created above and reread the list. Like doing repetitions in the weight room, these positive thoughts will be the good repetitions for your brain, and will help you clearly see in your own mind what makes you great. Before you know it, you've done lots of positive repetitions that strengthen who you are, making you more consistent in pressure situations."
4. Hunt Closer To Home
"Some nights your body is not going to feel 100 per cent before, during or after every game. I used the love the nights in playoff games that I didn't feel great, and remember putting out a challenge to myself, saying, 'How good can I be tonight?' You might be banged up, but see this challenge as an opportunity to fight through it and succeed, and realize that maybe tonight's game you need to 'hunt closer to home.' Which means you keep your game simple and wait in the weeds to strike. At the end of the night, when before the game you may have thought to yourself, 'How am I going to do this tonight?' you realize that you played a great game and you're capable of being great every night no matter how you feel. So when you're not feeling 100 per cent, 'hunt closer to home' and wait for your moments to strike."
5. It's what is left behind
"Now that I'm retired from playing, it's easier to break your career down. When we went on the '06 run in Carolina, you realized that positive things are going to happen and negative things are going to happen along the way. Ultimately, these positive and negative things will cancel each other out, and 'what is left behind' is just you, and what you stand for. Are you a great teammate? Did you lead by example? Did you pick up a teammate who was down? Did you try to make the people around you better? In the end, those positive and negative things go away. It's all about who you were as a teammate and making the people around you be the best they can be, and if you can do that, it will be 'what's left behind' that you'll be most proud of."