My Top 5 | Brad May
Find out who has the edge in the Stanley Cup Final, according to Brad May, as the 2007 Stanley Cup winner with the Anaheim Ducks picks his game-changers in this edition of 'My Top 5'.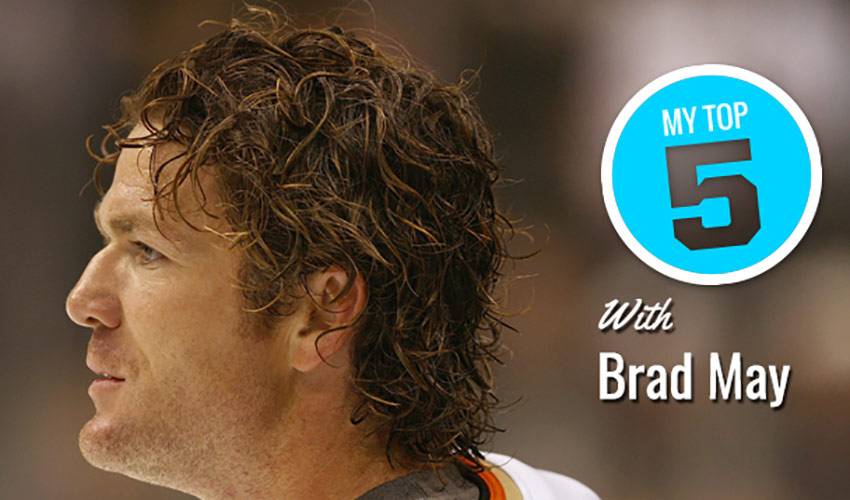 A Stanley Cup winner with Anaheim in 2007, Brad May skated in 1,041 NHL regular season games and 88 playoff contests.
His most famous tally came on April 24, 1993, when he netted the OT winner in Buffalo's 6-5 win over Boston, giving the Sabres a four-game sweep in their Adams Division semifinal series.
In this edition of My Top 5, May spoke to NHLPA.com to pick his game-changers for the Stanley Cup Final ahead of Game 1.


Brad May's Top 5 Stanley Cup game-changing Players


1. James Neal
"James Neal is the real deal. I know him and he's a really good dude. He's got a heck of a shot and he's really physical. He's a big guy who can help his team in a lot of ways."
2. Roman Josi
"He's just so good and he has unbelievable stamina. He plays a ton of hockey and everything he does, he does it effortlessly. Every game, he's all over the ice making his presence known."
3. Jake Guentzel
"He's a really fun player to watch. He's quick, confident and a great skater. He's very gifted offensively and it's been fun to watch his coming out party in the playoffs."
4. Pekka Rinne
"He's having a sensational playoffs and showing the world what a great goaltender he is. He's an incredibly bright guy and he's just always so aware of what's going on in front of him."
5. Sidney Crosby
"How can you ever disrespect a guy that is this good? He's arguably the best player in the world and he understands the game so well. He's a real student of the game. He does things the right way, he's elite and he's resilient. He's also as strong as an ox."
MAY'S STANLEY CUP PICK
"I'm going with the Predators. I would love to see that Stanley Cup parade in Nashville. It's such a fun city. It was my favourite place to play during my NHL days."