McGinn on growing the game and his perspective through ownership role
Brock McGinn doesn't boast too much when it comes to hitting the links, but he's proud of what he's growing with the Roanoke Rail Yard Dawgs.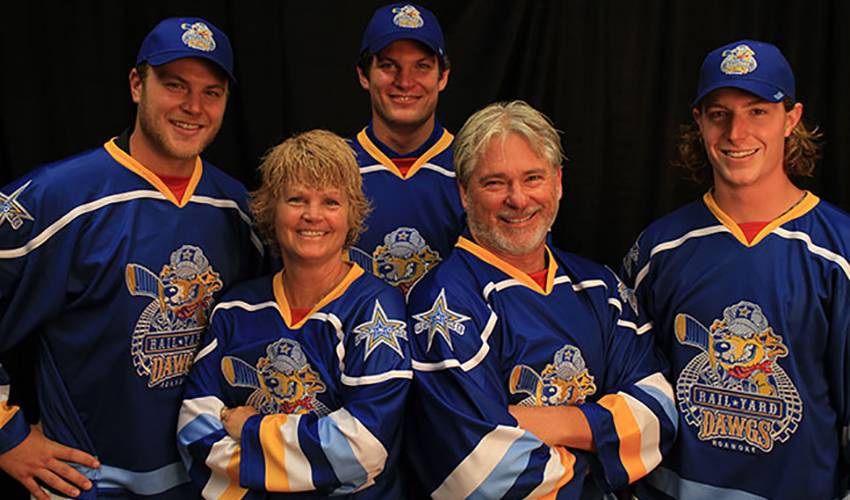 Feature Photo: IG / @mcginnj88
---
Brock McGinn doesn't boast too much when it comes to hitting the links, but he's proud of what he's growing with the Roanoke Rail Yard Dawgs.
His golf game may be light, but Brock McGinn's ownership game is strong.
One week before Brock McGinn headed home for the offseason, he joined three of his Carolina Hurricanes teammates, Vincent Trocheck, Brett Pesce and Brady Skjei, for a round of golf and subsequent bragging rights. Things did not end well for Team McGinn and Trocheck.
"Some of the guys are still here in Carolina, so we were able to get some golf in before we all left for the summer. It was nice to have that chance to hang out with the guys for a little bit. Pesce and Skjei absolutely smoked us. I don't think Trocheck and I won a hole. It wasn't pretty. I'm not bad around the greens, but I don't hit it very far."
McGinn likens his game to a more seasoned duffer.
"My style is like grandpa golf – I don't hit it very far, but I'm pretty consistently straight."
With his nightmare on the fairways over, the 27-year-old winger will set his sights on happier thoughts, like catching up with family and attending a pair of weddings in Carolina.
"I haven't seen my nephew in a while. I'm getting plenty of videos of him running around, so it will be nice to see him. Normally I'll have family and friends come to Carolina to see a game, but that didn't happen this year. It's just nice to get to see everyone again and be able to talk about what's going on in our lives."
McGinn will also be talking hockey ownership at some point during the offseason. McGinn, along with his parents (Bob and Cori) and brothers (Jamie and Tye) are part of the group that owns the Roanoke Rail Yard Dawgs – a member of the Southern Professional Hockey League (SPHL). In 2015, the McGinn family purchased the club based out of Berglund Center in Roanoke, Virginia.
"Unfortunately, since COVID, they [the Rail Yard Dawgs] didn't get to play. Hopefully, next season things can start back up again and they can have a good year. It's fun. Normally, we go down there every year and do a hockey camp with the kids. I think they really enjoy that, and we do too. We won't be able to do it this summer, but we'll start it up again next year. I can't wait for that. It's a great city and we're enjoying it."
Ownership has been an eye-opening experience for the 47th overall pick of the Hurricanes in 2012. All of it good, he noted.
"When we bought Roanoke, it really opened up our eyes to a whole other side of the hockey world. Every time we go down there, we learn something new. We're able to take away little pieces of wherever we're playing and what we enjoy, and we bring that to the team in Roanoke. The fans are great and have been really supportive. If you put the time and care into the franchise, the fans will back you, and they have. Going there and doing the hockey camps, it really solidifies the connection you have with the fans. The numbers are getting bigger in the camps and every time we're there, you see the smiles on those faces. It's a thrill for us. Hockey is really growing there and that's been great to see."
The Rail Yard Dawgs recently unveiled a collection of 2021-22 alternate jerseys designs, which is just one more reason for McGinn, his fellow owners and fans to be excited about the new season. Fans can vote for their favourite until July 1.
"I've always enjoyed when you get that chance to switch up jerseys. It creates a lot of buzz. I think the fans enjoy that too."
As for McGinn's favourite NHL jersey growing up, he went with a team that has a longstanding rivalry with the squad his father and brother Jamie cheered for. Four fans and three different logos made for some fascinating family discussion.
"My favourite jersey was the Montreal Canadiens. My dad and Jamie were Leafs fans, so I thought I'd stir up the household a bit and go with Montreal. Tye was Colorado, so it was always interesting at certain points of the hockey season when we were growing up."
These days, bragging rights are still a part of their lives. Hockey, however, isn't always the focus of their rivalry.
"We usually get a few rounds of golf in whenever we got to Roanoke. It's pretty tight every time we go out there, all four of us. We're all very similar golfers. My mom's getting a lot better too. My mom and dad, they put in the work. We all have a good time whenever we're out there."
Even if the final outcome winds up being par for the course.