After the Buzzer | Anthony Beauvillier
Like many of his fellow NHLPA members, Beauvillier is all about raising money and awareness for a good cause.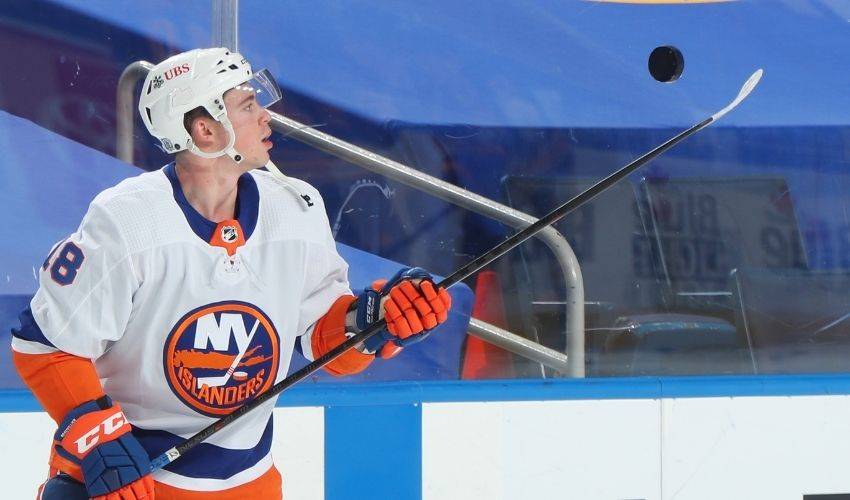 Feature photo: Getty Images
From their bond with fans to their efforts in the community – and everything in between – 'After the Buzzer' is a weekly series taking readers beyond the rink to shine a light and provide insight on players' lives away from the game.
---
Which future Hall of Fame goaltender did Anthony Beauvillier secretly root for when he attended his first NHL game? Hint: he's closing in on 475 career wins.
Now in his fifth NHL season, Beauvillier stopped by NHLPA.com to talk tennis, television, Spikeball, and French-Canadian cuisine.
COMING UP ACES
Beauvillier is a long-time tennis fan. He played the game growing up in Quebec, and these days, he makes time to tune in whenever some of the sport's biggest matches and top players take centre court.
"I wasn't too bad. I didn't take any lessons growing up, but my grandma was a big fan of watching tennis, and I think that's where I got my love of tennis from. I guess the best part of my game was my forehand. When I tried to serve hard, my first serve was never good. My first serve percentage wouldn't be that impressive.
"I've always been a big fan of Rafael Nadal, so my dream would be to play against him. I probably wouldn't even touch the ball, but it would great to have that chance to go play with him."
IT'S A FIRST
When Beauvillier attended his first NHL game as a fan, he had a difficult time choosing sides. He did, however, marvel at a particular scene before the puck dropped on the Eastern Conference playoff matchup.
"The first NHL game that I saw was Montreal at home to Pittsburgh in the playoffs. It was a great game. Montreal had a good team and Pittsburgh had [Sidney] Crosby, [Evgeni] Malkin, [Sergei] Gonchar and [Kris] Letang there. It was fun to watch.
"I just remember walking to my seats and then coming out of the walkway and seeing the warm-ups. Watching the guys shoot the puck – and how hard they were shooting it – was amazing. I was kind of a Pittsburgh Penguins fan at the time. Marc-Andre Fleury is from the same hometown [Sorel-Tracy, Quebec] as me. I was kind of cheering for him. So, when Montreal scored I was happy, but at the same time I wasn't sure if I should be celebrating."
THE REST IS JUST GRAVY
Although he stays away from it during the hockey season, there's a certain classic French-Canadian dish that Beauvillier can't wait to dig into once the off-season hits.
"Of course, once in a while, I love to have a plate of poutine. I think that's my first meal every time I come back home when the season has ended. Somehow, during the hockey season I don't miss eating poutine, but the moment I get back to Quebec, I can't wait to have some."
BINGE-WORTHY
With outdoor activities restricted due to COVID-19 protocols, Beauvillier has been watching his fair share of television and movies.
What's on his recent must-see list?
"I've heard about it so many times from so many people, but I started watching Stranger Things not too long ago. I really got dialed into it right away. I watched The Queen's Gambit, which was really good too. I've been all over Netflix."
STEPPING UP
Like his fellow NHLPA members, Beauvillier is all about raising money and awareness for a good cause. His Spike for Alz charity Spikeball tournament raises money for Alzheimer's research. All proceeds from the event are directly donated to the cause. In January 2018, Beauvillier lost his grandfather, Jean Cardin, to the disease.
"I haven't really put my mind to what we are going to do this year because there are so many things up in the air due to COVID-19. I would love to have my tournament, but with the pandemic, you just don't know how things will play out. Whether it's something virtual, or another way, I'm sure we'll look at ways we can make something work."
PARTING SHOT
"Last year, when we were in the bubble, [Derick] Brassard and I were watching this French TV show. Season one had about 130-something episodes and we went through them all. That's literally all we did in the bubble." – Beauvillier, on his binge-watching ways in 2020.