Beauvillier recognized for dedication to cause dear to his heart
The words on the certificate are deeply meaningful ones to Anthony Beauvillier.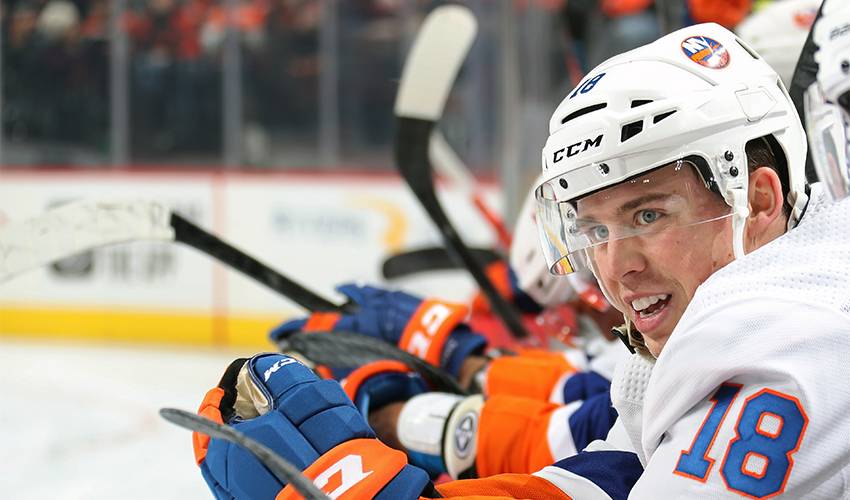 Feature photo: Getty Images.
---
'Through your leadership, your actions and your commitment to the cause, you contribute to improve the quality of life in our community.'
The words on the certificate are deeply meaningful ones to Anthony Beauvillier.
Playing his part in helping to raise money and awareness for Alzheimer's Disease remains a top priority for the 22-year-old Beauvillier.
This summer in Montreal, the New York Islanders forward hosted the second edition of his Spike for Alz charity spikeball tournament. The event, centred around the backyard game where the goal is to hit a ball off a net and past your opponents, raised over $20,000 for Alzheimer's research.
Just under a week ago, the Alzheimer's Society of Montreal recognized Beauvillier's efforts in shining a light on the irreversible disease that destroys brain cells, causeing thinking ability and memory to deteriorate.
Thank you to the Alzheimer Society of Montreal. It's a tremendous honor to receive this recognition for our Spike Ball event. We look forward to continuing the fight against this disease and raising awareness for those who have been affected. Merci.Follow us on IG @SpikeforAlz pic.twitter.com/tPoaCjfaoS

—

Anthony Beauvillier (@titobeauvi21) November 22, 2019
"I've done the spikeball tournament the past two years and this time, we raised over twice the amount we did the first time around," he noted. "It was a big event for us, my family and I. To get that certificate, it really means a lot to me. This cause is very important to me, so to receive that recognition meant a lot to myself and my family."
Beauvillier knows all too well the impact Alzheimer's can have.
In January 2018, the 28th overall pick in the 2015 NHL Entry Draft lost his grandfather, Jean Cardin, to the disease. His grandmother, Ghislaine Cardin, also passed away from Alzheimer's.
Beauvillier shared a close relationship with both of his grandparents.
"I lost my grandmother this summer, the same disease that I lost my grandpa to," he started. "I miss having them around at family dinners, just having them to talk to and to be there at my hockey games. It's tough not having them around any more. That's why it is so important for me to honour them."
Two seasons ago, in support of the Alzheimer's Association, Beauvillier asked Islanders fans to assist the organization. He contributed to the cause by donating money after New York home wins.
He also welcomed families affected by Alzheimer's to Isles games, spoke with them after the game, posed for pictures and signed autographs.
"I want to do whatever I can to help raise money and also get the message out about Alzheimer's," said Beauvillier. "I'm proud of the step we took with our event this summer. To know we did double the amount of money we did in the first year makes us happy. We had more people come out to the event this time. And the messages I get from people whose lives have been affected by Alzheimer's, to have that feedback from people saying they appreciate what we are doing – it's very special for me."
So, too, is the helping hand he gets from fellow NHLPA members.
Beauvillier had a few familiar faces join him at this year's Spikeball tournament.
"The first year, you see how it goes, and it's somewhat of a smaller event," he began. "For the second year, we wanted to make it a little bigger. We had a lot more NHL players this time. Kris Letang (Pittsburgh Penguins defenceman) came and so did, Anthony Duclair (Ottawa Senators forward), and Thomas Chabot (Ottawa Senators defenceman).
"They all brought jerseys or sticks, which was great to have for the auction. It really helped us raise some money for the cause. This year, we knew what to expect and I think that showed with how it went over with everyone. Whether it's a retweet or a repost by the guys on Instagram, everything helps and it makes a big difference. My teammates and other players I know, they are always there for me."
Just as Beauvillier is for those whose lives have been impacted by Alzheimer's.
"I really just want to help in any way possible. As someone whose family has been impacted by the disease, I realize how important it is to do what it takes to find a cure."