Unlikely friendship becomes one of league's best bromances
From lining up on the opposite sides of the international puck to suiting up as NHL teammates, Chabot and White's friendship has become a fan favourite.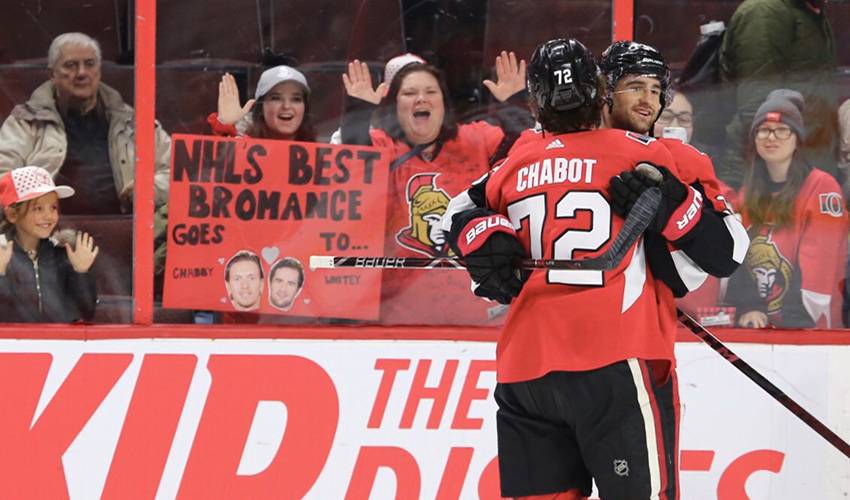 Out of mutual disdain, slew foots and cross-checks, an unlikely hockey friendship was forged.
Thomas Chabot and Colin White's camaraderie has come so far, it's even made it as a finalist in this season's NHL Fan Choice Awards for the league's best bromance.
Three and a half years ago, current Ottawa Senators teammates Thomas Chabot and Colin White found themselves on opposite sides of the puck.
Chabot, a defenceman, and White, a centre, lined up against each another when Canada faced the United States in a memorable 2017 world junior tournament final.
In the end, it was White and the U.S. side who celebrated gold after an action-packed 5-4 shootout victory over their neighbours to the north.
As is the case in any Canada-U.S. hockey game, it was anything but peace and love between the two sides.
White recalled Chabot slew-footing him behind the net early in the game. He then returned the favour with a cross-check of his own later on in the contest.
There were also a few NSFW verbal jabs exchanged by the two players, who had also suited up for their respective teams at the 2016 world juniors.
Both had played pivotal roles in helping their respective side make it to the final.
Chabot recorded four goals and six assists in seven games, and was named the tournament's most valuable player. White netted seven goals and one assist in seven games.
So, what would happen when Chabot and White met up again – this time as teammates – not long after the 2017 world juniors experience?
They had another conversation, albeit with a vastly different tone compared to their previous chat.
"We were drafted the same year [2015], and played against each other at the national team level, so we built a friendship from there," said Chabot, selected 18th overall by Ottawa, three spots ahead of White. "We've been at every camp together. Our first pro year, he got hurt and spent time in the American Hockey League, but after that, we came up at the same time in the NHL. We were also roommates for a year and a half, almost two years."
Sharing the same room on the road didn't derail their budding friendship.
It strengthened it.
"I did an interview talking about us being roommates, and I went after him a bit, just teasing, but he was an excellent roommate to have," said Chabot, who also shares the same birthday [January 30, 1997] as White. "What was fun is that we were on the same schedule for pre-game naps and pre-game rituals, which bus we took to the game. It was pretty easy to have him as a roommate. We both like to watch movies, so that worked out well, too. We were always on the same page."
Well, almost always.
There is a certain time of the year when Smith reminds Chabot of a particular shared moment from the past, one that stirs up different emotions in both.
Every December, just before the start of the world juniors, Smith reminisces about the United States' golden hockey moment from 2017.
"It's a very hard tournament and very tough to win," offered Chabot. "When we lost that year in the shoot-out, it was really disappointing. Colin always makes sure to bring it back up every year, just to remind me."
"Some of the memories for me … well, winning gold [in 2017], of course, but also getting to play Chabby," White recalled his fondest memories of the tournament to reporters. "Now, he's probably my best friend. But, looking back at it, we hated each other."
And although it's hardly on par with winning a gold medal, Chabot has been able to exact a measure of revenge on his friend, but in a much different arena.
When it comes to video game battles, there is no argument as to who has more talent.
At least according to Chabot.
"I hate to say it, but I'm better. He's not going to like that. We play different games, with Fortnite being a big one," said Chabot, who showcased his skill alongside 60+ fellow NHLPA members in the recent NHLPA Open featuring Fornite.
"Colin is a good player, an okay player, when it comes to Fortnite. It just gives you something to do and takes your mind off everything that's going on in the world right now."

Chabot and White will leave no room for doubt on whose game is better May 29 as the two will interact with fans virtually through the Senator's Twitch channel in what's being dubbed "The First Annual Thomas Chabot and Colin White Super Best Friendstravaganza."
The pair has been in touch throughout the COVID-19 pandemic, catching up on each other's lives, playing video games, and getting in the odd chirp or two.
Just like they did before their Ottawa days.
"We're both very competitive guys. In practice, or playing ping-pong, or video games, we hate losing to one another. We want to beat each other at all times, and we'll go after one another. During the hockey season, we have a blast. When we get to the rink the next day, there's a lot of chirping between us about who was the better gamer the night before.
"When Brady [Tkachuk] came to Ottawa, he got into that as well. But that's what makes every day at the rink fun. There is always something going on. Colin likes to talk, and he's always got someone he's going after, chirping them. He's just a fun to be guy around."
It's something Chabot, at one time, would never have expected to say.
"It's funny how things work out. Colin's a great guy."
Just not when he's wearing a Team USA sweater.