Week 21 - The Heat is On
Henrik, The Monster & Jason Blake all on fire as the playoffs draw near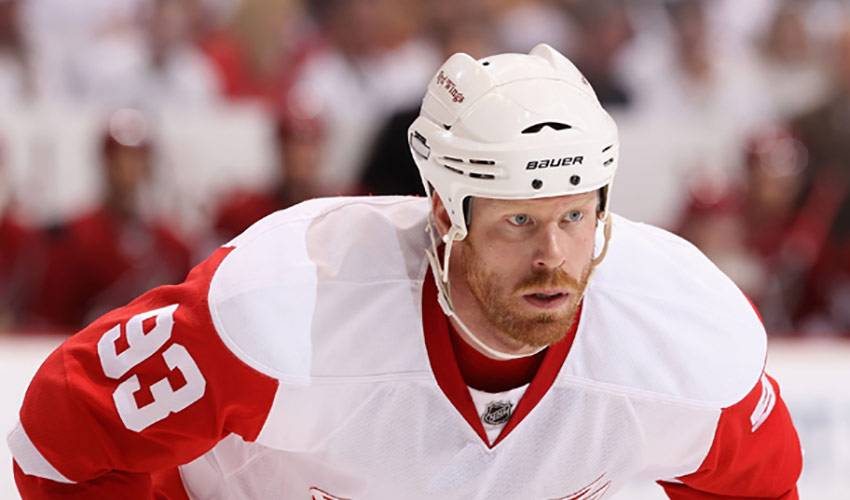 Team of the Week
Detroit Red Wings (40-23-13)
For most of the 2009-10 campaign, the Detroit Red Wings have lacked their usual flair and brilliance. In fact, they have spent most of the season on the outside looking in when it comes to the top-8 spots in the Western Conference. Consider all that time an aberration. With six games left to play, Detroit has found their legs and healthy bodies, as they have propelled to the sixth spot in the conference and look to be the last team anyone in the west wants to face in the first-round. The Wings are currently on a six-game winning streak and are proving that they can win by lighting up the scoreboard or holding on in a 1-0 squeaker. Jimmy Howard has been a rock in between the pipes, while the return of a healthy Johan Franzen has given Detroit a massive body that can score, agitate and bring a physical presence. The Wings rely on their top players (Henrik Zetterberg, Pavel Datsyuk, Nick Lidstrom, Brian Rafalski) as much as anyone, but it has been the likes of Drew Miller, Valtteri Filppula and Nicklas Kronwall that have been exerting themselves consistently lately. A playoff berth that once seemed iffy now seems all but certain, and the peaking Red Wings will be a tough out in the postseason, a place that they are very familiar with.

Player of the Week:
Henrik Sedin (C, Vancouver Canucks)

Henrik, the league's leading scorer, had another big week in his quest towards the Art Ross Trophy, with three multi-point games in a row, padding his lead over Alex Ovechkin and Sidney Crosby. Henrik potted eight points in three games against Anaheim, San Jose and Phoenix, accumulating seven assists during that span, increasing his NHL-leading total for helpers to 75. With six games left to play, Henrik leads Oveckhin by three points in the race to the Art Ross, and if he can hang on, would become the first Canuck claim the award in their 40-year history. The 29-year old has already established a Canucks record for most assists in a season, and is also only six points behind Pavel Bure's franchise-record for points in a season (110). Henrik has also become the highest-scoring centre in franchise history, having passed former Canuck great, and fellow Swede, Thomas Gradin.

Line of the Week:
Jason Blake (LW, Anaheim Ducks) – 1G – 4A – 5P – +4

While he has not matched the torrid pace set by fellow ex-Leaf Lee Stempniak in Phoenix, Jason Blake has also turned up his production since joining Anaheim via trade from Toronto in January. with 12 points in 20 games. The Colorado Avalanche would love to see the Minnesota native back in Canada however, as more than half of those 12 points have come in the three games he's played against them. A March 3rd game saw the Ducks fall to the Avs by a score of 4-3, but Jason chipped in with a goal and an assist for Anaheim. On the 21st of March, Jason scored the game's first goal on a night that saw Teemu Selanne reach the 600-goal plateau. To finish off his fantastic month against Colorado, Jason truly outdid himself on the 31st, pouring in a goal and four assists, to bring his three-game total against the Avalanche in March to three goals and five assists for eight points.

Young Player of the Week:
Jonas Gustavsson (G, Toronto Maple Leafs)

A recent loss against the Thrashers put a damper on the end of March for Jonas, but the young netminder, nicknamed 'The Monster' was almost perfect for the month. Starting with a March 6th 2-1 win over the Senators in Ottawa, Jonas had reeled off seven wins in a row prior to the defeat at the hands of Atlanta. That win streak tied Toronto's club record for consecutive wins by a rookie, set by Al Rollins in 1951 and equaled in 1975 by Gord McRae. It also left him just shy of the all-time franchise mark for consecutive wins, which Felix Potvin set in 1993-94 when he won nine in a row. Yet, there was much for Jonas to be proud of in that seven-game stretch, with wins over several teams in the playoff chase and a four-game run that saw him only allow 6 goals and post a .948 save percentage.

Milestone of the Week:
Patrick Lalime (G, Buffalo Sabres)

Speaking of consecutive-win records for rookie goaltenders, it seems like only yesterday that Patrick Lalime began his career with a 14-0-2 record as a member of the 1996-97 Pittsburgh Penguins. Last Saturday night, when Patrick backstopped the Sabres to a 7-1 win over the Tampa Bay Lightning, the 35-year old reached a milestone in his career. It has been thirteen years since Patrick began his career on such a tear, but over that time he has picked up 186 more wins along the way and now sits at 200 NHL victories. In doing so, Patrick became the 66th goaltender in league history to accomplish the feat, while also earning the win that clinched a playoff spot for the Sabres. Congratulations from NHLPA.com on reaching this outstanding accomplishment Patrick!