Fabbri Fabulous In Game 7
Robby Fabbri and the St. Louis Blues were in complete control, capturing Game 7 over the Stars & moving onto the Western Conference Final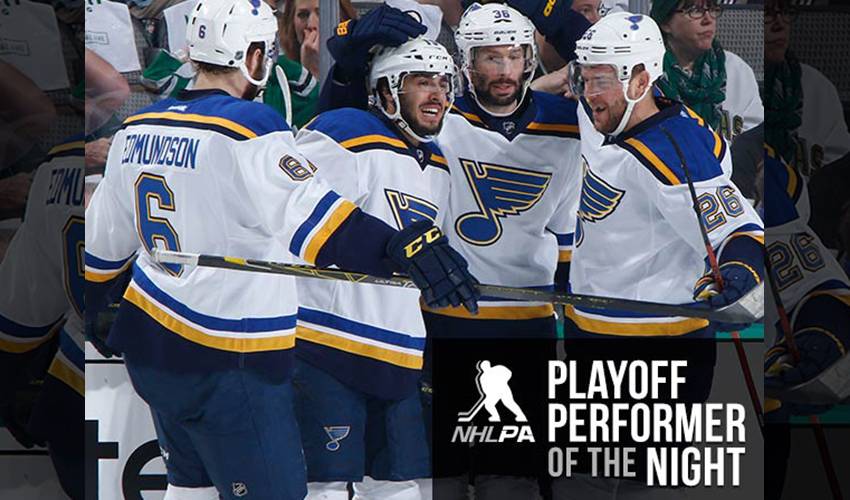 Robby Fabbri skates away with PPOTN honours after his three-point performance in St. Louis' 6-1 win in Game 7 against Dallas.
The centreman contributed one goal and two assists in the victory that sent the Blues onto the Western Conference Final.
STAT PACK: Fabbri had two shots on goal, was a plus-1, recorded one hit, and took 19 shifts for 12:01 of ice time.
DYNAMIC TRIO: "Nice short plays, and we buried our opportunities," said Brouwer, of his linemates Fabbri and Paul Stastny. "We talked before the game that we wanted to be the difference in this game tonight, and I feel like we made a good impact."
THREE CHEERS FOR THIS THREE: The line of Fabbri (2-6-8), Brouwer (4-4-8) and Stastny (3-4-7) totaled 9-14-23 in the Blues' seven-game victory over the Stars.
BRING IT ON: "The way we feel here, we know we've got a good team and we know every time we're challenged we've kind of risen up to it," said Paul Stastny.
YOUNG GUN: At 20 years, 110 days, Fabbri became the youngest player in Stanley Cup Playoffs history register three points in a Game 7. He also became the youngest player in Blues history to score in a Game 7.
BE LIKE JEFF: He models his game after Jeff Skinner: "He's not a big guy, like me. Watching him, I've been able to see a few things that I can add to my game for my advantage."
BROTHER ACT: Fabbri lists his older brother, Lenny, as the most influential person in his hockey career -- Lenny played for the University of Guelph in 2013-14.
TROPHY TIME: Fabbri was named the Most Valuable Player of the 2014 Ontario Hockey League Playoffs after registering 28 points (13-15-28) in 16 postseason games for Guelph, including three assists in the series clinching Game 5 victory over North Bay.
A FEW FAVES: Fabbri's favourite movie is Step Brothers, his favourite actor is Will Ferrell, his favourite music group is Florida Georgia Line and his favourite non-hockey athlete is Lionel Messi.
HONOURABLE MENTIONS: Brian Elliott made 31 saves for the Blues, while Paul Stastny and Troy Brouwer each had a goal and two assists.