Tomas Plekanec scores in his 1,000th NHL game, Canadiens beat Red Wings 7-3
It looked like Tomas Plekanec "drank from the fountain of youth" before Monday night's game.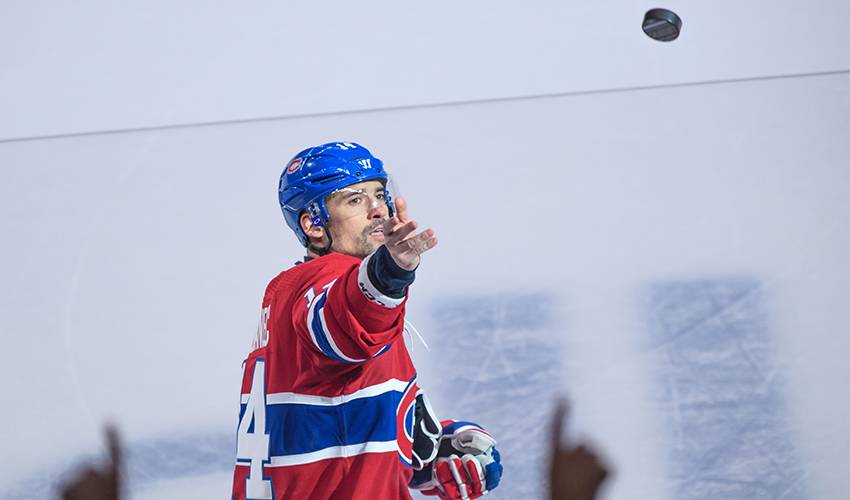 MONTREAL — It looked like Tomas Plekanec "drank from the fountain of youth" before Monday night's game.
That's how head coach Claude Julien described the veteran Plekanec, who scored in his 1,000th NHL game as the Montreal Canadiens easily defeated the visiting Detroit Red Wings 7-3.
Julien was also behind the bench for Plekanec's very first NHL game in 2003.
"There are all the reasons in the world for him to be happy about his 1,000th game," said Julien. "He was really skating well, he had lots of energy. You could see he was excited to play his 1,000th game and he wanted it to be a good memory for him.
"I was fortunate to coach him in his first year and I'm fortunate enough to still be around him for his 1,000th game. It's a privilege."
The 35-year-old Plekanec became the 324th player in NHL history, and the 13th active NHLer, to reach the 1,000-game plateau. The Czech native is the 12th Canadiens player to reach that milestone, joining an elite group that includes Jean Beliveau, Henri Richard and Larry Robinson.
The crowd showed their appreciation with a standing ovation in the first period.
"It was special," said Plekanec of the ovation. "I've been here for so long and I know the crowd is unbelievable here and I love to play here at the Bell Centre and they showed it again tonight.
"It was awesome of course. It feels great. I would never dream of something like that when I started here. It was a hell of a ride."
In storybook fashion, Plekanec became only the fourth Canadiens player to score in his 1,000th game.
After Jonathan Drouin opened the scoring for Montreal (3-1-1) on a penalty shot at 7:13 of the first, Plekanec made it 2-0 by shooting a puck on goal that Filip Hronek deflected past his own goalie at 16:56.
It was Plekanec's 233rd NHL goal, all in a Canadiens uniform.
"We won this game for him," said Max Domi. "We have so much respect for Pleky as a player and as a person. We're all so happy for him. He deserves every bit of credit he gets. It's cool to be a part of. Hopefully he plays 1,000 more."
Andreas Athanasiou got one back for the visitors before Tomas Tatar restored the two-goal lead in the dying seconds of the first.
Brendan Gallagher netted his third of the season at 3:52 of the second on a nice pass from Tatar. Charles Hudon made it 5-1 less than a minute later to chase Jimmy Howard from the game.
Howard conceded five goals on 20 shots.
Drouin, on the power play, scored his second of the game at 15:59 as he shovelled a loose puck past a sprawled-out Jonathan Bernier, who stopped 13-of-15 shots in relief.
The Red Wings (0-4-2), who were coming off an 8-2 loss to Boston, have now allowed an NHL-worst 29 goals in a winless six-game stretch — their worst start to a season in franchise history.
"We can't just fall apart like that and start running around with our heads off," said Red Wings veteran Niklas Kronwall. "We have to show some pride. Enough is enough. We're not even giving ourselves a chance right now.
"Right now it's a little lack of everything. We feel like we have something in here but right now we're very far from it."
The Red Wings showed signs of life in the final frame.
Athanasiou made it 6-2 at 7:30 and Thomas Vanek caught Antti Niemi looking the wrong way on a wraparound at 10:11 for his first point of the season.
Paul Byron added Montreal's seventh goal of the game with 1:49 remaining on the clock.
With Carey Price still out with the flu, Niemi stopped 25-of-28 shots for his second consecutive victory.
Notes: Like Price, Andrew Shaw was sidelined with the flu. … The Canadiens have won six straight versus the Wings dating back to March 2017.
Kelsey Patterson, The Canadian Press