Sharks re-sign forwards Joe Thornton, Tomas Hertl
Joe Thornton talked to several teams last summer when he made his first trip to the free-agent market before ultimately deciding to return to San Jose on a one-year deal.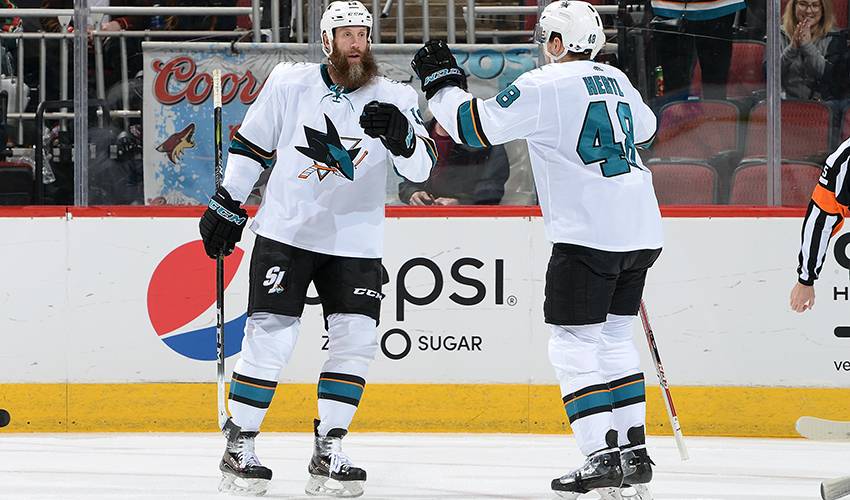 SAN JOSE, Calif. — Joe Thornton talked to several teams last summer when he made his first trip to the free-agent market before ultimately deciding to return to San Jose on a one-year deal.
This time there was never any doubt.
"Obviously there were some teams calling, but I told my agent/brother let's keep it quiet this year, I want to go back to San Jose," Thornton said Monday. "Obviously talking to you guys at the end of the year that's no secret. I feel this team is just getting better and better. ... Our window is always open it seems in San Jose, and it's a good feeling."
Thornton signed a one-year, $5 million contract on his 39th birthday, taking a $3 million pay cut from the previous year to help make sure the Sharks have the room to add other top players. Thornton had been willing to take even less had John Tavares decided to take San Jose's offer instead of signing a $77 million, seven-year deal with Toronto on Sunday.
But Thornton still believes strongly in the group that general manager Doug Wilson, coach Peter DeBoer and owner Hasso Plattner have put together and feels the pieces are in place for that elusive Stanley Cup run.
"It would have been nice to get Johnny, but I think if you look at our team still, Doug and Hasso and Pete, they've allowed us to compete every year, and I think there's no difference again this year," Thornton said. "We're going to compete for a Cup. But yeah, I was going to be flexible and will always try to help out the franchise in that way."
The Sharks also locked up restricted free agent forward Tomas Hertl with a $22.5 million, four-year deal on Monday that buys out the first two years of unrestricted free agency.
Hertl took on a bigger role last season after Thornton went down with a season-ending right knee injury Jan. 23. Thornton had torn the ACL and MCL in his left knee the previous season but said he's ahead of where he was at this point last summer and expects to be 100 per cent at the start of training camp.
Thornton started slowly last season while recovering from knee surgery but was back near his top form by the end of November. He had 11 goals and 15 assists in his final 28 games before the injury.
"I've never seen anybody train like this. You look at his birth certificate and it says a number there. But he's childlike when it comes for his passion and love for the game," Wilson said. "He's had so much time now and was so close to playing that I t6hink he'll come back way ahead of where he was last year."
Thornton has been the face of the franchise in San Jose since arriving in 2005, helping the team reach three Western Conference finals and one trip the Stanley Cup Final in 2016.
He ranks 12th in NHL history with 1,030 assists and is 16th with 1,427 points. With seven more games, Thornton will become the 19th player to reach the 1,500-game mark for a career.
The 24-year-old Hertl is just coming into his own after being slowed by knee injuries early in his career. He had a career-high 22 goals to go along with 44 assists this past season and was strong on both ends of the ice.
Hertl was even better come playoff time with six goals and three assists in 10 games. He also won 57.7 per cent of his faceoffs. The Sharks are counting on more of that kind of play in the future.
"I just think his best hockey is ahead of him," Wilson said. "He truly wants to be a great player. Watching him in the playoffs this year, I think everybody saw him take that step that not only we expected but he expected of himself."
The Sharks still have one more restricted free agent to sign in forward Chris Tierney.
___
AP Hockey Writer Stephen Whyno contributed to this story
___
More AP NHL: www.apnews.com/tag/NHLhockey
Josh Dubow, The Associated Press