Kane scores 2 goals in playoff debut, Sharks top Ducks 3-0
While Evander Kane watched Stanley Cup playoff hockey from his couch during the first eight years of his NHL career, the power forward felt confident he could thrive in the pressurized atmosphere of the post-season if he could only get the chance.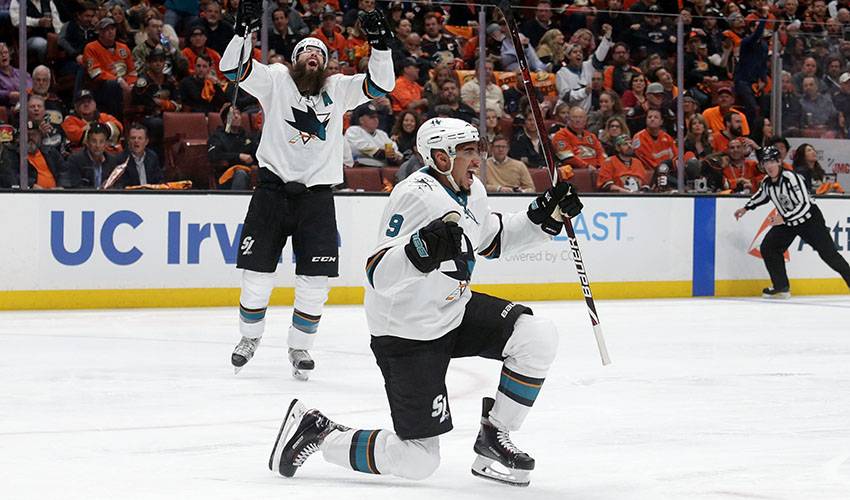 ANAHEIM, Calif. — While Evander Kane watched Stanley Cup playoff hockey from his couch during the first eight years of his NHL career, the power forward felt confident he could thrive in the pressurized atmosphere of the post-season if he could only get the chance.
When his long-delayed opportunity finally arrived Thursday night, Kane did everything he ever thought he could.
Kane scored two goals in his first career playoff game and Martin Jones made 25 saves as the San Jose Sharks beat the Anaheim Ducks 3-0 in their first-round series opener.
The game was a remarkable breakthrough for Kane, who joined the Sharks in a trade six weeks ago and reached the NHL post-season for the first time after 574 regular-season games and far too many early summers in Atlanta, Winnipeg and Buffalo.
Now 26 years old and tired of waiting, Kane has played ferociously since he landed in San Jose, contributing 14 points in 17 games down the stretch before his playoff outburst.
"It was nice to finally get out in the playoff atmosphere, and it was fun to finally get my first playoff win," Kane said. "It's nice to contribute. That's my job. I feel confident in my abilities. I don't think it was my best game, but I'm never going to be mad when we get a playoff win and I get to contribute."
Game 2 is Saturday night at Honda Center.
After a scoreless first period, Kane capitalized when two Anaheim penalties in 15 seconds left the Sharks with a two-man advantage. No Ducks were anywhere near Kane when he settled in the slot and scored on a one-timer from captain Joe Pavelski.
Kane did it again with Pavelski's help less than seven minutes later, sliding the puck past goalie John Gibson on a 2-on-1 break and crashing headfirst into the post immediately afterward. The rout was on 84 seconds later when Brent Burns slipped a long shot through traffic for his 13th career playoff goal.
"(Kane) is a world-class player," San Jose coach Peter DeBoer said. "I think Buffalo was a tough situation for everybody, and when he got the opportunity to get into our room and play with Burns and Pavelski, he was re-energized. That's what you're seeing: A guy who got his passion back and came to the rink excited."
According to the NHL, Kane became the fourth player in the last 20 years to score multiple goals in his playoff debut, joining Alexander Radulov (2007), Mike Green (2008) and Gabriel Bourque (2012).
With Kane leading the way, the Sharks easily took early control in the series between California rivals. San Jose and Anaheim have been regular playoff teams for the past 15 years, yet are meeting in the post-season for only the second time.
Gibson stopped 30 shots for the Ducks, who lost a series opener at home in their third consecutive playoff series. Anaheim had won seven straight home games down the stretch, losing in regulation at home just once in 17 games since late January.
"You can't afford to take seven minor (penalties) and give the opposition an opportunity to practice their power play," Ducks coach Randy Carlyle said. "It takes any momentum that you had building in the game. It flips everything in their favour."
Jones capably handled the Ducks' infrequent scoring opportunities to earn his fifth career playoff shutout. Anaheim fans threw scattered boos at their team during the third period, particularly when the Ducks struggled to get the puck up the ice.
The Ducks promptly gave away the home-ice advantage they had claimed with a frantic late-season rally past San Jose into second place in the Pacific Division. Anaheim won its final five regular-season games to finish with 101 points, while the Sharks lost five of their last six and ended up with 100.
"I can count probably on one hand how many good shifts that we had the whole game," Anaheim defenceman Francois Beauchemin said. "We have to be a lot better than that."
At least slow playoff starts are typical for these Ducks, who have lost Game 1 at home in four of their last five playoff series over the past three seasons. Anaheim still has appeared in two of the past three Western Conference finals.
San Jose and Anaheim haven't faced off in the post-season since 2009, when the eighth-seeded Ducks stunned the Presidents' Trophy-winning Sharks in six games in the first round. Three players on each roster are still around for the rematch, including captains Ryan Getzlaf and Pavelski.
NOTES: Cam Fowler missed the opener with an upper-body injury, and the Ducks' top defenceman doesn't appear to be close to returning. The club has said Fowler's injury could keep him out for several more weeks. ... Sharks C Joe Thornton skated in pregame warmups, but didn't play in what would have been his first game since Jan. 25. The 38-year-old veteran has a right knee injury, but hopes to return soon. ... Ducks D Kevin Bieksa also didn't play, but is likely available after missing the last month due to surgery on his left hand.
___
More AP hockey: https://apnews.com/tag/NHLhockey
Greg Beacham, The Associated Press