Dustin Brown scores 4 goals, including OT winner, for Kings
Kings coach John Stevens told Dustin Brown last summer he could still be a 20-goal scorer in the NHL after failing to hit that threshold for five consecutive seasons.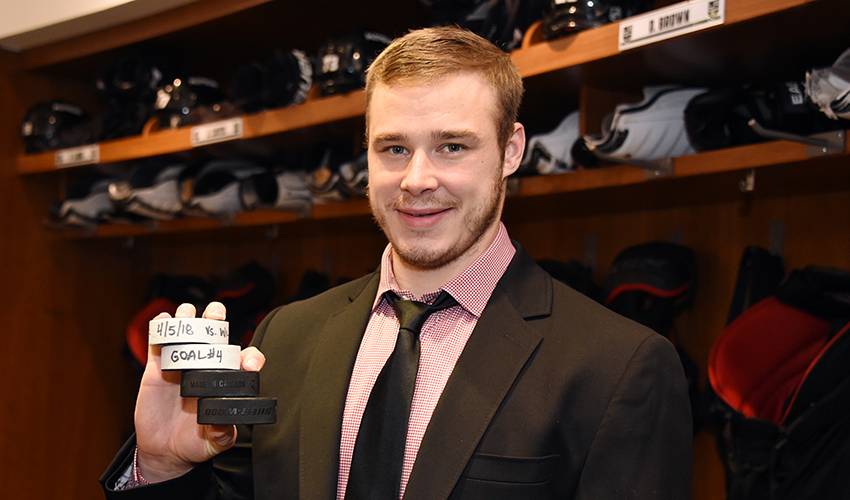 LOS ANGELES — Kings coach John Stevens told Dustin Brown last summer he could still be a 20-goal scorer in the NHL after failing to hit that threshold for five consecutive seasons.
In retrospect, Stevens might have undersold what Brown is still capable of achieving.
Brown scored his fourth goal of the game 23 seconds into overtime and the Kings moved into third place in the Pacific Division with a 5-4 win over the Minnesota Wild on Thursday night.
Brown scored on a one-timer from the left circle to put the Kings one point ahead of Anaheim in the division, with Anze Kopitar setting up his 28th goal of the season. Brown set a career high with his 61st point.
"I thought his game was trending in the right direction last year," Stevens said. "I said if you're not at least a 20-goal scorer again, then I don't know what I'm doing. And he kind of laughed, but you could see he believed it, too. And he is."
Brown is the 14th player in Kings history to score four goals in a game and the second to do so this season. Kopitar did it on March 22 against Colorado.
Tobias Rieder also scored, and Daniel Brickley had an assist for his first point in his NHL debut. Jonathan Quick made 23 saves for the Kings' fourth win in five games.
Drew Doughty had an assist to become the fourth Kings defenceman with 50 in a season. Doughty also set a career high with his 60th point.
Matt Dumba scored for the second straight game, and Nate Prosser had a short-handed goal for the Wild, who will play Winnipeg in the first round of the playoffs.
Ryan Murphy and Eric Staal each had a goal, and Alex Stalock made 23 saves. Mikko Koivu had three assists and Mikael Granlund had two assists.
Brown got his first hat trick since Feb. 25, 2012, by scoring with 49.3 seconds left in the second.
Prosser tied it at 4-4 at 9:24 of the third period after Staal scored his 41st at 5:42 during a delayed penalty to cut the deficit to 4-3.
"There's a lot of good you can take from this game," Wild coach Bruce Boudreau said. "You battled back against the team that's the best third-period team in the League. They stayed with the program and consequently got rewarded for it a little bit."
Brown got the Kings on the board 55 seconds into the game, but Murphy tied the game at 1 when his shot into traffic redirected off Christian Folin and past Quick at 3:12, and Dumba put the Wild ahead at 5:02.
But Brown kept creating scoring chances. He made it 2-all when he scored during a 5-on-3 power play at 7:42, waiting at the front of the net to score off Jeff Carter's centring pass.
"You just plug away really," Brown said of his turnaround. "I got an opportunity this year to play big minutes and be a huge part of the team. That's probably the more important thing is that I was able to help the team make the playoffs."
However, Brown was more concerned with how the Kings let the Wild back into the game and what it might portend headed into the playoffs.
"I don't know what it is in our DNA, but we seem to make it hard on ourselves a lot," Brown said. "The thing is we do that and then we come back and win, so the stats probably lie a little bit when you see the record holding a lead after two periods. We try to get heroics every night, which is probably something we need to avoid next week."
NOTES: Kings F Torrey Mitchell and D Paul LaDue did not play because of flu-like symptoms. The Kings recalled F Jonny Brodzinski and D Oscar Fantenberg from their AHL affiliate on Thursday, but both were scratched against the Wild. ... The Wild signed D Louis Belpedio to a two-year, entry-level contract on Thursday. Belpedio, a third-round draft pick of the Wild in 2014 who played college hockey at Miami of Ohio, could make his NHL debut on Saturday.
UP NEXT
Wild: Visit the San Jose Sharks on Saturday night.
Kings: Host the Dallas Stars on Saturday night.
___
More AP NHL coverage: https://apnews.com/tag/NHLhockey
Dan Greenspan, The Associated Press