Alex Ovechkin joins NHL's exclusive 600-goal club
Everyone around Alex Ovechkin had a hunch this was his night.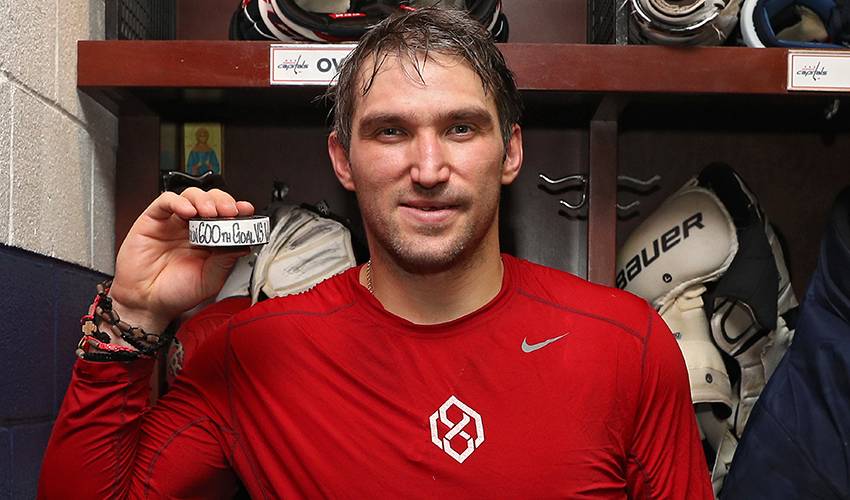 WASHINGTON — Everyone around Alex Ovechkin had a hunch this was his night.
His wife, Nastya, had flown back from Moscow just in time. Coach Barry Trotz noticed Ovechkin was unusually quiet.
By the time he scored the 599th goal of his career, Ovechkin sensed it, too. Less than four minutes into the second period of the Washington Capitals' game against the Winnipeg Jets, Ovechkin put back a rebound and skated into the spotlight as the latest member of the NHL's 600-goal club.
The Russian superstar scored twice to reach the milestone in typical Ovechkin fashion, becoming the fourth-fastest player in NHL history to 600 behind only Wayne Gretzky, Mario Lemieux and Brett Hull.
"When I score 599, I felt like, 'OK I still have to make a push two periods,'" Ovechkin said. "Finally, I scored."
Ovechkin's rebound goal past Connor Hellebuyck 3:53 into the second period was his 42nd of the season as he tries to hit 50 for the eighth time. His first goal 4:35 into the first period came on a 5-on-3 power play as the Russian winger looked determined to reach 600 after several games on the doorstep.
"He knew he was going to get it done today," Trotz said after the Capitals' 3-2 overtime victory . "The great thing about Ovi is when he puts something to it in his mind, he was going to get it done."
Capitals fans who have watched Ovechkin shine as the most productive goal scorer of the past decade-plus gave him a standing ovation for almost a minute after he reached the mark. Chants of "Ovi! Ovi!" continued as he waved from the bench in the moments after and during a video montage at the next timeout.
After scoring 33 goals in 2016-17, his second-lowest total in a non-lockout-shortened season, the 32-year-old Ovechkin's resurgence made his climb to 600 all the more impressive. No player 32 or older has led the NHL in goals since Phil Esposito in 1974-75.
"He's the best goal scorer probably of my time, definitely, and a generation," said linemate Tom Wilson, who had the primary assist on Ovechkin's 600th. "It's on us if we don't get him the puck. It's a little bit of pressure, definitely, but you just go out there and play your game and it was one of those things that was just going to happen. He's too good not to hit that milestone."
Greeting Ovechkin the locker room, owner Ted Leonsis took the moment to express his gratitude for 600 goals over the past 13 seasons.
"I told him I loved him and respected him and was very grateful and appreciated everything he's done for the fans and for our team and looking forward to the next 100 goals," Leonsis said. "We should never take Alex for granted. It's really remarkable what he's accomplished."
Ovechkin recaptured sole possession of the NHL lead against Jets winger Patrik Laine, who scored his 41st of the season to attempt to keep pace with his idol. Even while hoping Ovechkin wouldn't score No. 600 against Winnipeg, Laine can't help but appreciate the scoring pace.
"That's pretty amazing to reach that," Laine said Monday morning. "Six-hundred goals in under 1,000 games, it's pretty unreal."
Two former Capitals teammates, Matt Hendricks and Mathieu Perreault, were watching from the Jets' side when Ovechkin reached his latest round number in a career full of accomplishments.
"When I played here, it's funny, you always want to get the puck on his stick," said Hendricks, who was in the penalty box for Ovechkin's first goal. "He has that ability to change games just like that. ... Ovi's a terrific talent."
Perreault, who played with 684-goal scorer Teemu Selanne in Anaheim, said Ovechkin reaching 600 so quickly was indescribable.
"The way he can shoot the puck and score goals is beyond what you can even think about," Perreault said. "I can tell my grandkids, my kids, I played with Ovechkin. He's going to be a legend of the game."
Ovechkin has been an impressive scorer for a long time, but had to adapt his game several years ago when opponents figured out how to stop some of his usual moves. Barry Trotz taking over as Capitals coach helped Ovechkin round out his overall game and avoid the kind of lull that goal-scorers typically hit when they turn 30.
"It's very, very unique and unusual for a player of Alex's vintage to be staring 50 goals in the face," Leonsis said.
The growth in Ovechkin's game isn't lost on players and coaches around the league who have watched his career.
"When he came in (he was) a hitter almost — a shooter and a hitter," Winnipeg coach Paul Maurice said. "He was a very physical player, covered an awful lot of ice during the games. And he's matured into kind of picking his spots, he's still a hard guy to play against, physically very, very strong.
"But he uses the people around him better, maybe. And that's true of all players. But his game has really changed. He's really grown and matured."
___
Follow Hockey Writer Stephen Whyno on Twitter at https://twitter.com/SWhyno
___
More NHL hockey: https://apnews.com/tag/NHLhockey
Stephen Whyno, The Associated Press