Hall extends scoring-streak to 19, Devils beat Canadiens 6-4
There's no stopping Taylor Hall, unquestionably the New Jersey Devils' most valuable player in their quest to end a five-year playoff drought.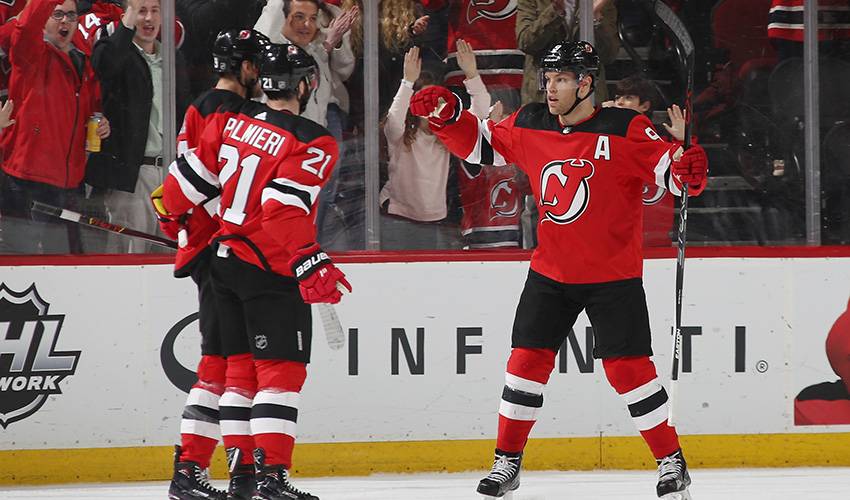 NEWARK, N.J. — There's no stopping Taylor Hall, unquestionably the New Jersey Devils' most valuable player in their quest to end a five-year playoff drought.
Hall extended his point-scoring streak to 19 games, Travis Zajac scored two power-play goals and the Devils snapped a three-game skid with a 6-4 win over the Montreal Canadiens on Tuesday night.
Hall's consecutive-points streak is the longest in the NHL this season. Hall, who had two assists, has recorded points in his last 26 appearances dating to Jan. 2. He missed three games before the All-Star break with a thumb injury during that span.
"It's cool. It seems like everything is kind of bouncing the right way when I'm out there, especially on the power play lately," Hall said. "So it's great to chip in, great to contribute, and I'm out there to get points, score goals and play well that way, so I want to keep it going. At the end of the day, I just want to be on a team that gets into the playoffs."
Stefan Noesen, Blake Coleman, Patrick Maroon and Brian Boyle also scored for the Devils. Keith Kinkaid made 29 saves as New Jersey solidified its grip on the first wild-card slot in the Eastern Conference.
Jacob de la Rose scored twice for the Canadiens, who had picked up at least one point in their previous seven games (3-0-4). Brendan Gallagher and Byron Froese had the other goals.
The Devils dominated the opening period, taking a 4-0 lead while outshooting the Canadiens 17-5.
Noesen got the Devils rolling, deflecting Will Butcher's point shot past Charlie Lindgren at 8:25. New Jersey then broke it open with three goals in a span of 3:15 late in the period.
Butcher, back on ice after a brief locker-room visit for medical attention after suffering a facial cut, played a hand in New Jersey's second tally with 3:27 remaining in the period.
Lindgren stopped Butcher's initial shot, only to have Coleman steer home the rebound.
Zajac polished off the first period with his tallies. Kyle Palmieri fired a shot from the left circle that Zajac tipped in with 1:52 left. Hall got the point that extended the streak with 12 seconds remaining when Zajac slammed home his rebound.
"He's been on a mission and he's been our best player all year," Zajac said of Hall. "He's brought momentum over these last 26 games for us, and he's grown as a leader. It's great to see."
Gallagher cut the Devils' lead to 4-1 midway through the second period.
Maroon scored his first goal as a Devil about a minute later. He has points in all four games since coming to New Jersey in a trade with Edmonton. It was New Jersey's third power-play goal of the game with Hall assisting.
"In the four games I've played here, he's been by far one of our best players, and that's exciting to see, especially in meaningful games like this," Maroon said of Hall. "Big time players step up."
Boyle made it 6-1 later in the period with his first goal in 24 games.
Montreal scored the final three goals of the contest to make the final outcome more respectable.
"The thing that I'll take out of this game in a positive way is the fact that we got better as the game went on," Canadiens coach Claude Julien said. "We're a young team and the guys showed character by trying to get themselves back into it. That's a character check. It would have been easy to say, 'This is not our night.'"
Montreal got a goal from de la Rose with 13.8 seconds remaining to close out the second period with a four-goal deficit.
De la Rose tallied again in the third, trimming New Jersey's lead to 6-3 with 5:20 remaining. Froese closed out the scoring in the final minute.
NOTES: Members of the gold medal-winning U.S. Olympic women's hockey team met with Devils players outside the locker room before the game and participated in a ceremonial puck drop at centre ice. ... This was Montreal's first game without LW Max Pacioretty, who is expected to miss 6 weeks with a knee injury. ... John Hynes won his 100th game as the Devils' coach.
UP NEXT
Canadiens: At Florida on Thursday.
Devils: Host Winnipeg on Thursday.
___
More NHL hockey: https://apnews.com/tag/NHLhockey
Mike Farrell, The Associated Press