Rick Bowness takes leave from Winnipeg Jets after wife's seizure
The Jets said that Judy Bowness remains in hospital and is undergoing further testing after having a seizure Sunday night.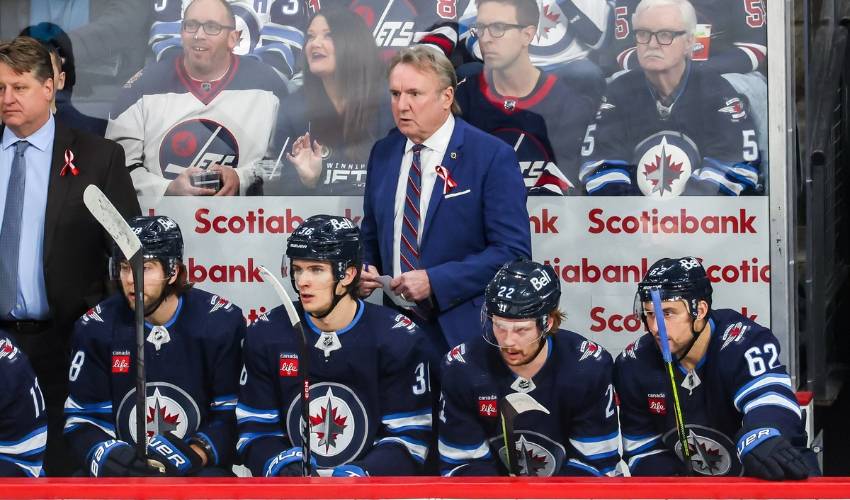 Winnipeg Jets head coach Rick Bowness is taking a leave of absence from the team after his wife had a seizure.
The Jets said that Judy Bowness remains in hospital and is undergoing further testing after having a seizure Sunday night.
"First and foremost they're amazing human beings and that always comes first," forward Mark Scheifele said after practice on Monday. "Today it's think about them and pray for them and hopefully they get some answers, and know they're in good hands."
There was no timetable announced for Bowness's return to the team. Associate coach Scott Arniel will serve as interim head coach in his absence.
"Our thoughts and prayers go out to Judy and Rick. Very serious and tough time for them right now," said Arniel. "Everybody is certainly feeling it. 
"It's family here. It's part of what we talk about all of the time. It really hits everyone hard."
Bowness has a 48-35-3 record since becoming Winnipeg's coach ahead of the 2022-23 season. He led the Jets to a 46-33-3 record and a playoff berth last season. 
Winnipeg was eliminated in five games in the first round by the eventual Stanley Cup champion Vegas Golden Knights. 
"The biggest thing we can do for Bones is take care of our job here at the rink and allow him to be where he needs to be," said defenceman Josh Morrissey. "That's the culture I believe we've built here. Certainly we're all a part of that. 
"When someone goes through something or is going through something, the rest of the group, everyone, feels it."
Bowness was head coach of the Dallas Stars for about two and a half seasons before joining Winnipeg. 
He led the Stars to the 2020 Stanley Cup final. Dallas lost in six games to the Tampa Bay Lightning.
The Jets are off to a 2-3-0 start to the 2023-24 season and next play Tuesday against the visiting St. Louis Blues.
Bowness began his NHL coaching career in 1984 as an assistant with the Jets.
He spent 28 games as head coach of the Jets in 1988-89 as a mid-season replacement for Dan Maloney, before leaving the organization after the season.
Bowness has also spent time as a head coach with the Boston Bruins, Ottawa Senators, New York Islanders and Phoenix (now Arizona) Coyotes.
This report by The Canadian Press was first published Oct. 23, 2023.
The Canadian Press
Note to readers: This is a corrected story. A previous version incorrectly said Judy Bowness suffered a stroke. The Jets' release says she suffered a seizure.