Sabres follow up Dahlin deal by locking up Owen Power to 7-year, $58.45 million contract extension
Last season, Power led NHL rookie blue-liners with 35 points (four goals, 31 assists).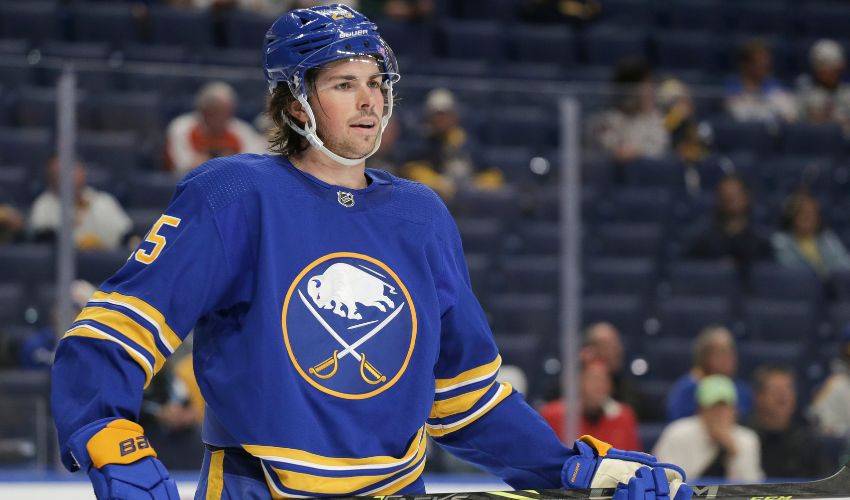 BUFFALO, N.Y. (AP) — First Rasmus Dahlin and now Owen Power.
In the span of three days, the Buffalo Sabres locked up their two star defensemen by signing Power to a seven-year contract extension worth $58.45 million on Wednesday.
The deal was reached a day before the Sabres open their season hosting the New York Rangers. And it follows the Sabres making Dahlin the franchise's top-paid player by signing him to an eight-year, $88 million deal on Monday.
Both players were No. 1 draft picks, with Dahlin selected in 2018, followed by Power three years later. And both are part of the core of a young, developing Buffalo team with rising expectations.
The Sabres enter the season embracing the potential of having a break-through year and finally snap what's grown into an NHL-worst 12-year playoff drought. Buffalo fell two points short last season, being eliminated in the final week of the regular season.
The 20-year-old Power signed with Buffalo in the final weeks of the 2021-22 season after completing his sophomore season at the University of Michigan. From Mississauga, Ontario, he became the first U.S. college player to go No. 1 in the draft since since Erik Johnson in 2006.
Last season, Power led NHL rookie blue-liners with 35 points (four goals, 31 assists).
At 6-foot-6 and 220 pounds, Power has a smooth and fast skating ability, which fits the Sabres' style in having defensemen join the rush.
Power's new contract will kick in after his three-year rookie deal expires after this season.
He becomes Buffalo's latest player to sign a long-term contract. Aside from Dahlin, it's a group that's made up of centers Tage Thompson, who last year signed a seven-year, $50 million contract, and Dylan Cozens (seven years, $49.7 million) and defenseman Mattias Samuelsson (seven years, $30 million).
___
AP NHL: https://apnews.com/hub/nhl
John Wawrow, The Associated Press